Comprehensive Car Insurance
What Does It Cover, and What Will It Cost You?
What Is Comprehensive Car Insurance?
Comprehensive car insurance is often lumped together with collision car insurance in an auto insurance policy. An insurance provider may categorize comprehensive insurance, along with collision and fire/theft coverage, under the physical damage portion of a car insurance package.
Read more: What is auto Insurance?
When pricing car insurance, most drivers pay attention to collision coverage since it protects against damage in an accident. However, collision coverage isn't all-encompassing. If your car is damaged in a flood or when parked in a lot, comprehensive coverage will kick in to cover the damage. It is sometimes referred to as "Act of God" insurance.
Comprehensive car insurance covers damage caused outside of a car accident.
Areas of comprehensive insurance coverage include:
Theft

Vandalism

Windstorm

Natural disasters

Fire

Animal collision

Glass breakage

Falling objects

Personal items
in a vehicle

Riots/civil
disturbances
Comprehensive coverage works hand-in-hand with
collision coverage to fully protect your vehicle.
For many drivers, comprehensive insurance may come in handy more often than collision coverage. Based on paid losses indicated in the chart below, hail damage makes up a significant portion of comprehensive insurance claims. Second on the list is water damage, followed by hurricane damage to a vehicle.
This type of protective insurance coverage isn't required by law, but it may be required by your lender if you are still paying off a new car. Comprehensive insurance is distinctly different from a collision insurance policy, although many insurance companies require a driver to purchase collision insurance before they can obtain comprehensive coverage.
Paid Losses by Type: Texas 1999-2011
27%Hail
23%Water
18%Hurricane
16%Fire
8%Tornado
8%Other
SOURCE: TDI.gov
You may need comprehensive insurance if:
You are paying off a brand-new vehicle that requires full coverage car insurance.

You are leasing a vehicle that requires full coverage car insurance.

You want to protect your vehicle from damage, outside of a collision.

You already have a collision insurance policy and want full-coverage protection.
Comprehensive insurance coverage is beneficial for non-accident damages
that can rack up substantial repair expenses for your vehicle.
Many drivers are surprised to find that common vehicle-related damages can often fall under the
umbrella of collision coverage instead of comprehensive coverage.
For example, a comprehensive claim may be filed if you hit a deer. However, if you swerve to miss the deer and hit a guardrail or tree – it falls under the category of collision car insurance. Those costs will usually be higher and could cause your premium to increase.

Another potential comprehensive insurance claim may involve a hit-and-run accident. If your vehicle was damaged when parked on the street, you must first prove that you weren't at fault. After you file a police report for the hit-and-run incident, your insurance claims adjuster may determine that the damage was caused by weather related activity, i.e. slick roads, but it will fall under the category of a collision claim.

Comprehensive car insurance coverage can also be advantageous to reimburse the cost of glass replacement if a rock breaks your windshield when driving on the highway. If your vehicle is stolen, comprehensive insurance will cover the cost of replacement in full based on the actual cash value of your car.
NICB's Top 10 Cities for Auto Thefts, 2009-2011
City/Metropolitan Area
2011
2010
2009
Fresno, Calif.
Modesto, Calif.
Bakersfield-Delano, Calif.
Spokane, Wash.
Yakima, Wash.
San Fransisco-Oakland-
Fremont, Calif.
Stockton, Calif.
Anderson, S.C.
Vallejo-Fairfield, Calif.
Visalia-Porterville, Calif.
*Theft rate is the number of thefts per 100,000 residents. Theft rates shown are rounded to the nearest integer.
SOURCE: news.onlineautoinsurance.com
In a nutshell, it pays to have comprehensive coverage
for all of those "what if" scenarios.
If your vehicle is damaged outside the parameters of a car accident by a falling object, fire,
vandalism, or what have you, comprehensive insurance will foot the bill.
What Comprehensive Car Insurance Does Not Cover
Once you discover what comprehensive car insurance does cover, it's fairly easy to distinguish
the difference between comprehensive and collision coverage.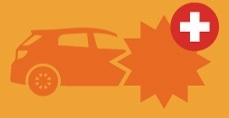 Comprehensive car insurance may also be referred to as "other than collision" coverage.
Comprehensive coverage can provide insurance for any unforeseen events outside of an accident, including fire, theft, vandalism, and weather damage. Comprehensive and collision insurance are not to be confused with basic liability auto insurance.
Liability coverage is a minimum requirement in most states and will provide financial protection in an at-fault accident for bodily injury and property damage. Comprehensive and collision coverage will be added to a standard liability policy for extra protection. Beyond minimal liability coverage, comprehensive and collision insurance are critical to pay for accident damages and other related expenses, like vehicle theft.
If you have comprehensive and collision coverage, you may feel like you have it all. But not so
fast… Comprehensive car insurance doesn't literally "cover it all" outside of an accident.
Comprehensive insurance may have certain gaps
in coverage and will not provide for:
Tire changes

Towing/roadside assistance

Rental car reimbursement

Personal property coverage

Vehicle upgrade reimbursement, i.e. GPS navigation systems

While comprehensive coverage may reimburse for the theft of personal items stolen from a vehicle, it will not cover damage to your personal property, such as your home. If you require roadside assistance and rental car reimbursement, these "extras" can be added on as supplemental riders to a full coverage car insurance policy.
Comprehensive insurance coverage is also the main form of financial protection if your car were to be stolen. As our experts showed in our study of the most stolen vehicles in America, thieves target certain car makes and models more than others. This can make having comprehensive insurance handy if a thief steals your car, you can be reimbursed for the actual cash value of the vehicle.
Is Comprehensive Insurance Worth the Money?
Comprehensive car insurance coverage may seem like a wonderful benefit to have, but
the final determining factor is often its price tag.
The amount you pay for comprehensive insurance will depend on the value of your vehicle, as well as your auto claim history. When preparing a quote, an insurance agent will take a number of other components into account to dictate price, such as age, driving frequency, and type of car.
Since repair and replacement costs can be exorbitant for a brand-new car, it can literally pay to have comprehensive coverage. The majority of lenders will require that you carry both comprehensive and collision insurance to cover any out-of-pocket costs resulting from an accident, weather damage, or related casualty.
Comprehensive coverage will cost more for a newer or more expensive vehicle.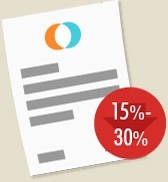 Another defining factor that can affect your comprehensive insurance rate is the deductible amount you choose. The average insurance deductible is likely to range from $250-$1000. If you opt for a higher deductible, you are choosing to pay more money upfront before insurance coverage kicks in to fund repairs or the replacement of your vehicle. Raising a deductible could drop insurance rates by 15%-30%.
A lower deductible means a higher insurance premium.
In light of all of these variables, it can be difficult to estimate the exact cost of comprehensive car insurance without getting detailed quotes from different providers.
To determine if you are paying a fair rate for your comprehensive insurance, it is recommended to request a minimum of three quotes from competing insurance companies before making a final decision.
But back to the bottom line.
Based on average auto insurance premium statistics in the chart below, annual
insurance rates may be getting cheaper – depending on where you live.
Average auto insurance premiumsby coverage category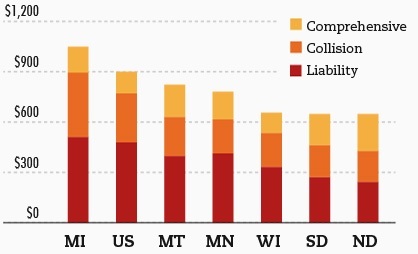 Percent change in average
annual premium 2005-2009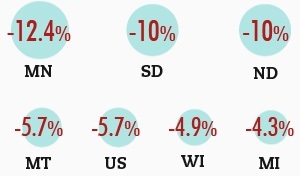 SOURCE: minneapolisfed.typepad.com

In a state like Wisconsin, you may pay a smaller portion for your comprehensive coverage compared to collision and liability.
In a state like North Dakota, comprehensive coverage makes up a larger portion of the premium, along with collision and liability.
One final component that can't be overlooked in determining
comprehensive premiums is crime rates in your area.
Since comprehensive car insurance provides coverage for a major crime like vehicle theft, an
insurance company could pay through the roof to replace a brand-new car that has been stolen.
In a rural area with low crime rates, comprehensive insurance quotes may be cheaper compared to an urban area that is highly populated. In the chart below, you can clearly see how population-based theft rates impact comprehensive coverage quotes for a six-month premium. A dramatically lower crime rate means significantly cheaper comprehensive coverage, potentially shaving off hundreds of dollars:
Theft Rates and Premium Prices
Each city's average car insurance rates are based on 11 quotes for a 30-year-old, married male who drives a
2010 Honda Accord and is purchasing full somprehensive coverage.
2010
Population-based theft rate
City of
Carlsbad1 theft for every
975 residents
City of
Fresno1 theft for every
94 residents
Average 6-month premium attributable to comprehensive coverage
$312
$456
SOURCE: news.onlineautoinsurance.com
As an added bonus, comprehensive coverage may be quoted lower than collision coverage.
Comprehensive quotes aren't normally tallied based on driving history, and comprehensive
damage may be cheaper to insure than collision coverage.
How to Tell If Comprehensive Car Insurance Is Right for You
There are two specific instances when you may benefit from comprehensive insurance: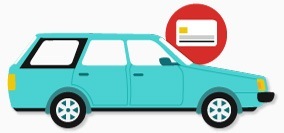 Your lender or lease holder requires comprehensive coverage on your vehicle.
If you are leasing or paying off a loan on a new car, comprehensive insurance is often mandatory. It makes sense.
If you owe money on a vehicle loan or lease, your lender doesn't want you to get stuck in a tough spot where you can't afford to pay for costly repairs or replacement of a car, causing you to default on the loan. Comprehensive insurance will protect both you and the lender from unforeseen damages, unrelated to an accident.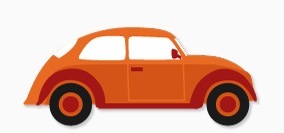 You own an older, high-value car.
If your older vehicle has depreciated significantly in value, the cost of comprehensive insurance may not be worth the price of the premium.
However, if you have an older car with a high value, such as a classic car, comprehensive insurance would be advantageous to protect against hail damage, vandalism, etc.
Also, if you have an older car but don't have enough money in the bank to pay for its repair, comprehensive insurance makes sense.
A comprehensive coverage policy is recommended for those that
want to protect against the unexpected.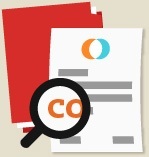 If you can't afford to pay for major vehicle repairs out-of-pocket, like a new windshield or bodywork, there are steps you can take to reduce your insurance rates without dropping coverage. Keeping comprehensive coverage on a policy can be worth its weight in gold to set your mind at ease in the face of unforeseen disaster. If the worst were to happen, you'll know your car is covered.
Sources:
Opfer, Chris. "HowStuffWorks "What does comprehensive auto insurance cover?"." HowStuffWorks "Business & Money". Web. 10 July 2013.
MacDonald, Jay. "Car Insurance: When Not To Skimp | Bankrate.com." Mortgage Rates Credit Cards Refinance Home CD Rates by Bankrate.com. Web. 10 July 2013.