PERSONAL INJURY PROTECTION
insurance
Don't Leave Home Without PIP!
What Is PIP Insurance?
Most drivers are primarily concerned with damaging or totaling their vehicle in an accident, and rightly so. Costs can quickly add up if you have to pay for vehicle damages or replacement yourself with basic liability coverage.
But what happens if you get injured in an
accident with only liability insurance?
Without personal injury protection insurance,
you may take a major financial hit if you are
injured in a car crash. Personal injury
protection insurance, also called PIP
insurance, is intended to provide coverage
for medical bills, lost wages, and related
expenses after an accident.
You may be surprised to hear that
personal injury costs are some of the
largest expenses incurred after an
accident. A typical PIP insurance
policy may provide anywhere from
$1500 to $250,000 or more in
personal injury coverage.
Suffering from an accident-related injury is one thing, but paying out-of-pocket for medical expenses is another. Above and beyond basic liability car insurance, PIP insurance serves as an extension to insure personal injury expenses incurred after a crash.
PIP is a coverage within an auto policy rather than a type of insurance. in states that requires PIP it is a violation of the law to sell a policy that does not contain PIP coverage benefits. Some insurance companies may even refer to PIP insurance as "no-fault" coverage since personal injury claims will be covered, no matter who caused an accident. You may even hear it called "Medical Payments Insurance" or "Med Pay Insurance".
Standard liability car insurance is a minimum requirement in the majority of states; an at-fault driver will pay for any physical or vehicular damage in an accident, up to set policy limits. Carrying PIP on top of liability coverage provides no-fault protection to cover medical bills for you and your passengers if an at-fault car crash results in injury.
What Does PIP Insurance Cover?
PIP insurance coverage may vary by state and insurance provider. In most cases, personal
injury protection insurance will provide coverage for:
Medical

Will cover the cost of treatment in a
hospital, doctor's office,
rehabilitation center, or related
facility after an accident.

Disability

Will reimburse injury-related
expenses, like lost wages or work
disability claims but are limited.

Death

Will provide a payout for funeral
expenses if you are in a fatal
accident.
A PIP policy will provide coverage for up to 80% of the benefits
listed above, contingent on individual policy limits.
It's often easy to confuse personal injury protection insurance with medical payments coverage in
an insurance policy. However, it's critical to understand the distinction between the two:
Coverage in a car insurance
policy will provide a payout
for the medical expenses of
all occupants of your vehicle
in a covered car accident,
no matter who caused it.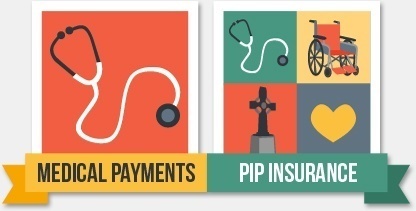 Cover medical bills, as well as
lost wages, rehabilitation costs,
funeral expenses, and related
injury claims; medical payments
coverage will only cover medical
expenses.
PIP insurance is helpful to have if you are injured in an accident,
but it isn't intended to be a fix-all solution.
PIP insurance is used as supplemental coverage on top of a basic liability auto insurance policy.
As a result, there are some areas that PIP does not cover, like:
Injuries caused by mopeds, motorcycles, off-road vehicles, and farm equipment.
(Motorcycle PIP insurance may be available for motorcycle policies at a higher cost.)
Injury expenses considered unnecessary, unreasonable, or unrelated to an accident.
Intentional injuries in a car accident.
Car accident injuries incurred while committing a felony.
Car accident injuries incurred in organized racing.
The honest truth is that most drivers feel they are invincible to a certain degree. You may think you
are adequately covered with standard liability car insurance, even if you get into a major accident.
The reality is:

6 million car accidents occur
on US roads every year.
3 million people are injured in
car accidents each year.
If you drive regularly, you could easily get into a car accident that results in injury.
2 million drivers sustain permanent injuries from car accidents that greatly affect
their quality of life.
Most drivers are surprised to find that common driving no-nos, like distracted
driving, are major contributors to car crashes. Distracted driving is responsible
for one in five car accident injuries. Unfortunately, most of us are guilty of this
bad driving behavior

69%
of people admitted to distracted driving in the
form of talking on a cell phone behind the wheel.


33%
of people have confessed to receiving or sending
texts while driving.

If you still think you're the exception to the rule, think again
Even if you are the most careful driver on the road, you could still become the victim of a car accident caused by
another careless driver. If you're like the majority of drivers out there, you may be likely to make one grave mistake
– like sending a quick text on your way home from work – that could leave you seriously injured in a crash.
the most common injuries incurred in a car accident
frontal collisions

near-side collisions

far-side collisions
CHEST
53%

ABDOMEN
19%

HEAD
35%

PELVIS
17%

CHEST
64%

ABDOMEN
25%

HEAD
38%

PELVIS
32%

CHEST
34%

ABDOMEN
7%

HEAD
27%

PELVIS
<1%
A car crash that results in injury can be a reality more often than not
Quick Tips for Surviving a Car Crash
In the midst of a car accident, you only have a split second to react.
Since up to 75% of the traumatic brain injuries in the US are caused by car accidents,
understanding how to survive a crash can make a world of difference:
Tighten your muscles and
brace yourself as you hold
firm to the steering wheel.
These steps should be
taken in a front, rear, or
side crash, along with
basic safety precautions,
like wearing a seat belt
and driving a vehicle with
airbags.
Face forward and look straight
ahead to distribute crash
impact evenly.
Keep your wrists flat, not bent,
in your steering wheel grip
If you happen to be a passenger in a vehicle, go for the safest seat that
will sustain the least impact – in the middle of the backseat of the car.
Driving safely, using safety features in your vehicle, and preparing
for a crash with the tips above can make a big difference in
protecting you in a serious accident.
It also pays to have protective PIP coverage to ensure that you don't have to pay for a mountain of medical bills yourself.
In some states, PIP coverage isn't an option – it's mandatory.
PIP coverage is required in the following 13 states:
PIP insurance terms and conditions will vary by state, depending on what a local state government deems both necessary and reasonable. While it is at your discretion to buy PIP coverage if you live in an optional state, your car insurance provider is still required to offer it to you by law. PIP must then be rejected in writing, or it will be automatically added to your insurance policy with applicable charges.
Top Benefits of PIP Insurance Coverage
Are you a good candidate for PIP insurance?
PIP is Required
Again, if you live in a state where PIP is
required (a no-fault accident state), then
you don't have a choice in the matter.
Problem solved!
PIP is optional
If you live in an optional PIP state, it helps to
first assess your personal health insurance to
determine which medical expenses are
covered and to what extent in an accident.
Your health insurance company can inform
you of policy limitations to help you decide if
PIP coverage can provide extra protection for
accident-related injuries.
DMV.org recommends using PIP as supplemental medical insurance along with a
health insurance policy.
Since PIP car insurance is a no-fault policy, you can trust that your personal
injuries and expenses will be covered up to a set limit, even if the accident was
entirely your fault. While bad driving behaviors are never encouraged, PIP
coverage can provide you with peace of mind if you make a mistake that results in
a major accident.
PIP can provide one added benefit on top of basic health insurance:
It compensates for lost wages in a car accident. PIP insurance will also pay for the
medical bills of all injured passengers in your vehicle, whether or not they have
personal health insurance. Many families especially prefer this type of extra
coverage to protect young children that may be injured in a crash.
While it's not advisable to nix a health insurance policy altogether for PIP
coverage, PIP can serve as an excellent supplemental insurance policy. PIP can
be affordably added on to a basic liability car insurance premium with the
potential for a sizable payout.
In a nutshell, PIP car insurance is recommended for:
Drivers without

health insurance

Drivers with a limited

health insurance policy

Drivers that often

drive with passengers
i.e. family members
In the event that you have a full coverage health insurance policy that you are satisfied with, PIP may not be worth the cost. Before you cut out PIP altogether, make sure that your personal health insurance policy pays for all of the benefits that PIP insurance provides – including lost wages and funeral expenses.
top advantages of carrying pip insurance
Cover unforeseen medical expenses, including
ambulance transport to the hospital.
Cover major medical expenses, including surgery
and physical therapy.
Cover extended medical expenses, including
prescriptions, x-rays, and lab tests.
Cover funeral expenses in a fatal accident.
Cover medical disability expenses, including pain
and suffering, lost wages, and personal care.
Provide medical coverage without a health
insurance policy.
Provide medical coverage for all occupants
in a vehicle.
Provide personal medical coverage, regardless of
who caused an accident.
There are also significant benefits to increased PIP limits on a commercial auto policy especially if the business allows non-employees as passengers in company vehicles.
How to Set PIP Insurance Limits
If you're ready to sign up for a PIP policy posthaste, it helps to take a few moments to understand
how to set limits for personal injury protection coverage.
If you live in a state where
PIP insurance is mandatory,
you will be required to meet
minimum state requirements
in order to drive.

pip is mandatory

pip is optional
You can base your coverage
limitations on your current health
insurance policy. Your car
insurance agent can help you to
set PIP limits dependent on how
much health insurance coverage
your policy provides in an accident.
PIP rates
When setting PIP policy limits, three specific scenarios can occur:
High PIP LimitsYou and your family don't have health insurance and need complete PIP protection in an accident.
moderate PIP LimitsYou would like extra PIP protection above your health insurance policy limits for peace of mind and additional coverage, like lost wages and funeral expenses.
low PIP LimitsYou and your family members have excellent health insurance that provides satisfactory or adequate coverage in an accident.
When it comes to PIP rates, it is difficult to pinpoint exactly how much this supplemental policy will
cost for the average driver. Typical car insurance rates are affected by a long list of factors,
including age, gender, geographic location, make and model of vehicle, and driving history.
PIP insurance is generally considered affordable
It may cost anywhere from $5-$20 per month for extra coverage on your car insurance policy. However, in some no-fault states, like Florida, PIP insurance remains a hot button issue. Floridians are estimated to pay up to $1500 a year for just $10,000 in mandatory PIP coverage.
tips to keep insurance costs reasonable
Compare rates
from a minimum of
three car insurance
providers.
Drive safely to avoid an accident

and improve your driving record.

Only buy the amount of PIP coverage you need,
depending on your health insurance policy.

Downgrade to a cheaper, safer vehicle
that will cost less to insure.

Shorten your daily commute to

reduce the risk of an accident.
Reviewed by:
Licensed Insurance AgentBrad Larsen