GAP Insurance
If you've stumbled across this article, you're probably wondering what GAP insurance coverage is and if you need it to protect your car. Maybe you want to know "does GAP insurance cover death?"
Fortunately, you've come to the right place. In this article, we're going to discuss the ins and outs of this commonly misunderstood auto insurance policy and how to determine if GAP coverage on cars is the right choice for you.
Whether you are looking for GAP, or other, coverage, we're here to help you figure out how to buy auto insurance that fits your needs and budget.
To find great GAP auto insurance quotes near you, enter your ZIP code in the search tool below
Let's begin…
What Is Guaranteed Auto Protection (GAP) Insurance?
What is GAP insurance and what does it cover? How does GAP insurance work?
GAP insurance will provide coverage for the "gap" that occurs between the value of your car and the amount you owe on the vehicle.
How do I know if I need GAP insurance? You may need GAP insurance if your car is totaled in an accident or stolen, and you still owe on the vehicle. The amount of coverage available through GAP insurance will depend on your policy, as well as the insurance provider you are working with.
Does Progressive have GAP insurance? Where can I purchase gap insurance for my car? How do you get gap insurance on your car? Do I need gap insurance if I have full coverage? We're here to answer these questions.
Some of the more popular companies are State Farm, USAA, Progressive, SafeGuard gap insurance, Allstate and AAA Insurance.
Before you get into a worst-case scenario involving an accident or theft, it helps to know exactly what type of coverage is available in your GAP protection.
To break it down further, your auto insurance policy is designed to offer enough coverage to pay for vehicle repairs or replacement if a car is damaged in an accident or stolen. If you are wondering how long does it take for gap insurance to pay, check with your insurance agent on their policy.
Gap that isn't protected by a standard insurance policy
Nonetheless, if your car is stolen or totaled in an accident and the cash value of the vehicle is lower than what you owe on your loan or lease, this creates an unpleasant gap that isn't protected by a standard insurance policy.
Car purchase (NO GAP)
Value of the vehicle
An insurance provider won't pay out more than the value of a car, before damages
The responsibility for this excess amount will instead rest on your shoulders.
This is why it pays to have a GAP insurance policy at your disposal to provide extra padding if the value of your car dips below the current loan amount.
Many insurers consider GAP protection to be a debt cancellation agreement. GAP insurance will bridge the gap between vehicle value and vehicle payoff amount. This phenomenon is often called
negative equity
on a car and could leave you in a vulnerable financial position indeed if you don't have the money to cover the "gap" in an accident.
How Long Does it Take for Gap Insurance to Pay?
How long it takes for gap insurance to pay ranges from 5 to 45 days. The specific
timeframe changes on how challenging your claim may be as well as your state's
directives.
Is GAP Insurance the Right Choice for You?
There are two specific instances when you may need GAP protection on your insurance policy:
Leasing
When leasing a vehicle, you assume responsibility for the cost of the car if it is totaled in an accident or stolen. Since lease payments are often cheaper than loan payments on a car, you could wind up with a huge gap without protective coverage in a serious accident. In most cases, a lease contract will require that you carry GAP coverage for this purpose.
Buying
If you have negative equity or are upside down on your car loan, GAP insurance coverage is recommended. This may occur if your once-new car has depreciated significantly in value, if your loan has a high interest rate, or if you made a low down payment. Negative equity on a vehicle loan means that you will owe a large chunk of change if your car is totaled in an accident.
GAP insurance is used to provide financial cushioning in the case of total loss, whether you lease or own a vehicle.
What does GAP insurance cover? Does GAP insurance cover theft?
To provide an example, if you paid $25000 on the original sales price of your car, it can easily depreciate to an actual cash value of $20000 at the time of total loss, i.e. theft or accident. Nonetheless, it may still cost you a whopping $30000 to replace the vehicle completely, leaving you with a deficit of $10000.
Your GAP or total loss policy may provide coverage up to $5000, leaving you with only $5000 to pay out-of-pocket. Or, depending on the provider, the negative equity deficit of $10000 could be covered in full.
If your replacement vehicle cost is only $25000 with GAP insurance coverage of $5000, then you won't owe a dime. This example can be seen in the chart on the right.
Benefits of GAP Protection
Example:
Balance you owe on your automobile loan
$25000
Actual cash value or insurance company settlement
$20000
Balance due before you can purchase a replacement vehicle
$5000
GAP Protection will pay the $5000 difference
If you're leasing a vehicle, then much of the hard work will be taken care of for you. Since the 1980s, almost all lease contracts require lessors to purchase GAP coverage to protect against the shock of negative equity.
But before you take a simple lease with GAP coverage at face value, keep several guidelines in mind to ensure you receive the coverage owed to you in an accident:
Maintain compliance with lease terms at all times to remain eligible for GAP coverage.
Make sure that you have collision and comprehensive coverage; some GAP policies may be rendered ineffective without necessary insurance coverage
After an accident, follow your GAP auto insurance company's terms and conditions to the letter; you may be required to continue to pay on your totaled or stolen vehicle before GAP coverage kicks in.
That's right
There are certain stipulations that you must pay attention to if you want to benefit from your GAP insurance policy after an accident or theft. There's nothing worse than paying for GAP protection, only to negate the policy in your moment of need because you didn't meet requirements. Every state allows the coverage but there are different requirements for each state. It is very popular in Texas, California, Florida and North Carolina.
Speaking of requirements…As we have already covered in detail, a full coverage car insurance policy may not be enough to bridge the gap if a car is totaled or stolen; GAP insurance is a must to fund this difference when a car totaled is upside down on a loan or is still under lease.
In a nutshell, GAP coverage is recommended if you:
Finance your vehicle for 60 months or more.
Lease your vehicle.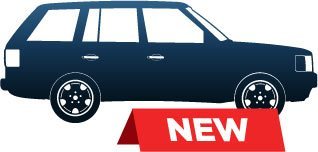 Paid a down payment of 20% or less.
Rolled negative equity from a previous car loan into a new car loan.
Purchased a car with an above-average depreciation rate.
Keep in mind that the average car depreciates by 30% within the first year alone. After three years of owning a vehicle, this drop in value could increase to 50% depreciation.
Drive 15000 miles or more per year.
Compare Quotes Now
Compare Quotes From Top Companies and Save
Secured with SHA-256 Encryption
5 Must-Read Facts About GAP Coverage
Here are 5 important facts to remember about GAP insurance coverage to maintain protection in the event of total loss:
GAP insurance coverage is optional. You are not under any obligation to buy GAP coverage, but you may wish you had it if you have to shell out close to $10000 to get a replacement vehicle after a total loss accident. Though you may feel that you can't afford GAP insurance at the time, you often can't afford not to have it in a serious accident. However, if you have a large sum in savings, GAP coverage upfront may not be necessary.
If you are wondering "how do I know if I have GAP insurance?" it may be a good idea to sit down with your insurance agent and review your policy.
GAP insurance may be added into a car's purchase price. Insurance companies and car dealers alike recommend GAP coverage in a total loss scenario. A dealership may lump GAP into a loan or lease for this reason; otherwise, auto insurance providers make GAP coverage add-ons available at any time. It is commonly purchased for Toyota, Honda, Nissan, Ford, Hyundai, BMW and more.
GAP insurance may be more expensive at a dealership.It is worthwhile to contact your insurance provider directly before automatically signing up for GAP coverage when buying or leasing a new vehicle. Car dealerships are notorious for hiking up the price of GAP considerably. Comparing rates before buying GAP insurance online is advised.
GAP waivers provide the same protection as GAP insurance.As you read through your lease's terms and conditions, you may come across something called a GAP waiver. This waiver may be used by a leasing company to protect you as the lessor against GAP charges in a total loss event. A GAP waiver will bypass the need for a separate GAP policy.
GAP insurance depends on the actual cash value of a vehicle. After an accident or theft, your full coverage collision and comprehensive insurance policy will pay out to replace your car if it has been declared at total loss. This replacement value will be set by policy limits and the actual cash value of your vehicle. Unfortunately, actual cash value quickly depreciates year after year on a loan or lease. Per the example above, GAP could cover the deficit between actual cash value and replacement in full, or it may fund a portion of the difference up to a set amount.
What GAP Insurance Does Not Cover
When does gap insurance not pay? Does gap insurance cover death? For many people, GAP insurance offers much-needed protection in the case of an unfortunate accident or theft. Nonetheless, GAP insurance will not provide protection for:
Vehicle repairsRental car fees while a vehicle is being repaired
Car payments in the event of unemployment, disability, financialn hardship, or death
Vehicle value or loan balance when a car is repossessed
Down payment for a new vehicle
Rollover balances from
old loans combined
with a new car loan
Extended warranties
added onto a car loan
GAP coverage is protective and beneficial in a negative equity/total loss situation. However, it is important to remember that GAP insurance coverage isn't intended to provide ultimate protection after an accident or theft.
GAP insurance is a supplemental policy that complements full coverage insurance.
How Much Will GAP Insurance Cost You?
By now, you probably fully grasp the benefits of GAP coverage if you have negative equity on a vehicle loan or lease. But how much is it going to cost you?
Before you do your homework and price GAP policies, don't make the mistake of assuming that GAP coverage is a waste of money. If you find yourself in a worst-case scenario where your car has been stolen, and you owe thousands of dollars to get it replaced, you'll be happy you "bridged the gap" in advance.
In addition to a full coverage insurance policy, GAP insurance is estimated at 5%-6% of the total insurance premium.
For example,
Insurance per year
$420-$560
Allotted for collision and comprehensive coverage
The cost of GAP will continue
to drop over time as collision
and comprehensive coverage
go down.
If you meet the criteria in this list:
You may benefit from the addition of affordable GAP car insurance coverage to your insurance policy. Use our free online tool to find GAP auto insurance quotes.
However,
If you paid a large down payment on your vehicle, GAP coverage may be entirely unnecessary. Or, you may choose to pay extra on your monthly loan payments to ensure that you don't get upside down on your car at any time. If you prevent your loan from having negative equity, you won't need GAP insurance in a total loss event.
Where can you buy GAP auto insurance? If you're on the hunt for cheap GAP insurance, look no further than here. As noted above, car dealerships often quote sky-high GAP rates added into the total cost of a vehicle. Insurance companies that offer GAP insurance will often provide a cheaper GAP insurance premium, especially when combined with other insurance policies — like car, homeowner's, and life insurance. Enter your zip code below and see GAP auto insurance rates in your area.
What Happens When You Don't Have GAP?
If you don't have GAP insurance in a catastrophic event, you could find yourself in a world of trouble.
Without supplemental insurance like GAP, you'll be forced to pay thousands of dollars to compensate for vehicle depreciation before you can get a replacement car. This out-of-pocket expense may start as low as $1000, up to well over $10000 if you owe a significant amount on your loan or lease.
If you can't afford to pay such an expense after an accident, GAP insurance makes the most sense.
When you purchase GAP insurance, there are
important facts to remember:
GAP coverage applies to the length of your loan term. After you pay off your loan or lease, GAP insurance is no longer necessary.
How does a GAP insurance refund work? If you paid for GAP insurance upfront, take the time to request a refund after vehicle payoff. Depending on how quickly you pay off your car, you could receive a sizable GAP insurance refund worth hundreds of dollars. It always pays to ask – a dealership or insurance provider may not willingly offer a GAP insurance refund without your request.
Reviewed by:
Licensed Insurance AgentEric Huffman