Military and Veterans Auto Insurance Discounts (2021)
A Concise Overview
Most auto insurance companies offer military and veterans auto insurance discounts
Discounts for members of the military and veterans can be up to 25%
Many companies like USAA insurance will offer military members a lower car insurance rate


---

Did you know that you can save money with military and veterans auto insurance discounts?

You know you must buy auto insurance coverage to legally drive in most states in the United States, and this can get expensive. One of the simplest ways to save money on car insurance is by taking advantage of a discount. Many major car insurance providers offer various discounts for students, safe drivers, members of specialty organizations, and more. In particular, some offer military and veterans car insurance discounts.

We've done the research so you'll know how to buy auto insurance and save with military and veteran discounts, as well as other ways to save. Does State Farm offer veterans discounts? Does Progressive offer veteran discounts? We'll answer these and other questions you may have, so keep reading to learn more.

Ready to find military and veterans auto insurance discounts now? Enter your ZIP code to get free quotes to find the lowest military and veterans auto insurance rates.

---

Who can qualify for armed forces auto insurance discounts?

Members of all branches of the military can qualify for special rates and discounts on an auto insurance policy.

Coast Guard

National Guard

Reserves

U.S. Air Force

U.S. Army

U.S. Marine Corps

U.S. Navy

Veterans & spouses/ family members
As you can see, Navy personnel, as well as members of every other branch of the United States military, typically qualify for car insurance discounts. As we noted, veterans and members of the service are highly esteemed. Popular insurance providers like Geico, Farmers, and State Farm are likely to offer a sizable military discount.
These discounts can make a big difference in rates.
Why do auto insurance companies offer military discounts?
Members of the military are offered many VA benefits and discounts with companies throughout the nation, according to USA.gov. There is a reason that auto insurance discounts are offered to military service members: reputation.
Car insurance rates are calculated based on different statistical risk variables. You may have noticed that car insurance rates tend to naturally decrease with age for drivers with good driving records.
These drivers are considered less likely to cause an accident. In the same way, military members and veterans are known for their discipline and training. For this reason and others, military service members are often offered discounted insurance rates.
Many car insurance companies take your occupation into consideration when adjusting rates, and members of the military may receive a rate that is an average of 2% lower than other occupations before any discounts are applied.
What auto insurance discounts are offered to members of the military?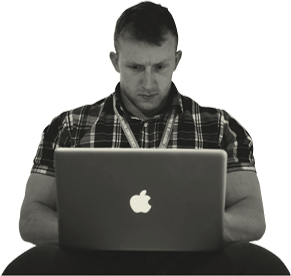 So now you know that a military car insurance discount is available, but how do you take advantage of it?
Who offers military car insurance discounts?
Most big-name car insurance companies will offer some type of military or veterans car insurance discount when you request a quote. Several specialty car insurance providers offer exclusive military rates that are more competitive than some market rates.
However, depending on the auto insurance company, there are requirements that must be met in order to qualify. Take a look at this table to see what we mean.
Auto Insurance Companies That Give Military Discounts
| Insurance Companies | Offers Military Discounts | Requirements to Qualify for Military/Veteran Discount |
| --- | --- | --- |
| 21st Century | No | - |
| AAA | No | - |
| Allstate | Yes | None listed |
| American Family | No | - |
| Ameriprise | No | - |
| Amica | No | - |
| Country Financial | No | - |
| Esurance | Yes | In Louisana only |
| Farmers | Yes | None listed |
| Geico | Yes | Active or retired |
| Liberty Mutual | Yes | Must be active duty |
| MetLife | Yes | None listed |
| Nationwide | No | - |
| Progressive | No | - |
| Safe Auto | Yes | In Louisiana only, must be active duty |
| Safeco | Yes | Active and retired |
| State Farm | Yes | In select states |
| The General | Yes | In Louisiana only |
| The Hanover | No | - |
| The Hartford | No | - |
| Travelers | No | - |
| USAA | Yes | You, your spouse, or your parents must be active or retired military to get USAA auto insurance |
As you can see, The General military discounts are only offered in Louisiana, while State Farm military discounts are only available in select states (you'll need to speak with a licensed agent to find out if it's available in your state). For more details on The General, see The General auto insurance review.
On the other hand, if you're looking for auto insurance for veterans, you'll want to look specifically for companies that give discounts to veterans, which include Geico and Safeco, while companies like Liberty Mutual only offer discounts to active duty military.
Who has the best military and veterans auto insurance?
The best car insurance for veterans and military members will depend largely on your specific circumstances, which is why shopping around is a great idea so you can find the cheapest car insurance for your military family.
That said, USAA is one of the best military car insurance companies for military personnel and veterans.
The company is highly rated for its relationship with the military and the services it provides specific to service members. USAA offers insurance coverage for active duty service members and military veterans who have been honorably discharged.
USAA car insurance was created by army officers as a low-cost auto insurance option for fellow service members and veterans. Since the company was formed in 1922, it has grown to provide coverage for millions of servicemen and women around the world.
Take a look at this table to see how USAA car insurance rates compare to average rates in states across the country. And for more details, see USAA auto insurance review.
Average USAA Auto Insurance Rates Compared to State Averages
| States | Average Annual Auto Insurance Rates | USAA Average Annual Auto Insurance Rates |
| --- | --- | --- |
| Virginia | $2,357.87 | $1,858.38 |
| Hawaii | $2,555.64 | $1,189.35 |
| West Virginia | $2,595.36 | $1,984.62 |
| Massachusetts | $2,678.85 | $1,458.99 |
| Ohio | $2,709.71 | $1,478.46 |
| Maine | $2,953.28 | $1,930.79 |
| Idaho | $2,979.09 | $1,877.61 |
| Iowa | $2,981.28 | $1,852.57 |
| Washington | $3,059.32 | $2,262.16 |
| New Hampshire | $3,151.77 | $1,906.96 |
| Wyoming | $3,200.08 | $2,779.53 |
| Montana | $3,220.84 | $2,031.89 |
| Vermont | $3,234.13 | $1,903.55 |
| Kansas | $3,279.62 | $2,382.61 |
| Nebraska | $3,283.68 | $2,330.78 |
| Illinois | $3,305.48 | $2,770.21 |
| Missouri | $3,328.93 | $2,525.78 |
| North Carolina | $3,393.11 | Data Not Available |
| Indiana | $3,414.97 | $1,630.86 |
| Alaska | $3,421.51 | $2,454.21 |
| New Mexico | $3,463.64 | $2,296.77 |
| Oregon | $3,467.77 | $2,587.15 |
| Alabama | $3,566.96 | $2,124.09 |
| Wisconsin | $3,606.06 | $2,975.74 |
| Utah | $3,611.89 | $2,491.10 |
| Tennessee | $3,660.89 | $2,739.28 |
| Mississippi | $3,664.57 | $2,056.13 |
| California | $3,688.93 | $2,693.87 |
| Arizona | $3,770.97 | $3,084.29 |
| South Carolina | $3,781.14 | $3,424.77 |
| Colorado | $3,876.39 | $3,338.87 |
| South Dakota | $3,982.27 | Data Not Available |
| Pennsylvania | $4,034.50 | $1,793.37 |
| Texas | $4,043.28 | $2,487.89 |
| Arkansas | $4,124.98 | $2,171.06 |
| Oklahoma | $4,142.33 | $3,174.15 |
| North Dakota | $4,165.84 | $2,006.80 |
| New York | $4,289.88 | $3,761.69 |
| Minnesota | $4,403.25 | $2,861.60 |
| District of Columbia | $4,439.24 | $2,580.44 |
| Maryland | $4,582.70 | $2,744.14 |
| Connecticut | $4,618.92 | $3,190.00 |
| Florida | $4,680.46 | $2,850.41 |
| Nevada | $4,861.70 | $3,069.07 |
| Georgia | $4,966.83 | $3,157.46 |
| Rhode Island | $5,003.36 | $4,323.98 |
| Kentucky | $5,195.40 | $2,897.89 |
| New Jersey | $5,515.21 | Data Not Available |
| Louisiana | $5,711.34 | $4,353.12 |
| Delaware | $5,986.32 | $2,325.98 |
| Michigan | $10,498.64 | $3,620.00 |
Rates from USAA are an average of 34% lower than rates from a standard auto insurance provider.
Armed Forces Insurance (AFI), established in 1887, is another specialty auto insurance provider, well-rated for its military and veteran discounts.
Armed Forces Insurance offers membership to active duty, retired, or honorably discharged military (including National Guard and Reserves); Department of Defense civilian employees; National Oceanic and Atmospheric (NOAA) or Public Health Service (PHS) officers; Service Academy members; and spouses and children.
In states where AFI coverage is not available, Armed Forces Insurance can insure through an affiliate provider in 48 states.
Geico was founded as an insurance company for government employees. However, they now offer discounts of up to 15% to active-duty military, veterans, and National Guard and Reserve members. Active-duty personnel who are deployed may also receive an Emergency Deployment Discount.
The only way to find out if you qualify for a military discount from a standard or specialty provider is to ask for a free quote.
An insurance company can help you determine your personal risk factors and military status to provide a more accurate discounted rate. Many insurance companies offer tools that will help you buy auto insurance online. Online insurance tools make comparing options easy and instant.
How can you find the cheapest auto insurance for your military family?
When you're looking for cheaper car insurance, money talks.
The best way to find out what kind of military discount you may be eligible for is to request multiple auto insurance quotes from competing providers. By some estimates, you can expect to save an average of 15% off your annual rates if you are a veteran or are currently serving in the military.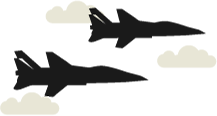 Run by an active duty Air Force officer, The Military Money Manual gathered military discounted 2015 car insurance estimates for six months of coverage from leading providers: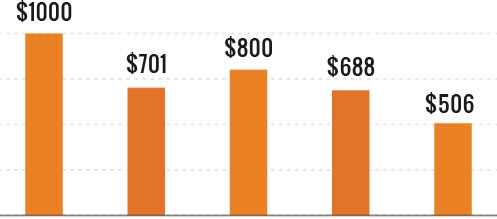 Allstate
Esurance
Geico
Progressive
USAA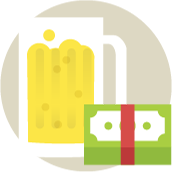 Your personal risk factors, such as age, vehicle type, driving history, geographic location, and gender can also influence a discount.
For example, if you have a serious driving infraction on your record, like a DUI, you may pay more than a civilian does for car insurance, even with a military discount. In most cases, men pay more for car insurance than women as they are seen as riskier drivers.
In the next section, we'll discuss what you can do to fully utilize your discount and keep your car insurance rates low.
What are some quick tips for cheaper veteran and military auto insurance?
The military and veteran discounts we've already discussed are available, but the rest is up to you.
There are several variables out of your control, like gender and age, that can impact car insurance. Yet many other factors are within your control and can be used to minimize your rates.
Here are seven ways to pay less on auto insurance as a military member or veteran:
Drive safe. This seems like a no-brainer, but it's true. Your military and veteran car insurance rates are directly impacted by your driving history. State Farm offers drivers a 5% discount just for signing up for their Drive Safe & Save defensive driving program.
Bundle cars. If you have more than one driver under your roof, you're in luck. Adding two or more vehicles to the same car insurance policy could offer savings of up to 20%.
Bundle insurance policies. Lumping together renter's, homeowner's, condo, and/or life insurance with the same provider could offer a discount of up to 25%.
Cancel collision auto insurance. If you are deployed and won't be driving your car at home for an extended period of time — more than a month — make sure to tell your car insurance provider. Many insurers will allow you to cancel additional collision coverage during deployment when a vehicle is not in use.
Pay upfront. If you have the means to set aside a sizable chunk of cash, now is the time to do it. Paying for your premium annually instead of month-by-month will offer an extra discount, on top of a discounted military rate.
Raise your deductible. If you can afford it, do it. Your deductible amount is inversely related to your car insurance premium. If you are able to afford a higher deductible — $1000, for example — you'll pay less in annual insurance.
Compare providers. This last point is perhaps the most important of all, and it can't be overstated: When you comparison shop and receive quotes from a minimum of three car insurance providers, you'll get a better idea of a fair market military discount rate.
A simple comparison could save you hundreds of dollars a year on your premium.
What are some items that you need to consider with your military auto insurance?
Auto insurance for military members is different since there is a whole new list of things to consider. Everything from pausing your car insurance to finding a place to store your car has to be worked out before you deploy.
When you are a member of the military, there's a chance you will be deployed. What happens to your car insurance when that happens? What things do you need to handle before you leave?
Here are some things to consider.
Can you pause your auto insurance coverage?
It might be tempting to just cancel your car insurance coverage when you are facing a lengthy deployment. If you cancel your coverage, when you get ready to purchase more car insurance later, you can be charged a higher rate for having a lapse in coverage.
It's better if you pause your coverage. Many auto insurance companies will allow you to pause coverage until you get back. This way, you won't have a lapse in coverage on your record.
Speak with your agent to find out if your car insurance company offers that feature.
If you happen to leave for deployment and cancel (instead of pause) your insurance, and you find that your rates have risen since your return due to a lapse in coverage, you may be able to get your rates reduced by showing proof of deployment during the lapse.
Will you store your vehicle?
Many times you will want to store your vehicle while you are gone. If you do, consider changing your car insurance to comprehensive coverage only. This will not only continue to protect your car from theft, fire, and flood damage, it will also prevent a lapse in coverage. You can also save up to 90% on your rates during the time you store your vehicle.
Learn more about comprehensive coverage below.
Comprehensive coverage is often fairly inexpensive, and it will give you peace of mind while you are deployed.You should also keep in mind that your insurer and your state's DMV may have specific requirements for storing your vehicle during your deployment. You should contact your insurance agent and your DMV to ask about registration. You may need to file an affidavit of non-use so that you can keep your car registered without liability coverage.
Will you reinstate auto insurance when you return?
When you return from your deployment, you will want to reinstate your auto insurance before you drive at all. Driving without insurance can result in fines, driver's license suspension, and possible jail time.
Reinstating your policy should be fairly painless, especially if you have just paused your coverage or changed your coverage for your stored vehicle. Make sure you reconsider your coverages and make adjustments to suit your needs.
A standard discount is available to active military and veterans from most major and specialty car insurance providers.
This military insurance discount is a small token of appreciation for the men and women who have served our country.
Frequently Asked Questions: Military and Veterans Auto Insurance Discounts
Still have questions about car insurance for veterans and military discounts on car insurance? Read through these frequently asked questions to learn more.
#1. What is the best auto insurance for military and veterans?
If you're looking for the best car insurance for military and veterans, your best bet is to shop around. As we noted earlier, discounts are available from some companies, but this can also be dependent on where you live and other requirements you'll need to meet to qualify.
Additionally, there are a couple of companies that only sell car insurance for veterans, as well as active-duty military members and their families. This includes military car insurance from Armed Forces Insurance and USAA, which we discussed in detail in a previous section.
#2. Is there a Progressive auto insurance military discount?
Progressive does not offer any military discounts, regardless of which state the applicant is living in. While Progressive military discounts may not exist, Progressive does offer a number of other discounts for which you may qualify, so it pays to speak to a licensed insurance agent to find out your discount options.
Before you buy military and veterans car insurance, shop around. We can help you find the most affordable military and veterans car insurance quotes with the click of a button.
Use your ZIP code to get free quotes from military and veterans car insurance companies near you.

Reviewed by:
Licensed Insurance Agent Cynthia Lanctot