Streets Built for People [2022 Walkability Benefits in Cities]
The worst city for walkability in the United States is Fayetteville, North Carolina, whereas New York City is the best walkable city. One of the best walkability benefits is that walking 2.5 hours weekly can lower diabetes risk by 58 percent. Another advantage is that daily brisk walkers between the ages of 51 and 70 have a 27 reduced death rate than non-daily brisk walkers.
Compare Quotes Now
Secured with SHA-256 Encryption
UPDATED: May 10, 2022
It's all about you. We want to help you make the right coverage choices.
Advertiser Disclosure: We strive to help you make confident auto insurance decisions. Comparison shopping should be easy. We are not affiliated with any one auto insurance provider and cannot guarantee quotes from any single provider. Our auto insurance industry partnerships don't influence our content. Our opinions are our own. To compare quotes from many different auto insurance companies please enter your ZIP code on this page to use the free quote tool. The more quotes you compare, the more chances to save.
Editorial Guidelines: We are a free online resource for anyone interested in learning more about auto insurance. Our goal is to be an objective, third-party resource for everything auto insurance related. We update our site regularly, and all content is reviewed by auto insurance experts.
A Concise Overview
San Francisco is the second-best city for walking in 2021.
North Dakota was the safest state in 2017 for pedestrians with 0.66 fatalities per 100,000 residents.
The United States has two cities in the 10 most walkable cities in the world.
---
Cars aren't the only way we move through the places where we live, work, and play. Today, more and more cities and neighborhood associations are focusing on walkability, or more generally, how people move around an area without the use of a personal vehicle.
We've created this guide to help you learn about walkability benefits, many of which may surprise you. So read on to learn more about walkability and how it benefits both our personal pocketbooks and our society.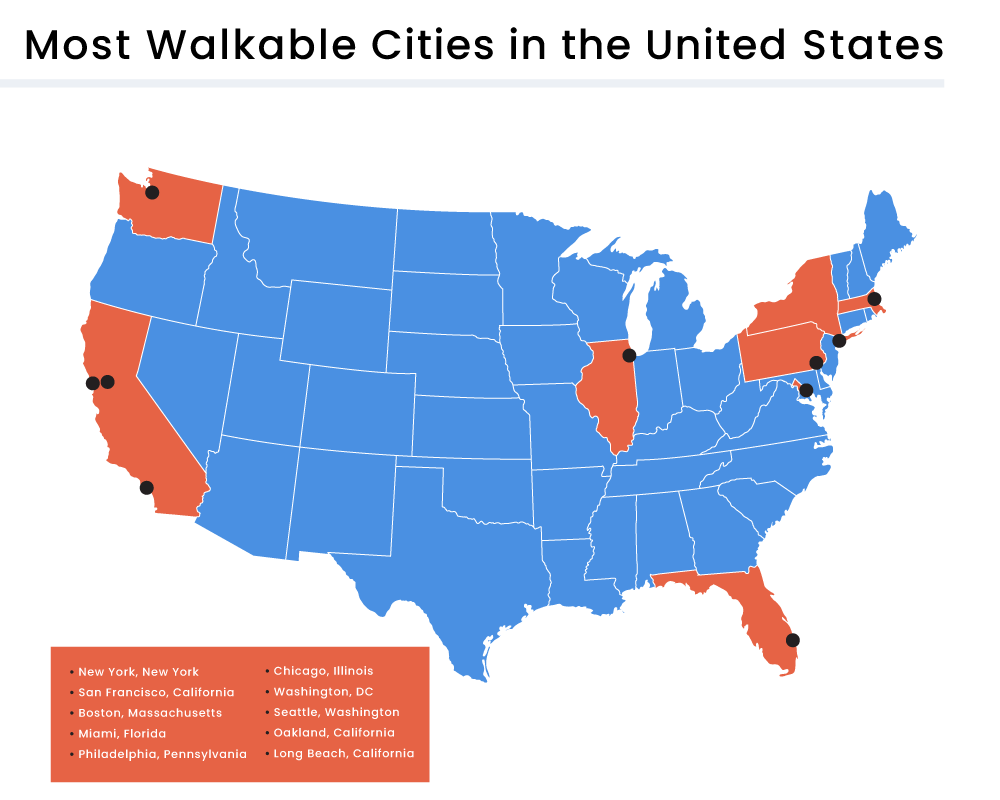 Below we will focus on defining walkability and take a deeper look at the benefits of the concept in action. But first, let's see where the most and least walkable cities are. In this guide, we'll take you through some major topics about walkability in cities:
The benefits of walkable cities
The most walkable cities in the world
The most walkable cities in the US for 2021
To rank all these cities, we use a walk score or walkability score based on numerous factors. There is another factor, however, that can rise or fall depending on walkability: auto insurance.
Walkable cities can often affect auto insurance rates if the number of pedestrians killed is higher per capita than in other cities. It is one of the many factors that can raise or lower auto insurance rates depending on what kinds of auto insurance coverages you have. To get the best quote, you often need to try multiple insurance companies.
To see quotes from different providers in your area, just plug your ZIP into our FREE online quote comparison tool. It'll allow you to compare rates from different companies in your area based on walkability and pedestrian factors.
Now, let's take a look at walkable major U.S. cities, medium and smaller U.S. cities, and cities around the world, as well as the United States' least walkable cities.
What are the most walkable cities in the United States?
According to Walk Score, the 10 most walkable cities and their walkability score out of 100 can be found in the table below:
| City | Walk Score | Rank |
| --- | --- | --- |
| New York City, NY | 89.2 | 1 |
| San Francisco, CA | 86 | 2 |
| Boston, MA | 80.9 | 3 |
| Miami, FL | 79.2 | 4 |
| Philadelphia, PA | 79 | 5 |
| Chicago, IL | 77.8 | 6 |
| Washington, DC | 77.3 | 7 |
| Seattle, WA | 73.1 | 8 |
| Oakland, CA | 72 | 9 |
| Long Beach, CA | 69.9 | 10 |
| | #blank# | #blank# |
New York City has long led the United States in walkability, though quickly growing cities like Seattle and Washington, D.C., are showing great walkability improvement in recent years.
Many of these cities, especially New York and San Francisco, incentivize walking by making public transit a viable option and making it expensive — through taxes and other fees — to own and operate a vehicle in the first place.
How does Walk Score come up with their walkability score?
Walk Score "measures pedestrian friendliness by analyzing population density and road metrics such as block length and intersection density." On their methodology page, they explain that:
"Points are awarded based on the walking distance to amenities in each category. Amenities within a five-minute walk (.25 miles) are given maximum points. A decay function is used to give points to more distant amenities, with no points given after a 30-minute walk."
Part of having a walkable city is having a bikeable city, which makes it doubly important to be aware of road biking safety with cars. Oh, and if you live in a city that's extremely dense and walkable, you might not even own a car. But don't worry. We've done a lot of research on whether non-car owners still need auto insurance.
But what about America's smaller cities and towns?
What are the most walkable small & medium cities in the U.S.?
According to PBS, the medium and smaller American towns in the table below get top marks for their walkability.
| City | Population |
| --- | --- |
| Eureka Springs, AR | 2,074 |
| Clayton, CA | 11,076 |
| Boulder, CO | 107,125 |
| Glenwood Springs, CO | 9,962 |
| Dunedin, FL | 36,545 |
| Savannah, GA | 146,444 |
| Naperville, IL | 147,682 |
| Portland, ME | 66,882 |
| Annapolis, MD | 39,321 |
| Orion, MI | 38,808 |
| Duluth, MN | 86,066 |
| Lincoln, NE | 284,736 |
| Exeter, NH | 14,306 |
| Chautauqua, NY | 4,464 |
| Oakwood, OH | 9,245 |
| Waynesville, OH | 3,081 |
| Xenia, OH | 26,562 |
| Mt. Lebanon, PA | 33,137 |
| Chattanooga, TN | 179,139 |
| Kingsport, TN | 53,374 |
| Burlington, VT | 42,239 |
| Vancouver, WA | 175,673 |
| Madison, WI | 255,214 |
| | #blank# |
Some of these cities — Burlington, VT, Lincoln, NE, and Madison, WI — are college towns. A large student population forces a city to focus on its walkability.
But other towns on this list — such as Eureka Springs, AR — have prioritized walkability to increase the quality of life for all their residents and visitors in forward-thinking and often surprising ways.
Don't underestimate the walkability of certain small towns. Often they are leading the way in becoming traversable and accessible.
Compare Quotes From Top Companies and Save
Secured with SHA-256 Encryption
What are the least walkable cities in the United States?
Now that we've learned about some of the most walkable cities and small towns in the United States, you might be wondering: Where are the least walkable cities? The 10 American cities with the lowest Walk Scores can be seen in the table below.
| City | Walk Score | Rank |
| --- | --- | --- |
| Fayetteville, NC | 20.4 | 1 |
| Chesapeake, VA | 21 | 2 |
| Winston-Salem, NC | 22.3 | 3 |
| Charlotte, NC | 25.5 | 4 |
| Montgomery, AL | 26.2 | 5 |
| Jacksonville, FL | 26.3 | 6 |
| Nashville-Davidson, TN | 27.9 | 7 |
| Durham, NC | 28.4 | 8 |
| Greensboro, NC | 28.8 | 9 |
| Gilbert, AZ | 28.8 | 10 |
| | #blank# | #blank# |
As you can see, five of America's 10 least walkable cities can be found in the quickly growing state of North Carolina. In fact, walkability is a pressing issue for many growing areas, places where urban planning and zoning policy often lag behind the demand for new infrastructure to meet a growing population.
How safe are pedestrians in my state?
Working with the NHTSA's National Center for Statistics and Analysis, we found that at 0.66 pedestrian fatalities per 100,000 residents, North Dakota was the safest state for pedestrians in the United States in 2017.
The table below provides some great information that allows you to compare the states on issues of pedestrian safety, including both the total number of pedestrian fatalities and the number of fatalities for every 100,000 residents.
| State | Population | Traffic Deaths | Pedestrian Deaths | % of Total | Pedestrian Death Rate |
| --- | --- | --- | --- | --- | --- |
| Alabama | 4,874,747 | 948 | 119 | 12.60% | 2.44 |
| Alaska | 739,795 | 79 | 14 | 17.70% | 1.89 |
| Arizona | 7,016,270 | 1,000 | 216 | 21.60% | 3.08 |
| Arkansas | 3,004,279 | 493 | 42 | 8.50% | 1.4 |
| California | 39,536,653 | 3,602 | 858 | 23.80% | 2.17 |
| Colorado | 5,607,154 | 648 | 92 | 14.20% | 1.64 |
| Connecticut | 3,588,184 | 278 | 48 | 17.30% | 1.34 |
| Delaware | 961,939 | 119 | 33 | 27.70% | 3.43 |
| District of Columbia | 693,972 | 31 | 11 | 35.50% | 1.59 |
| Florida | 20,984,400 | 3,112 | 654 | 21.00% | 3.12 |
| Georgia | 10,429,379 | 1,540 | 253 | 16.40% | 2.43 |
| Hawaii | 1,427,538 | 107 | 14 | 13.10% | 0.98 |
| Idaho | 1,716,943 | 244 | 16 | 6.60% | 0.93 |
| Illinois | 12,802,023 | 1,097 | 145 | 13.20% | 1.13 |
| Indiana | 6,666,818 | 914 | 101 | 11.10% | 1.51 |
| Iowa | 3,145,711 | 330 | 23 | 7.00% | 0.73 |
| Kansas | 2,913,123 | 461 | 33 | 7.20% | 1.13 |
| Kentucky | 4,454,189 | 782 | 83 | 10.60% | 1.86 |
| Louisiana | 4,684,333 | 760 | 111 | 14.60% | 2.37 |
| Maine | 1,335,907 | 172 | 20 | 11.60% | 1.5 |
| Maryland | 6,052,177 | 550 | 114 | 20.70% | 1.88 |
| Massachusetts | 6,859,819 | 350 | 74 | 21.10% | 1.08 |
| Michigan | 9,962,311 | 1,030 | 156 | 15.10% | 1.57 |
| Minnesota | 5,576,606 | 357 | 38 | 10.60% | 0.68 |
| Mississippi | 2,984,100 | 690 | 71 | 10.30% | 2.38 |
| Missouri | 6,113,532 | 930 | 96 | 10.30% | 1.57 |
| Montana | 1,050,493 | 186 | 14 | 7.50% | 1.33 |
| Nebraska | 1,920,076 | 228 | 20 | 8.80% | 1.04 |
| Nevada | 2,998,039 | 309 | 91 | 29.40% | 3.04 |
| New Hampshire | 1,342,795 | 102 | 11 | 10.80% | 0.82 |
| New Jersey | 9,005,644 | 624 | 183 | 29.30% | 2.03 |
| New Mexico | 2,088,070 | 379 | 74 | 19.50% | 3.54 |
| New York | 19,849,399 | 999 | 242 | 24.20% | 1.22 |
| North Carolina | 10,273,419 | 1,412 | 198 | 14.00% | 1.93 |
| North Dakota | 755,393 | 115 | 5 | 4.30% | 0.66 |
| Ohio | 11,658,609 | 1,179 | 142 | 12.00% | 1.22 |
| Oklahoma | 3,930,864 | 655 | 78 | 11.90% | 1.98 |
| Oregon | 4,142,776 | 437 | 69 | 15.80% | 1.67 |
| Pennsylvania | 12,805,537 | 1,137 | 147 | 12.90% | 1.15 |
| Rhode Island | 1,059,639 | 83 | 21 | 25.30% | 1.98 |
| South Carolina | 5,024,369 | 988 | 154 | 15.60% | 3.07 |
| South Dakota | 869,666 | 129 | 10 | 7.80% | 1.15 |
| Tennessee | 6,715,984 | 1,040 | 124 | 11.90% | 1.85 |
| Texas | 28,304,596 | 3,722 | 607 | 16.30% | 2.14 |
| Utah | 3,101,833 | 273 | 42 | 15.40% | 1.35 |
| Vermont | 623,657 | 69 | 8 | 11.60% | 1.28 |
| Virginia | 8,470,020 | 839 | 111 | 13.20% | 1.31 |
| Washington | 7,405,743 | 565 | 103 | 18.20% | 1.39 |
| West Virginia | 1,815,857 | 303 | 26 | 8.60% | 1.43 |
| Wisconsin | 5,795,483 | 613 | 56 | 9.10% | 0.97 |
| Wyoming | 579,315 | 123 | 6 | 4.90% | 1.04 |
| U.S. Total | 325,719,178 | 37,133 | 5,977 | 16.10% | 1.84 |
| Puerto Rico | 3,337,177 | 290 | 98 | 33.80% | 2.94 |
| | #blank# | #blank# | #blank# | #blank# | #blank# |
In this table, the pedestrian death rate is the number of deaths per 100,000 residents. As you can see from the figures above, Arizona, Delaware, Florida, New Mexico, and South Carolina have the highest pedestrian fatality rates in the United States, with over three pedestrian deaths in 2017 for every 100,000 residents.
What are the most walkable cities in the world?
The United States isn't the only country with cities focusing on walkability for residents and visitors. In fact, most of the world's most walkable cities can be found outside the United States.
Here are the world's 10 most walkable cities, according to travel experts Frommer's:
Florence, Italy
Paris, France
Dubrovnik, Croatia
New York City, United States
Vancouver, British Columbia
Munich, Germany
Edinburgh, Scotland
Boston, United States
Melbourne, Australia
Sydney, Australia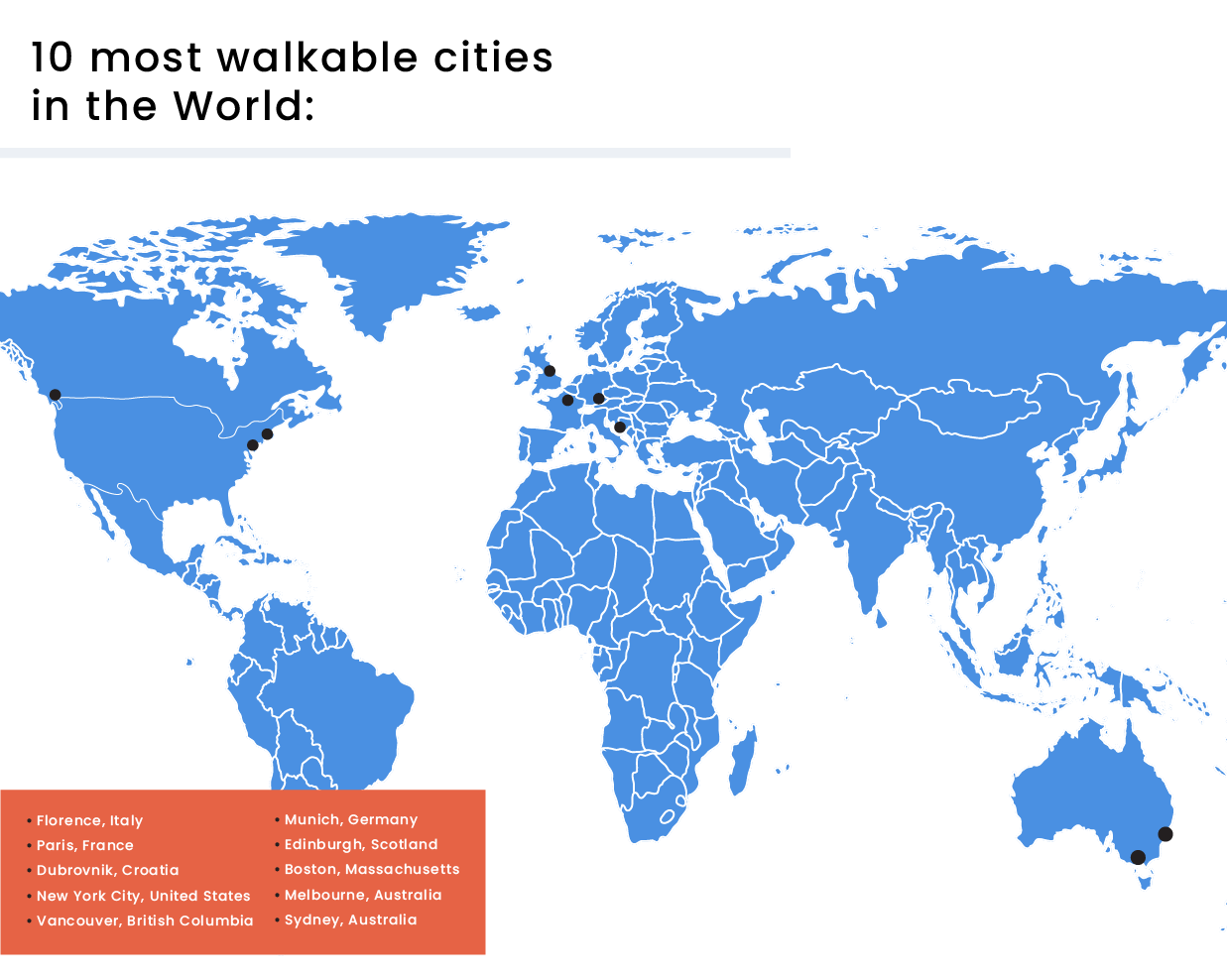 With five of the 10 most walkable cities in the world, you can see that European countries tend to place a higher priority on things such as urban density, public transportation, and community health.
With an eye to the future, many of these cities are also enacting new initiatives to improve people's ability to traverse their streets. Edinburgh, Scotland, for instance, recently launched a new public bike share initiative.
Walkable cities of the world are also huge travel destinations. Walkability brings our big world together. It makes traveling and exploring easier, and that's good for everyone, from travelers themselves to business owners and other stakeholders.
If you're planning a road trip with kids, we've created a guide on how to prepare for a road trip with your children.
What does "walkability" mean?
What actually is walkability? To help you understand the results above, we want to focus on what the concept of walkability actually is. It may seem obvious that the term "walkability" refers to the ways in which an area serves pedestrians. After all, the word is quite literally walk + ability.
In reality, walkability involves a lot more than actual walking.
Harvard architect Ann Forsyth explains that "in professional, research, and public debates the term [walkability] is used to refer to several quite different kinds of phenomena." What exactly are these phenomena?
Forsyth goes on to explain that some discussions of walkability:
"Focus on environmental features or means of making walkable environments… Others deal with outcomes potentially fostered by such environments … Finally, some use the term walkability as a proxy for better design whether composed of multiple, measurable dimensions or providing a holistic solution to urban problems."
As you can see from the above definition, walkability means the ability to move within a given area, usually a city or a neighborhood. And several stakeholders including city planners and zoning commissions, residents, and business owners must come together to ensure an area's walkability.
What makes a place walkable?
As you might suspect from the wide-sweeping definition of walkability above, what makes a place walkable goes beyond sidewalks.
According to industry leader Walk Score, seven distinct elements make up a walkable area:
A center: Walk Score reports that "walkable neighborhoods have a center, whether it's a main street or a public space." Traditionally, for instance, this is why so many cities are laid out main squares or plazas.
People:There needs to be "enough people for businesses to flourish and for public transit to run frequently." Hence the focus on mixed-use commercial and residential development trending in contemporary urban planning.
Mixed-income, mixed-use: Walkable neighborhoods must have "affordable housing located near businesses" to thrive over the long haul.
Parks and public space: People need "plenty of public places to gather and play" nearby.
Pedestrian design: A design needs to focus on "buildings [that] are close to the street, [and] parking lots [that] are relegated to the back." Walkable neighborhoods should also plan for the various modes people use for walking.
Schools and workplaces: These should be located "close enough that most residents can walk from their homes" whenever possible.
Complete streets: Streets must be designed holistically "for bicyclists, pedestrians, and transit" in addition to people with disabilities.
Some of these elements — such as people — are perhaps obvious. But when beginning to think about walkability, people don't often think about things such as mixed-income groups or the proximity of schools.
Design and planning clearinghouse ARCH20 contend that eight distinct elements lead to walkability:
Coherence: "a clear, understandable and organized sidewalk, street and land use system consistent with the scale and function of the surrounding urban context." ARCH20 also explains that when it comes to coherence, "the sidewalk and street should link points of interest and activity, provide clean lines of sight and travel and include simple instructive signage."
Continuity: "a pattern of design and usage that unifies the pedestrian system."
Equilibrium: "a balance among transportation modes that will accommodate and encourage pedestrian participation in the street."
Safety: "encourages pedestrian protection from automobiles and bicycles." Safety, they explain, "provides adequate time to cross intersections without interference. Moreover, it creates physical separation from fast-moving cars and signalization protection when crossing."
Comfort: "deals with secure and negotiable paving materials for individual and community interactions. Sidewalks should provide for a variety of uses and activities characteristics of the diverse urban scene."
Accessibility: "the opportunity for all individuals to utilize the pedestrian environment as fully as possible."
Efficiency: "simplicity and cost-effectiveness in design and function."
Attractiveness: "clean, efficient and well-maintained surroundings, with adjacent storefronts and activities that provide sidewalk interest."
City planner Jeff Speck shares his "general theory of walkability" in a stirring TED talk.
So now you know a lot of what goes into building walkability, but what results from walkability? After all, that's why we created this study to begin with. In other words: What are the benefits of walkability for a community?
What is a "complete street?"
When you begin researching walkability, you will likely encounter the phrase "complete street," which is a desirable concept planners use when designing or re-designing areas toward walkability. But what does this phrase even mean?
According to SPUR, the San Francisco Bay Area Planning and Urban Research Association, complete streets strive to serve pedestrians, bicyclists, and transit users of all ages, abilities, and preferences. SPUR explains:
"Streets can accommodate a variety of travel modes while also serving as public amenities, sites of commerce, and green spaces… If they are well designed, streets can move significant volumes of auto traffic and still support other activities."
There are many issues you might not think about when it comes to cities designing areas to be more walkable and safe.
Compare Quotes From Top Companies and Save
Secured with SHA-256 Encryption
What are the benefits of walkability?
What are the benefits of walkability? Great question. There are many benefits to walkability, some of which may surprise you. Through our research, we've narrowed the benefits of walkability down to four basic categories:
Economic
Health
Safety & Community
Accessibility

Let's take a deeper look at what some of the benefits within these four categories are.
Are there any economic benefits of walkability?
When an area decides to focus on walkability initiatives, there are certain expenses that will be involved, not surprisingly.
More often than not, experts, including economists and city planners, argue that the economic benefits of walkability far outweigh the expenses.
One area where the economic benefits of walkability can be seen directly is property values. A 2009 study conducted by the nonprofit CEOs for Cities found that property values increased between $500 and $3,000 in direct correlation to each additional Walk Score point.
Increased property values attract new businesses, lead to better schools, and increase both the overall desirability and safety of a community. Allocating public and private funds to walkability initiatives also attracts more diverse populations and creates jobs.
We found this was especially true for African American populations. Many of the metros we ranked highly for Black social and economic mobility can also be found on our list of walkable cities, such as Seattle, Washington, and Washington, D.C.
Finally, when an area is walkable, people who live in and visit that neighborhood tend to spend more dollars there.
To bring people and dollars into an area, that area needs to be accessible for all people, as we'll discuss more in-depth in a second.
In short, walkability might be a key to an area's economic success in many cases. By focusing on issues of accessibility, addressed in the video above, areas improve the ways in which all people can come and be active and spend money in their region.
What are the personal and public health benefits of walkability?
Not surprisingly, as people move about more, the more their health improves.
This leads us to know that walkability is a legitimate public health concern.
In "A Data-Driven Case for Walkability," Bloomberg's CityLab collected some important data on walking and public health. A lot of the direct health benefits they found from walking and walkability surprised us:
Daily brisk walkers between the ages of 50 and 71 (both men and women) had a 27 percent reduced death rate compared to their non-brisk walking peers.
A Nurses' Health study of more than 72,000 women found that if a woman walked three or more hours per week, her risk of a major coronary event was reduced by 35 percent.
Research shows that men of retirement age who walk less than a mile a day have nearly double the mortality rate of those who walk more than two miles per day.
In a study of more than 3,200 adults who were overweight, researchers found that adding a walking regimen of 2.5 hours per week to a good diet reduced the risk of diabetes by 58 percent for those ages 59 and younger and by 71 percent for those aged 60 or older.
Risks of death from breast and uterine cancer were reduced 19 percent in those who walked one to three hours per week and by a whopping 54 percent for those who walked three to five hours per week.
As you can see, walkability delivers measurable and significant health benefits for all members of the community. Though many of us would love to walk all the time, that's not always a possibility. So what's another way to increase community health? Driving a more environmentally-friendly vehicle.
To learn more about creating healthy neighborhoods, look below for an interview with Ann Forsyth, professor of urban planning and director of the Master in Urban Planning Program at the Harvard Graduate School of Design, at the American Planning Association.
Walkability provides especially good health benefits for older residents. No matter your age, however, we're also here to help you find the right auto insurance. Check our guide to average auto insurance rates by age today.
Also, if you walk more and drive less, you might benefit from usage-based insurance or auto insurance you pay for in proportion to how much you drive.
Compare Quotes From Top Companies and Save
Secured with SHA-256 Encryption
How are walkability and safety related?
Did you know that walkable areas have both better safety rates and a higher sense of community, two things that go hand-in-hand?
When a neighborhood is walkable, its residents feel — and are, in fact — safer.
The nonprofit Strong Towns lists safety as the first of their four cornerstones of walkability, alongside distance, convenience, and comfort. According to the U.S. Department of Transportation's Federal Highway Administration:
"A walkable community is one where it is easy and safe to walk to goods and services (i.e., grocery stores, post offices, health clinics, etc.). Walkable communities encourage pedestrian activity, expand transportation options, and have safe and inviting streets that serve people with different ranges of mobility."
Studies consistently show that walkable areas have lower crime rates than areas with poor walkability. Also, we've found that driving at night can be much more dangerous than driving during the day, so a place that is easy to walk about at night is often a safer place.
Our research shows that strong walkability correlates with lower pedestrian fatality rates. In the table below, we compare pedestrian fatality rates for three of the United States' most walkable cities — Boston, Washington, D.C., and Seattle — with those for three of our country's most unwalkable cities — Nashville-Davidson, Tenn.; Jacksonville, Fla.; and Charlotte, N.C.
| City | Walkable Score | Pedestrian Deaths | Death Rate |
| --- | --- | --- | --- |
| Boston, MA | 80.9 | 11 | 1.61 |
| Washington, DC | 77.3 | 11 | 1.59 |
| Seattle, WA | 73.1 | 12 | 1.66 |
| Nashville-Davidson, TN | 27.9 | 24 | 3.66 |
| Jacksonville, FL | 26.3 | 38 | 4.26 |
| Charlotte, NC | 25.5 | 27 | 3.13 |
| | #blank# | #blank# | #blank# |
In this table, the pedestrian death rate is the number of deaths per 100,000 residents. As you can see in our analysis of this data from the National Highway Traffic Safety Administration (NHTSA), pedestrians in cities considered unwalkable were two to three times more likely to die than those in cities with favorable walking conditions.
University of Washington professor Manaswi Saha argues that "recent work suggests that neighborhood walkability correlates with real estate value, lower crime rates, and more walking trips for non-work purposes."
For instance, a 2014 study published in the International Journal of Behavioral Nutrition and Physical Activity found that:
"Burglary and personal crime occurring within a participant's 400 m and 1600 m neighborhoods were positively and significantly associated with walking frequency."
In denser, walkable areas, folks are out and about more — there are more eyes keeping watch on neighborhood safety — which makes these areas lower risk targets for criminals of all types.
When folks are out and about in their neighborhood more, our research shows, they have a higher sense of community belonging.
Bloomberg's CityLab explains that a 2010 study from the University of New Hampshire shows how "people living in walkable neighborhoods trust neighbors more, participate in community projects and volunteer more than in non-walkable areas." Walkability brings people together who might otherwise never cross paths.
Here's a really cool walkability initiative: 99 Walks is a community of women improving wellness and inspiring happiness through the simple act of walking together. We think initiatives like this are not only cool but also important in building community in ways many, if not most, folks don't often think about. And hey, such initiatives are free, too.
What are the accessibility benefits of walkability efforts?
Our research has shown that the number of people with a disability in the United States is increasing each year. When walkability initiatives are done correctly, they bolster the ability for movement of folks with all types of different mobilities.
Inclusive walkability design expands our ideas of who pedestrians are and how they move about an area.
As Ria Hutabarat Lo argues in the Journal of Urbanism, "in order to understand walkability, it is important to consider how pedestrians are defined and the discourses that shape the development of pedestrian space." After all, is an area walkable if not everyone can traverse it easily?
Walkability should prioritize access to jobs, education, health care, goods and services, and recreation activities without driving.
In her doctoral dissertation on walkability and accessibility, Nancy S. Chu explains that:
"The importance of accessibility continues to focus on people with disabilities and refers to the design of products, devices, services, or environments. Accessibility in architecture refers to the ease in physical locomotion through and use of a given environment (Geboy, et al., 2001). On an urban scale, it is the ability to satisfy one's ordinary needs with the minimum amount of travel and cost (Duany, 2010)."
When everyone has access to traversing an area for daily life, the other benefits of walkability — economic, health, safety, and community — all increase exponentially. Given the increasing percentage of people in the United States with a disability, we created this disabled road safety guide for both drivers and pedestrians.
Where can I find out more about walkability?
We understand walkability is a complex issue. And though we hope our guide is helpful in teaching you about the benefits of walkability, here are some sources where you can dive in more deeply:
U.S. Environmental Protection Agency (EPA) Walkability Index: This dataset "characterizes every Census 2010 block group in the U.S. based on its relative walkability."
Walk Score: This site allows you to easily enter a specific address to view that neighborhood's overall walkability.
Steps to a Walkable Community: This guide from AmericaWalks serves as a comprehensive resource for citizens, planners, and engineers.
Project for Public Spaces: This nonprofit organization helps people create and sustain public spaces that build strong communities.
Designing Walkable Urban Thoroughfares: This guide works on "improving both mobility choices and community character through a commitment to creating and enhancing walkable communities" for people of all abilities.
Compare Quotes From Top Companies and Save
Secured with SHA-256 Encryption
What do experts say about the importance of walkability?
We asked a variety of experts on walkability from travel guides to health and fitness professionals to weigh in on the benefits of areas focusing on walkability initiatives. Some of the benefits and challenges they pointed out surprised us, and we think they'll surprise you, too. Read on to learn some solid opinions on walkability direct from these industry experts.

"Given that I'm a wheelchair user, I will modify my answers to address the 'rollability' of urban sidewalks.
To me, a city is rollable when two conditions are met. First, the sidewalks have to be in physically good enough condition that I can roll without any major obstacles. These might include holes, gaps, damage caused by tree roots, or a lack of safe curb cuts at intersections.
The second condition is the proximity of several attractions, dining options, and shopping options in a safe area. For example, Washington D.C. is a very walkable and rollable city.
Sidewalks in the primary tourist areas are in great shape, museums, shops, and restaurants are accessible, and it's very easy to augment walking with inexpensive public transportation. I can say the same about cities like Seattle and Minneapolis. On the opposite end of the spectrum is my hometown of Orlando. The city is so large, it's difficult to tackle even with a car.
Sidewalks are absent in many places, and museums and attractions are spread out over dozens of square miles. One of the biggest benefits of improving rollability in a city is to increase access for people with limited mobility, and our ability to be a bigger and more visible part of the community.
Wheelchair-accessible vans are extremely expensive and considered a huge luxury in the wheelchair community. Many wheelchair users are forced to stay home simply because they don't have access to transportation.
A city that is more rollable does wonders for the mental health of wheelchair users who want to participate in society. They are also a huge draw for solo wheelchair travelers like me who cannot rent an accessible van and have to rely on rolling from place to place in a city."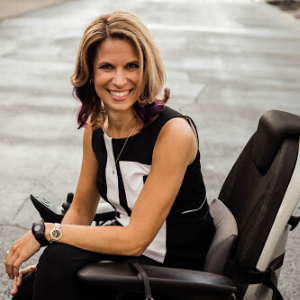 Sylvia Longmire is an accessible travel expert with an award-winning site, Spin the Globe.
She has traveled to 49 countries despite needing a wheelchair due to MS.
---
"At Wild Bum, we believe travel is not a luxury, rather an essential part of our health and well-being. Our enthusiasm for travel is rooted in its life-changing magic — most importantly how it improves our physical, physiological AND mental well-being. I guide women's dance + service trips through Wildhive. And, my family and I prioritize travel — we live it!
For me, travel is so energizing, and I never walk more than when I am in a new city. This is what defines walkability for me. I've walked in small towns, and trekked miles and miles in bigger cities. There is so much more discovered this way. I want to soak it all in and feel more like a local.
Studies show that travelers are much more active and walk more regularly than non-travelers. Not only on vacation but even after in their daily lives. It has the power to form new habits.
My husband and I also love a good bike share system. We've rented bikes all over Toronto, New Orleans, Charleston, San Francisco, London the list goes on. And, we've even zoomed around the hills of San Francisco via electric scooter.
I love being active and that is absolutely a benefit to exploring a new city by foot or on a bike, but it's also a much more meaningful way to immerse yourself in the culture or the environment. When you sit in a car or bus, you potentially miss so many hidden gems and opportunities to make new connections.
I've also been known to eat my way through a new city! Walking or biking helps balance all of the deliciousness I am consuming."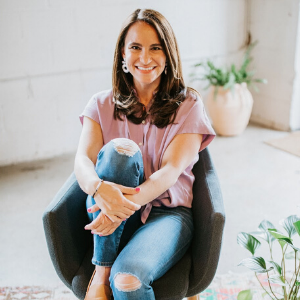 Mollie Krengel is the founder of Wild Bum, which brings passionate travelers together.
Wild Bum is full of travel guides focused on adventure and living with meaning.
---
What is walkability? What makes a place walkable?
"An area that is conducive to walking makes it 'walkable.' This means it has ample walking-friendly spots such as footpaths and sidewalks. A good urban design also encourages walking, designed for people to be more active."
How is walkability measured?
"Yes, the Walkability Index is used in urban planning to assess whether a particular arrangement of a city promotes physical activity. But critics of this measure argue that it is only limited to walkability indicators because it should account for how many people do actually walk in the area rather than just driving around as well as crime risk and climate considerations."
What are cities doing to encourage walking or other forms of mobility over individually-operated vehicles?
"Pedestrian traffic has been made a lot friendlier with projects that promote walkability. Sydney is considered a top walkable large city because the government has taken advantage of its natural topography through improving pedestrian access."
What are the benefits of walkability? (health, economic, emotional, environmental, etc.) What are the drawbacks of walkability?
"As a fitness trainer, I always encourage my clients to make walking a habit. You can walk anywhere, anytime without buying fancy equipment. You can even stroll around your office at lunchtime without changing into workout gear. Of course, supportive shoes are a plus, but you can sneak a five to 10-minute walk into your day no matter what you're wearing.
Once you're in the habit of walking more, you might find that you crave it. The exercise may feel good, and walking activates soothing neurons in the brain, which can help relieve stress and improve your mood.
Plus, it's a lot easier to get motivated to stroll down the street than it is to get pumped for a super-intense workout. Better yet, take a walk to the gym to gradually work up the motivation for a hard-core sweat session."
When a city focuses on walkability initiatives, who potentially benefits most and who potentially is harmed most? How?
"Everyone benefits from it because it promotes an active lifestyle. However, those living in the suburbs and less dense areas are on the disadvantage side because it increases congestion and may be difficult for drivers to navigate roads."
Nicolle Harwood-Nash is a fitness coach with The Workout Digest.
The Workout Digest provides exercise advice to help consumers be healthy and fit.
---
"Exercise in general, and walking in particular, has incredible benefits for our mind, our mood, and our bodies. Research shows that a regular walking practice can reduce our risk of high blood pressure, high cholesterol, heart disease, diabetes, osteoporosis, and several types of cancer.
In fact, walking is so good for you that one study by the European Society of Cardiology (ESC) finds that walking has been shown to boost our mood, lower our stress, and fuel our creativity.
As reported by the Harvard Medical School, a simple 20-minute stroll can clear the mind and reduce stress by reducing the body's stress hormones and stimulating the body's production of endorphins.
If there was one thing you could do to help you lose weight, think better, be happier and live longer, would you do it? The simple act of lacing up your sneakers and walking out the door can do all of that and more.
One of the reasons why walking is so powerful is that it can be combined with other activities that further enhance well-being. For instance, a walk outside gives you the opportunity to reap both the benefits of exercise and the benefits of spending time in nature which, as reported in Science Daily, has been shown to reduce your 'risk of type II diabetes, cardiovascular disease, premature death, preterm birth, stress, and high blood pressure.'
Similarly, the evidence is compelling that social connections, friendships, and relationships are key to health, happiness, and longevity. Walking with a friend gives you the chance to share an experience, enjoy a conversation free of distractions while simultaneously obtaining the physical benefits conferred by exercise.
In short, walking with a friend is the ultimate way to multi-task: exercise, nature bathing, and human connection, all at one time. And, finally, walking is something just about everyone, no matter their current level of fitness, can do. It is the gateway to improved health, happiness, and well-being."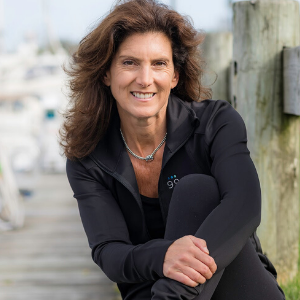 Joyce Shulman is a Pack Leader at 99 Walks,
She wrote "Walk Your Way to Better" and led a TED Talk on "The Magic of Walking."
---
"I recently moved from Chicago to the suburbs of Chicago. When we moved to our current house my primary criteria was 'walkability.' I run a small software company, so I wanted to be able to walk to my office in the town we live in and walk to the train.
We found a house that met that criteria and it has been fantastic. I have three young children so the ability to eliminate commuting time has been awesome. In addition to the train and my office here are some other places we can walk to:
Library
Three parks
Pharmacy
Two grocery stores
Movie theater
Eight restaurants
Bank
Post office
Preschool
Because we can walk to all of these places, we don't spend much time in the car and can maximize our time together.
For me and my family, living in an area with excellent walkability bring both health and emotional benefits. I personally get very frustrated sitting in traffic. I have always been interested in the walkability of where I live. I generally don't like cars or wasting time commuting."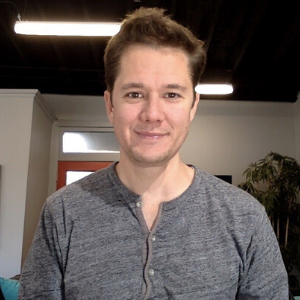 Marc Summe is the CEO at Minute7.
His company provides time and expense tracking for small businesses.
---
Is there a need for inclusive walkability in rapidly growing cities?
According to Harvard professor Ann Forsyth, walkability is the "focus on environmental features or means of making walkable environments, including areas being traversable, compact, physically-enticing, and safe."
As we've discussed above, walkability provides many benefits to communities, including economic, health, safety and community, and accessibility benefits.
Many large cities in the United States — especially New York City and San Francisco — have high walkability scores, as do many cities of all sizes in Europe.
Though a lot of small and mid-size American cities, especially college towns, have great walkability scores, a swath of rapidly-growing cities, especially in the Sun Belt, are struggling to improve walkability for residents and visitors as their cities face quick expansion.
Walkable neighborhoods are also some of the most valuable. That means that moving forward, public policy must address socioeconomic and identity issues in urban planning to ensure access is granted for everyone, not just the wealthy and able-bodied.
We hope this guide to walkability has helped you think more closely about the ways you move through your neighborhood, your city, your region, and the world.
Frequently Asked Questions: Determining Walkability and Finding its Benefits
We've covered the most and least walkable cities in the US, along with the most walkable cities around the world. The experts have spoken about the health benefits, emotional benefits, and traveling benefits of walking around a city.
Now, let's get to your frequently asked questions, which cover what makes a city walkable and what walkability means, among other topics.
#1 – What is the most walkable city?
The most walkable city in the United States is New York City. In addition to having available walking space for pedestrians and having a walking culture in general, New York City has a public transportation system that encourages walking. Florence, Italy, is the most walkable city in the world.
#2 – What makes a walkable city?
A walkable city scores are high on numerous factors, including having a consistent and predictable layout of street systems and walking paths, and an accessible pedestrian system where all age groups and demographics can walk, and a center where people can congregate, such as a plaza or main square, among other factors.
#3 – Why are walkable cities important?
Neighborhoods that are considered to be more walkable have wide-ranging benefits over neighborhoods that are considered to be not as walkable. These include investments in walkable neighborhoods and business start-ups, personal health benefits, more safety, and more accessibility.
#4 – What does walkability mean?
Walkability is a term that defines how well the city is set up to allow for pedestrian traffic. Walkability is often broken down into different factors, such as a predictable and consistent street system, accessibility for all pedestrians, and having a neighborhood or city center.
#5 – Is Chicago a walking city?
Chicago comes in at No. 6 on our ranking of the top 10 big cities for walkability list. While it is behind major cities like New York City and San Francisco, it is ahead of cities like Washington, DC, and Seattle. Like other top cities on this list, Chicago has a public transportation system that encourages walking.
#6 – Where do people walk the most?
People tend to walk the most in larger cities, in part because those cities have public transportation systems that encourage walking. In our top 10 list of cities based on walkability, only California has more than one city on the list compared to the other states. They are San Francisco, Oakland, and Long Beach.
#7 – Why are walkable cities good for the economy?
There are numerous reasons why walkable cities are good for the economy. One of these is the raised property values of walkable areas, which can increase the amount of investment in an area along with better schools. Walkability also increases the level of safety within a community and residents tend to spend more in a neighborhood they live in when it is walkable.
Compare Quotes From Top Companies and Save
Secured with SHA-256 Encryption
What is the methodology for finding the most walkable cities in the U.S. and the world?
The thorough research process for our comprehensive studies, such as this one on walkability, includes an analysis of over 3,000 data points for all 50 U.S. states and the District of Columbia. We collate these data points from the U.S. Department of Transportation's National Highway Traffic Safety Administration's (NHTSA) yearly study of movement issues across the country.
We used this extensive data specifically to explicate the economic, health, safety and community, and accessibility benefits that can be attained from a concentrated effort on area walkability. By looking at city populations versus their walkability scores, we were able to ascertain the most and least walkable cities, both large and small.
Finally, we gathered additional information and advice from experts in the field. These experts included disability advocates, travel guides, health and fitness experts, public policy advocates, and small business experts.
We've seen that the walkability of a city can really affect its economy and the health of its residents, just to name two factors. However, it can pose a danger as the number of pedestrian deaths might increase.
This can raise insurance rates, as shown with many of the cities listed in the best category for walkability also having very high insurance rates. This can translate over to your city as well.
Finding the right quote often requires applying to numerous companies. Fortunately, we can help you find cheap auto insurance even if cities with great walkability. If you're looking to get an auto insurance quote, use our free tool to see the different quotes that insurance providers offer in your area.