10 Worst Cities for Drunk Driving (2021 Report)
The 10 worst cities for drunk driving had a total of 91,019 DUI arrests over our three-year study period with the largest number of DUI arrests coming from Houston with over 18,000. Las Vegas took the No. 1 spot while four Texas cities filled in the rest of the top five: Austin, El Paso, San Antonio, and Houston. Texas is the only state with more than one city represented on the list.
UPDATED: Sep 24, 2021
It's all about you. We want to help you make the right coverage choices.
Advertiser Disclosure: We strive to help you make confident auto insurance decisions. Comparison shopping should be easy. We are not affiliated with any one auto insurance provider and cannot guarantee quotes from any single provider. Our auto insurance industry partnerships don't influence our content. Our opinions are our own. To compare quotes from many different auto insurance companies please enter your ZIP code on this page to use the free quote tool. The more quotes you compare, the more chances to save.
Editorial Guidelines: We are a free online resource for anyone interested in learning more about auto insurance. Our goal is to be an objective, third-party resource for everything auto insurance related. We update our site regularly, and all content is reviewed by auto insurance experts.
A Concise Overview
The 10 worst cities for drunk driving have a combined average of 3,304 DUI arrests per year
The median DUI arrests per 100,000 residents in the 10 worst cities is 779 per year
The average auto insurance rise for a DUI conviction in the 10 worst cities is 48%
The average yearly cost for insurance after a DUI in the 10 worst cities is $5,123
The costs of drunk driving in the United States are truly incalculable. The simple act of getting behind the wheel while drunk or buzzed has consequences both fiscal and emotional. Here are some of the raw statistics:
Over 10,000 people die each year in crashes related to drunk driving
Drunk driving is the leading cause of traffic fatalities in America
The economic cost of drunk driving is $132 billion per year
Since the late '70s, when traffic fatalities peaked, both the U.S. government and organizations have been creating campaigns to reduce drunk driving and its dangers. Mothers Against Drunk Driving (MADD), for instance, was formed in 1980.
Today, drunk driving is still a serious issue, accounting for 28% of all fatal car crashes in the US.
We look at the 10 worst cities for drunk driving in this report, all of which average more than 600 DUI arrests per 100,000 residents every year.
The data is based on statistics from the Federal Bureau of Investigation. The cities are scattered throughout most areas in the country but there are some trouble spots. Beyond potentially injuring or taking the life of the driver and anyone else they encounter, drunk driving can impact the cost of auto insurance coverages as well, causing major financial penalties.
We'll also broaden the topic to include states. Issues we'll cover in the Frequently Asked Questions section are:
The worst states for drunk driving
Drunk driving fatalities by state
Drunk driving statistics by state
Which state has the lowest rate of drunk driving deaths
Let's get started.
10 Most Dangerous Cities for Drunk Driving
The 10 worst cities for drunk driving are spread out throughout most of the country from California to Indiana, from the heartland of the country to the South. Four of these cities have drunk driving arrests of over 400 per year, with one city even having over 600 DUI arrests per year.
While it is a scourge throughout most of the United States, accounting for the most traffic deaths every year, there are some trouble areas. Most of these cities are in the Southwest or West.
This may lead to some cultural implications about drunk driving, and the fact that almost all of them are large cities suggests infrastructure and urban sprawl might play a role, as well.
In the graphic below, you can see all of the 10 worst cities, their annual DUI arrest totals (based off a three-year average), DUI arrests per 100,000 residents, and the average cost increase in auto insurance in those cities after a DUI.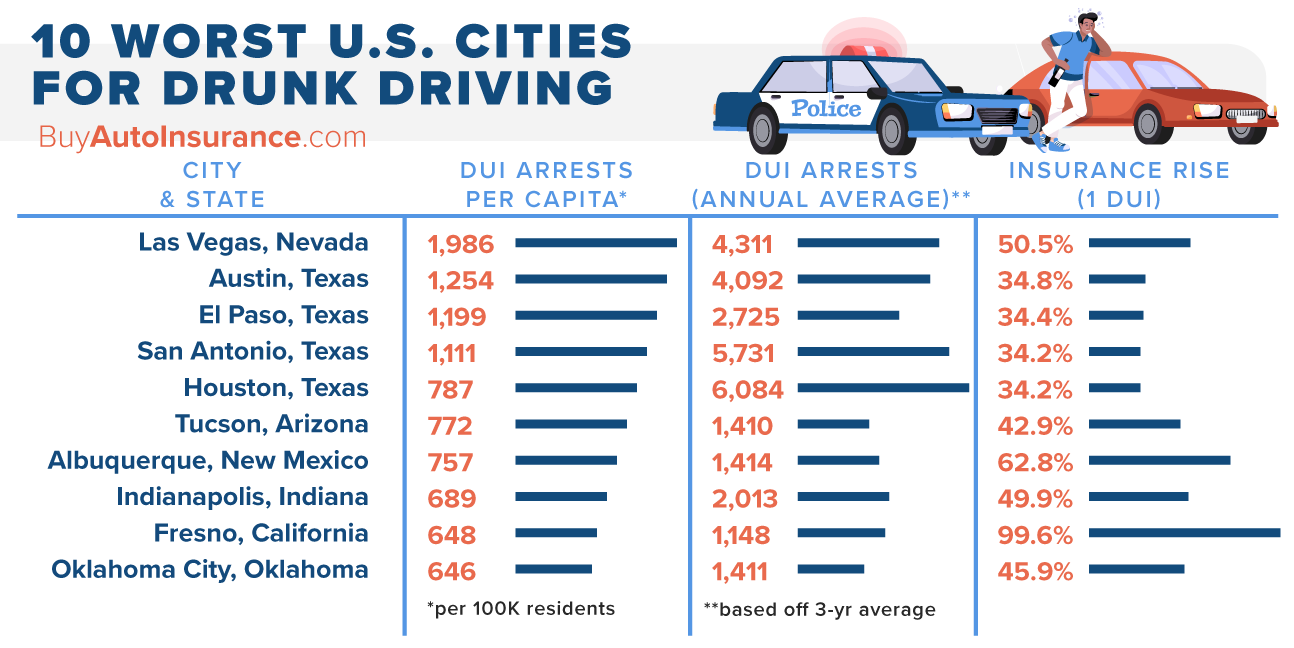 Who starts off the ranking? None other than a big city in a small state in the middle of America.
#10 – Oklahoma City, Oklahoma
Arrests per 100K residents: 646
DUI arrests (annual average): 1,411
Oklahoma City, Oklahoma, comes in at No. 10 on our list of the worst cities for drunk driving with an average of 646 DUI arrests per 100,000 residents and 1,411 DUI arrests annually.
The average jump in auto insurance rates for a DUI conviction in Oklahoma City is 46% from $3,652 annually to $5,328. That's a hefty price to pay and doesn't even include lawyer and court fees.
Someone who gets convicted of a DUI might also have to get high-risk auto insurance, otherwise known as an SR-22 or FR-44, which can also dramatically increase insurance rates.
#9 – Fresno, California
Arrests per 100K residents: 648
DUI arrests (annual average): 1,148
No. 9 on our list of the 10 worst cities for drunk driving, Fresno registered an average of 648 DUI arrests per 100,000 residents and 1,148 arrests annually.
Auto insurance rates jump sharply for a driver who is convicted of a DUI in Fresno, a full 100% from $2,591 to $5,170 annually. That's one of the highest spikes for all cities for which we measured auto insurance data.
There is even the question, with all these costs, of whether auto insurance covers DUI accidents.
#8 – Indianapolis, Indiana
Arrests per 100K residents: 689
DUI arrests (annual average): 2,013
Indianapolis, Indiana, ranks No. 8 on our list of the worst cities for drunk driving with an average of 689 DUI arrests per 100,000 residents and 2,013 arrests annually.
Indianapolis residents who are convicted of a DUI experience, on average, a rise in rates of 50% from $2,865 annually to $4,294.
Jeremy Foster, the founder of TravelFreak.com, believes that drinking and driving should be solved on an individual and community level:
"The battle against drunk driving is tough, and I wish our company and community would target individuals most at risk of drinking excessively or driving under the influence. Individuals should take communal and individual responsibility for the incidences that occur in communities."
#7 – Albuquerque, New Mexico
Arrests per 100K residents: 757
DUI arrests (annual average): 1,414
No. 7 on this list of the worst cities for drunk driving is Albuquerque, New Mexico, which averaged 757 DUI arrests per 100,000 residents and 1,414 arrests annually.
If convicted of a DUI, a resident of Albuquerque can expect a rate increase of 63% from $3,169 annually to $5,159. And it's for good reason. DUIs signal a person's risk tolerance and the likelihood of filing another claim. Rates rise even if the drunk driver didn't cause personal or property damage.
Albuquerque is known for another bad act related to driving: car theft. In our study of the 15 cities with the most car thefts, Albuquerque ranked worst overall.
#6 – Tucson, Arizona
Arrests per 100K residents: 772
DUI arrests (annual average): 1,410
Tucson, Arizona, comes in at No. 6 on this list of the 10 worst cities for drunk driving with 772 DUI arrests per 100,000 residents and 1,410 arrests annually.
DUI convictions in Tucson, Arizona, lead to a rise in auto insurance rates of 43% from an average annual rate of $3,294 to $4,708.
In Tucson, the penalties for a drunk driving conviction include a minimum of 30 days in jail, around $2,700 in fines, a 90-day license suspension, and an ignition interlock device for 12 months.
#5 – Houston, Texas
Arrests per 100K residents: 787
DUI arrests (annual average): 6,084
No. 5 on this list, Houston, Texas, starts a four-city run where all the cities are in the Lone Star State. In our three-year study period, Houston averaged 787 DUI arrests per 100,000 residents and 6,084 arrests annually.
Houston residents who are convicted of a DUI don't receive as steep of an auto insurance penalty as the cities we've already seen — just a rise in rates.
Specifically, a rise of 34%, from an average annual rate of $4,033 to $5,412. This hurts, as car insurance rates in Houston average in the thousands of dollars.
#4 – San Antonio, Texas
Arrests per 100K residents: 1,111
DUI arrests (annual average): 5,731
San Antonio is our next Texas city, coming in at No. 4 on this list. It had 1,111 DUI arrests per 100,000 residents and 5,731 arrests annually. This last statistic is a large jump from the previous six cities.
San Antonio residents, when convicted of a DUI, receive around the same auto insurance penalty as those in Houston — a 34% rate increase from $3,482 annually to $4,675.
#3 – El Paso, Texas
Arrests per 100K residents: 1,199
DUI arrests (annual average): 2,725
Coming in at No. 3 on this list, El Paso becomes our third city in a row from Texas in the worst five cities for drunk driving nationwide. It registered 1,199 DUI arrests per 100,000 residents and 2,725 arrests per year.
Like residents in Houston and San Antonio who are convicted of a DUI, El Paso residents experience just a 34% increase in auto insurance rates from $3,157 annually to $4,242.
This is our third city in a row from Texas, with one to go. The state is known for an even worse issue: teenage drunk driving.
Jane Todorovich, a digital marketer at ePermitTest.com, had this to say to teenage drivers on the subject of drinking and driving:
"If you value your life and your future, you cannot afford to engage in risk-enhancing behavior that will increase the danger you face on the road. Keep in mind that drinking alcohol is just about the worst thing you could do. It's not worth the risk; do not drink and drive."
#2 – Austin, Texas
Arrests per 100K residents: 1,254
DUI arrests (annual average): 4,092
Austin, ranking No. 2 on this list of the worst cities for drunk driving, rounds out the four Texas cities. In our three-year study period, it averaged 1,254 DUI arrests per 100,000 residents and 4,092 arrests annually.
Austin residents who are convicted of a DUI experience a slightly higher auto insurance penalty than the other Texas cities: a 35% increase in rates from $3,270 to $4,407 per year.
Because drunk driving is such a serious issue in this city, Austin drivers and pedestrians should take extra caution while on the roads at night, when people are more likely to drive drunk.
#1 – Las Vegas, Nevada
Arrests per 100K residents: 1,986
DUI arrests (annual average): 4,311
Las Vegas, Nevada, the City of Sin, is without surprise the worst city in America for drunk driving. In our three-year study period, there were a whopping 1,986 DUI arrests per 100,000 residents and 4,311 arrests annually.
Las Vegas residents receive a steep auto insurance punishment for a DUI conviction: a rise in rates of 51%, from $5,205 annually to $7,835.
Thought Leaders Weigh In on Drunk Driving
Here we have the best of the best, from lawyers to auto insurance company employees to travel junkies. Their takes on drunk driving, why it's such a large problem, and how to solve it will captivate you and inspire you to think.


"Some jurisdictions are worse for DWI than others for a variety of reasons. Culture plays a role. For example, Corpus Christi. Texas has a high rate of DWI because drinking and driving are socially acceptable in that Catholic beach town.
DWI is generally more prevalent in Texas because of a lack of public transportation and a high prevalence of urban sprawl, meaning that people need to drive more miles and have fewer options after drinking. Law enforcement policy is also a factor.
NHTSA has long noted that increased arrests (not necessarily convictions) are the strongest deterrent to drunk driving. Cities with aggressive, visible traffic enforcement often show a decrease in DWI cases over time.
Most drunk drivers are on the roads an hour before and after bars close. In Texas, where bars close at 2 am, the highest incidence of drunk driving is typically between 1 am and 3 am. However, this varies seasonally and by jurisdiction.
For example, during San Antonio's annual Fiesta celebration, there will be an increase in drunk driving between 10 PM and midnight because large events (one event has around 100,000 people per night) close down at 10 PM.
Drivers should avoid the time when bars close but need to be aware of local events and holidays, such as New Year's, and avoid driving near those places or during those times.
Our law firm engages in significant therapeutic efforts for our clients, from treating service-related trauma like PTSD to providing addiction counseling and medical intervention to help people with a history of DWI move on toward a better life.
In terms of marketing, our materials emphasize the cost of a DWI defense compared to the cost of avoiding drunk driving. We even give out free Lyft and Uber codes at events where people are likely to drink excessively.
Structural issues such as poor transportation options and a lack of public health resources, both for addiction and mental health, are major challenges. These problems exacerbate cultural issues because they serve as an excuse to perpetuate dangerous conduct.
Penalties for DWI in Texas are harsh. Drivers arrested for DWI face automatic license suspensions, regardless of whether they are convicted. DWI penalties increase sharply after a first offense, including mandatory jail time at the misdemeanor level.
For felony DWI (third violation or more, child passenger, DWI causing injury or death), penalties range from two years in prison to a potential life sentence.
For drivers with two prior felony convictions, a felony DWI carries a minimum 25-year sentence. Misdemeanor and felony courts may impose lock-down inpatient treatment for six to 12 months, even when granting probation instead of a prison sentence.
The best thing people can do to avoid drinking and driving is to create a transportation plan before they start drinking.
For example, scheduling a ride through a ride-sharing app can create a cut-off time and limit the risk of a particularly bad night. Arranging a ride in the morning can limit the temptation to try and get your car home after having a few drinks.
Planning prior to getting intoxicated is key. Restaurants and bars need to stop overserving. Anyone who has had more than three drinks in an hour is probably heading over the legal limit."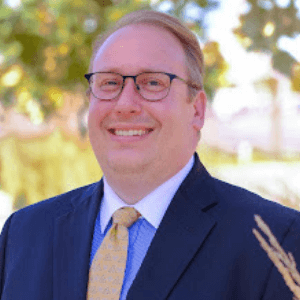 Joseph Hoelscher is the managing attorney of HGCLaw.com.
As an award-winning trial lawyer, he often handles DWI cases.
---
"In the United States, drunk driving is against the law, and having too much to drink can be extremely dangerous. According to research, Washington, DC, Worcester, MA, and Detroit, MI had the most significant number of drunk driving deaths per capita of any city in the United States.
According to the National Highway Traffic Safety Administration (NHTSA), in North Carolina, the period between 2 am and 6 am is when most drunk drivers are on the road. This is also true in states like California, Washington, and Massachusetts, where it is common sense that most people driving under the influence choose to do so during these hours.
North Carolina and other states have tried several strategies that have helped reduce drunk driving-related crashes.
The ignition interlock device for intoxicated drivers has shown to be one of the most effective techniques. Ignition interlocks are devices that must be installed in a vehicle to start it.
These devices measure and monitor a driver's blood alcohol content level using a breath test. The engine will not start if the driver's blood alcohol concentration is over a specified threshold.
Ignition interlock devices have been found effective in preventing drunk drivers from starting their vehicles, from which many drunk-driving crashes stem.
Many drunk-driving-related traffic deaths still occur even with smoke-free policies, designated driver programs, and ignition interlocks. Many people drive under the influence, even though they know that drunk driving is unsafe and illegal.
Many people refuse to accept answerability for their actions while driving while drunk, even if they cause a fatal accident or serious injuries. This is why combating the problems that have plagued our communities for decades can be challenging.
The penalties for drunk driving in the District of Columbia, Massachusetts, and Michigan are much harsher than in other states.
The national average sentence is about nine months on probation, $1,000 to $2,500 in fines, and additional fees depending on the state.
In Washington DC, it's an automatic sentence of at least 90 days in jail, facing up to one year behind bars for a first-time offender.
By posting a 'zero tolerance' policy in the restaurant, bar, or other establishment, managers can help deter intoxicated drivers from driving under the influence by informing them that they are no longer allowed to drink alcohol in the establishment and not allowed to drive while intoxicated."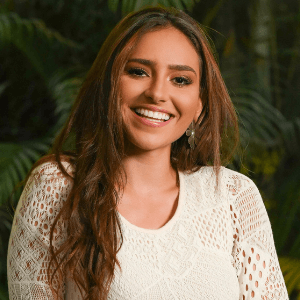 Lynda Fairly is the co-founder of NumLooker.
Numlooker is an online grey pages directory.
---
Why are some cities worse for drunk driving than others? What are the times you believe most drunk drivers are on the road? What is your organization/community doing to try to stop drunk driving?
"As a native here in California, I would vouch for the statement that different cities in the US have different rates of drunk driving cases. This mostly depends on the strictness of rules in that specific area or how easily alcohol is available.
For example, in the last ten years, most cases of drunk drivers were recorded in San Antonio, Texas. The number was around 77,000, which was followed closely by Los Angeles, California. Los Angeles is the hub of gambling and drinking, so it's no surprise that the number reached around 75,000.
I believe that nighttime is the prime time for drunk drivers on the road as most people go out with their friends during that time.
Many adults seem to enjoy drinking at night when they also have the privacy and convenience to relax as they want.
As of now, there are no defined rules from my community, but I have been working in a law enforcement organization for the past few years, and this year will hopefully see the introduction of proper rules and regulations on drunk driving.
The fines and punishments are under consideration as we believe the original rules are not enough for people to be more careful with drunk driving."
What are some things you'd like to see your organization/community do to stop drunk driving? What are the challenges in lowering the drunk driving rates? Are the penalties for drunk driving harsh enough in your area?
"I believe in strict actions, and even if those actions cannot be implemented, the community should educate themselves and their children in order to avoid any major mishaps related to drunk driving.
It is sad to see that around 28 people lose their lives to drunk driving crashes every day in the U.S. For a country so advanced, these preventable deaths are begging the question: Are the current rules enough?
All signs are pointing to the fact that they are not. I would like my community to spread awareness in local schools and limit the use of beer on a daily basis.
Following are the punishments for drunk driving in California:
A person convicted of a DUI faces imprisonment in a country jail from 96 hours to six months. The fine is around $1,000.
A second DUI within 10 years of the first offense means 90 days to one year in jail, and the driver is subjected to a fine of $1,000. The drivers' license suspension period is around two years.
A person facing a third DUI within 10 years of the second offense faces 120 days to a year in jail, and the fine is around $1,000. The suspension period for their drivers' license is around three years.
Many people do not want to give up drinking, and that, for me, is the biggest challenge. The second most important factor is that alcohol is now easily available at local stores.
Young kids, especially in California, are forging fake IDs to buy alcohol in bulk. Authorities cannot find and punish every person as long as self-responsibility is not adopted."
What can people who drink do to make sure they don't drive drunk? What can restaurants and bars do to stop drunk driving?
"Ultimately, the responsibility of drunk driving falls on the people who are involved in it. People who drink should stop going out in their vehicles to avoid causing damage to themselves and others around them.
Restaurants and bars should stop serving drinks after midnight and carry out a no-driving-and-drinking policy if people still want to enjoy themselves.
It can be hard to follow through with these rules, but it is important for the safety of the people who are not involved in drunk driving and are just victims of someone else's carelessness."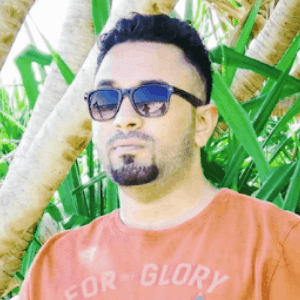 Craig Campbell is the CEO of Auto Parts Guideline.
His company provides auto part reviews and guides.
---
"Labor Day is often considered the celebration of the end of summer. But it's also one of the most dangerous holidays on the road, as drunk driving deaths often increase over Labor Day weekend.
SafeAuto wants everyone to be educated on the risks of drunk driving and has the following tips to help make this summer the safest one yet:
Know the signs of impaired driving: quick acceleration or deceleration, tailgating, and driving with headlights off at night are all potential signs that someone may be driving drunk.
What to do if you see an impaired driver: Pull over as soon as possible and call to report the driver. Recall the details of the vehicle and describe your exact location. Give details on which direction the driver is traveling in and what actions they did to give you suspicion of impaired driving.
Have a plan. If you are planning on drinking, designate a sober driver ahead of time. If not, use a rideshare app or call a taxi to get you home safely.
Be prepared to pay more; if you do drive under the influence, be prepared to pay more for car insurance. Drivers charged with a DUI see their car insurance increase by as much as 70%."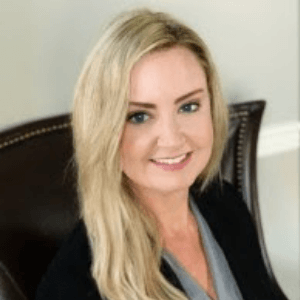 Amber Yeray is the head of marketing at SafeAuto.
SafeAuto is a leading provider of state minimum insurance coverage.
---
"While researching car insurance, we discovered quite a few unusual facts around drinking stats, which of course exacerbated costs exponentially.
No prizes for guessing that New York is a major culprit. Drunk driving is a big problem across the U.S. as a whole. The number of drunk driving deaths in the U.S. is going up as opposed to declining. This is mainly because the penalties for drunk driving are not strong enough.
According to the Centers for Disease Control and Prevention (CDC), 29 people die due to alcohol-impaired driving every day in the US. The CDC also states that drunk driving accounts for 26% of all traffic-related fatalities in 2020.
We've seen a number of companies working to lower the penalties for drunk driving. Most of them are offering rewards for drivers who have a clean record, promoting good habits rather than focusing on draconian punishments for the bad guys.
This, along with the many programs that give drivers information on how to drive safely, can help reduce the number of incidents relating to drinking.
Insurance companies may have better reviews and comparisons of drunk driving and insurance rates in different cities so that drivers know where it's safe to drive or not.
The worst cities would be those where the penalties are not harsh enough. The best cities would be those where the penalties are harsh enough to deter people from driving under the influence. In such cities, drunk drivers would definitely drive less as they would be afraid of the consequences."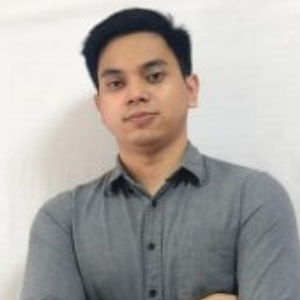 Adam Ng is the founder and CEO of Trusted Malaysia.
His company provides news articles and travel advice.
---
"Poor roads in some areas increase the risks for accidents if the driver is not paying full attention to the road. Also, inclement weather like rain, mist, or fog can cause cars to slip or slide and lose control leading to an accident.
Some areas have negligent transport authorities, who have made no efforts to improve the roads, making it unsafe for everyone. In these places, there may be poor lighting on the road, and authorities are not strict on people meeting the requirements to qualify for driving.
I believe drunk drivers are most frequent on the road at night, especially between midnight and 3 am on weekends.
Some of the efforts that we have taken to reduce drunk driving are confiscation of license plates, license revocation or suspension, having those convicted serve some jail time, increasing the penalties for drunk driving, enforcing the seat belt laws, advocating for alcohol education, and expanding alcohol training programs among others.
Also, improving the state of the roads in ways such as improved lighting, widening roads, adding road bumps and signposts has shown good results in reducing road accidents.
I would love to see the government restrict nighttime driving by young people, encourage other drivers to report drunk drivers, and educate prospective drivers on alcohol and driving.
Prospective drivers can then take an exam to test how seriously they take drunk driving.
Regarding the penalties from the government, you could be imprisoned, banned from driving, and face a fine if you're found guilty of drunk driving.
Depending on your offense, the actual penalty you get is up to the magistrate who hears your case. Yes, it is promising but ineffective because people still get into accidents, and innocent lives are lost due to drunk driving.
Some of the things that people who drink can do to avoid drunk driving include choosing a non-drinking designated driver or using an Uber every time they go out drinking.
If you are drunk in a bar and the bartender notices, they can call an Uber or a taxi for you to get home safely. They can also limit your alcohol intake."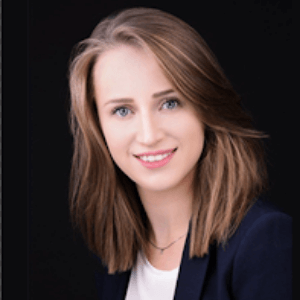 Katherine Brown is the founder of Spyic.
Spyic offers security and monitoring devices.
---
"Drinking and driving has become near-endemic in most cities of the United States. Nearly eight cities in California are on the list of the most dangerous cities to drink and drive in. South Carolina tops the chart with the most drunk-driving deaths, and Mississippi and New Mexico are not far behind.
Evenings are usually the most dangerous time to be on the road, especially any time from midnight to 3 am. These are the times when most drunk driving deaths occur and are when most bad decisions like driving after a few drinks happen.
Our company regularly contributes to community awareness campaigns about drinking and driving. We are proud of our employees and their no-crash record; they, too, have taken to this campaign with great vigor.
The greatest challenge in lowering the rates of drunk driving incidents is monitoring. This can be a tricky issue with such a wide landscape to monitor and only a finite number of law enforcement out there.
Fines are a deterrent, but they need to be enforced much better if things are to change. The biggest transformation, however, needs to occur at the grassroots level.
Communities and schools need to spread the message that drinking and driving is something that should never be condoned. The more this message gets out to our youth, the more secure we will be.
If you are going out drinking with your friends, have a designated driver, or better still, split a cab. Factor in the expense of fines, and you will realize that a cab definitely is cheaper than a DUI.
More importantly, if you feel that you are not going to be able to drive home, there is no shame in leaving your keys at the bar and picking them up the next morning. Let the extra commute be a lesson to you in the dangers of drinking."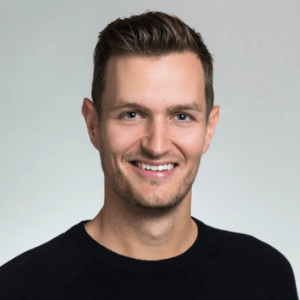 Philip Westfall is the Director of Marketing at RVezy.
RVezy is a leading RV rental marketplace.
---
"Higher population, bigger state size, and the fact that each state has different traffic safety policies and DUI laws all contribute to the varied number of DUI arrests and fatal accidents per state.
Some studies suggest that most alcohol-related accidents occur between 6 pm and 12 am. Other studies estimate that more drunk drivers are out on the road between 12 am and 3 am when many drive to and from bars and home.
Honda has launched campaigns in the past warning about the dangers of drunk driving to younger customers. New 2022 Honda models come with a variety of improved safety features, such as front and rear seat airbags, blind-spot alerts, collision and lane-keeping alerts, and much more.
The challenge ultimately lies in convincing the public that drunk driving is extremely dangerous and should be seen as a criminal act.
In 2019, Louisiana was in the highest range of deaths in an analysis of Alcohol-Impaired-Driving Fatality Rate per 100 million vehicle miles. This is one reason Louisiana has a Zero Tolerance law for drunk drivers less than 21 years of age.
Penalties for a first DUI offense there can start with a fine of up to $1,000 and six months in jail. Penalties increase with each offense, with four or more resulting in a $5,000 fine or 10-30 years in jail.
True deterrents stem from the public's certainty that the person will be caught and punished, how quickly a person is sentenced after a violation, and the severity of the punishment.
For people wanting to prevent themselves from driving drunk, be aware of how much you drink on average and how your body reacts to it.
Buzzed driving is drunk driving, so do not drive if any alcohol is consumed. Drivers should call a friend, a taxi, or a rideshare service like Uber or Lyft to find a safe ride home.
Venues that serve alcohol like restaurants and bars can make a difference to their customer's safety. Many bars offer to arrange safe transport home to intoxicated individuals and create incentives for designated drivers, such as free non-alcoholic beverages, that can ensure a group will have a ride home.
However, the best way for these venues to have an impact is to ensure the staff is trained in spotting intoxicated individuals and interacting with them safely."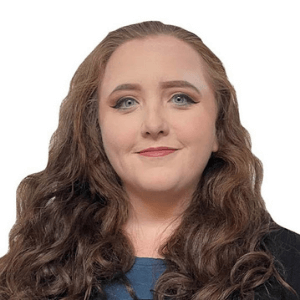 Allyson Langhoff is a consultant for Superior Honda.
Superior Honda is a used car dealership in New Orleans.
---
Why are some cities worse for drunk driving than others?
"Some cities are far worse for drunk driving and have significantly higher fatality statistics because of many factors. These cities often do not have a lot of public transportation options or are places where ridesharing services aren't as popular.
The road infrastructure is also of very low quality, with less maintained roads, fewer street lights, and no law enforcement patrols. Citywide culture also plays an important role. Some cities just have more bars than normal, like New York."
What are the times you believe most drunk drivers are on the road?
"Weekends are the time when most DUIs happen. Around 30% of fatalities that occur due to drunk driving happens between midnight and 3 am. Since most people have a drink at the end of a long work week, weekend nights are the worst time to be on the road."
What is your organization/community doing to try to stop drunk driving?
"My housing community has set up sobriety checkpoints in highly visible areas around our houses. They briefly stop vehicles and inspect drivers for intoxication. If they do find someone who seems drunk, they are not allowed to leave until they call themselves a taxi or the authorities get involved. This has helped reduce accidents due to DUI in our area."
What are some things you'd like to see your organization/community do to stop drunk driving?
"One thing I would really like organizations to do is to hold alcohol problem assessment and treatment programs. These programs can help identify people who have an emerging drinking problem and rehabilitate them before it turns into an addiction or worse, cause a fatal accident."
What are the challenges in lowering drunk driving rates?
"One of the biggest challenges in reducing the drunk driving rates has been the costs associated with it. The solution isn't just to make more strict laws in order to deter drunk driving.
Awareness campaigns, improving law enforcement, targeting public attitudes, and making alcohol pricier are better ways to lower the DUI statistics.
But these come with not only higher financial costs but also public and organizational resistance that is difficult to overcome."
Are the penalties for drunk driving harsh enough in your area?
"In New York, the law is very strict when it comes to driving while intoxicated. We have a zero-tolerance policy here. The penalties are much harsher compared to other areas and include:
A permanent criminal record
Up to one year in jail
A maximum fine of $1,000 with a surcharge of $400
Six-month license revocation
In addition, you may be required to get an ignition interlock device for one year."
What can people who drink do to make sure they don't drive drunk?
"The best way for someone to ensure that they don't drink and drive is to know their own body's limits and pace their drinking.
Do not drink more than you can handle, and try to keep yourself limited to just one drink every hour. This will ensure that by the end of the night, you're in the best state to drive properly."
What can restaurants and bars do to stop drunk driving?
"A simple way for restaurants and bars to help lower the drunk driving rates in their area is to use a breathalyzer to check the BAC of every customer that leaves the place.
This will ensure that customers are aware of their state before they get in their vehicles. Sensible people will choose to call an Uber or a designated driver if they're intoxicated."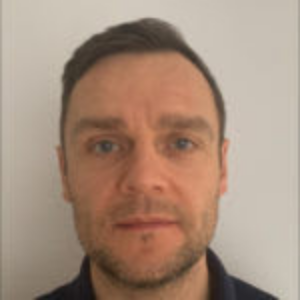 Grant Clelland is an automotive expert from Infiniti Tracking.
Infiniti Tracking is a company that specializes in vehicle tracking.
---
"The states with the highest numbers of fatalities due to drunk driving in 2019 were Texas, California, and Florida.
This phenomenon is hard to regulate due to the different laws and cultures present in each state. Identifying and tackling the problem should be an innately communal process that targets specific individuals who are vulnerable to alcohol use.
Instituting laws against drunk driving is not enough; grassroots efforts are more important as they penetrate directly into homes and spaces where it is known that there is vulnerability.
Mississippi has the worst rates of drunk driving in the United States due to the lax laws regarding this matter. In this state, offenders only spend 48 hours in jail, get a license suspension of between 30 and 90 days, and receive a fine of between $250 and $1,000.
These accommodations have led to a culture of disregarding the driving laws and a higher rate of deaths attributed to drunk driving.
The devil's hours are the times when drunk driving incidents occur; midnight to 3 am is a troubling time all over the country. The insurance industry is trying to reduce drunk driving incidents by providing education initiatives that target vulnerable communities and individuals.
I would like to see many organizations tackling drunk driving by using more stringent measures and more severe punishments that will deter drunk driving.
The challenges in lowering drunk driving rates revolve around legislation meant to solve the problem. Many politicians pass up the suggestion due to personal experiences and affiliation with car manufacturers."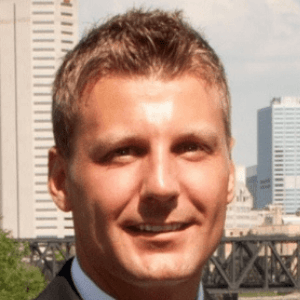 Brad Cummins is the owner of Insurance Geek.
He has over 15 years of experience as an insurance agent.
---
All Cities Ranked by Drunk Driving Deadliness
Don't see your city listed? That's good news! We compiled data on the 30 largest metros to form our ranking; all are listed in the table below with the statistics we have talked about: arrests per 100,000 residents, annual DUI arrests, and auto insurance percentage rise with a DUI conviction.
All 30 Metros Ranked by DUI Arrests per Capita
| Rank | City, State | DUI Arrests (3-Year Total) | DUI Arrests per 100k Residents | Insurance Rise (1 DUI) |
| --- | --- | --- | --- | --- |
| 1 | Las Vegas, Nevada | 12,932 | 1,986 | 51% |
| 2 | Austin, Texas | 12,277 | 1,25 | 35% |
| 3 | El Paso, Texas | 8,174 | 1,199 | 34% |
| 4 | San Antonio, Texas | 17,194 | 1,111 | 34% |
| 5 | Houston, Texas | 18,253 | 787 | 34% |
| 6 | Tucson, Arizona | 4,231 | 772 | 43% |
| 7 | Albuquerque, New Mexico | 4,242 | 757 | 63% |
| 8 | Indianapolis, Indiana | 6,038 | 689 | 50% |
| 9 | Fresno, California | 3,445 | 648 | 100% |
| 10 | Oklahoma City, Oklahoma | 4,233 | 646 | 46% |
| 11 | Denver, Colorado | 4,292 | 590 | 47% |
| 12 | Phoenix, Arizona | 9,284 | 552 | 44% |
| 13 | Seattle, Washington | 3,708 | 492 | 42% |
| 14 | Portland, Oregon | 2,771 | 423 | 48% |
| 15 | Philadelphia, Pennsylvania | 6,363 | 402 | 32% |
| 16 | Milwaukee, Wisconsin | 2,314 | 392 | 33% |
| 17 | San Diego, California | 5,276 | 371 | 101% |
| 18 | Los Angeles, California | 14,605 | 367 | 103% |
| 19 | Dallas, Texas | 4,910 | 365 | 34% |
| 20 | Fort Worth, Texas | 3,283 | 361 | 35% |
| 21 | Jacksonville, Florida | 2,757 | 303 | 48% |
| 22 | Memphis, Tennessee | 1,619 | 249 | 41% |
| 23 | Charlotte, North Carolina | 2,091 | 236 | 244% |
| 24 | Detroit, Michigan | 1,446 | 216 | 132% |
| 25 | San Jose, California | 2,017 | 197 | 100% |
| 26 | Chicago, Illinois | 4,301 | 160 | 51% |
| 27 | San Francisco, California | 978 | 111 | 101% |
| 28 | Boston, Massachusetts | 375 | 54 | 58% |
| 29 | Baltimore, Maryland | 150 | 25 | 46% |
| 30 | Columbus, Ohio | 195 | 22 | 43% |
To find out why we couldn't include New York City, head to our methodology section.
Frequently Asked Questions: All About Drunk Driving
Have more questions about drunk driving? This section covers the worst states for drunk driving, the states with the most DUIs in history, and the deadliest days for drunk driving.
#1 – What city has the most drunk drivers?
According to our study, Las Vegas has the highest number of drunk drivers with nearly 2,000 DUI arrests per 100,000 people. That means 2 of every 100 people are arrested for drunk driving — that's a lot.
#2 – Which state has the highest drunk driving rate?
The worst state for drunk driving is Mississippi with an 8.77 death rate per 100,000 residents according to our 10 Worst States for Drunk Driving three-year study.
#3 – What state has the lowest drunk driving deaths?
Delaware is the least-deadly state for drunk driving with 41 traffic deaths related to alcohol in our three-year study and a 1.37 death rate for crashes related to drunk driving.
#4 – What is the biggest drunk driving night of the year?
New Year's Eve is often considered the biggest drunk driving night of the year.
#5 – What alcohol level is drunk?
The federally mandated alcohol limit is a 0.08 blood alcohol concentration (BAC), which is equivalent to less than one beer. If you are caught driving with that much alcohol in your system or more, you can be arrested for a DUI. In Utah, the state-mandated alcohol limit is 0.05.
#6 – What percentage of drivers are drunk?
While the actual number or percentage of drivers is mostly unknown (and is thought to vary widely by age group), drunk driving accounts for 28% of all fatal car crashes in the United States and has been consistently at or around that percentage for several years.
#7 – Which person has the most DUIs?
A man named Jeremy Zeller, known as "Mr. DUI," was said to have wracked up over 30 DUIs during his lifetime.
#8 – What is the deadliest day for drunk driving?
Halloween and New Year's Eve are deadly for drunk driving. As far as the deadliest holidays to drive, Memorial Day, Independence Day, and Labor Day all see at least 37% of their fatal alcohol-related crashes.
Methodology: Determining the Worst Cities for Drunk Driving
To determine the ranking of the 10 worst cities for drunk driving, our researchers collected DUI arrest data from 2017-2019 on the 30 most populous metros, except for New York City, which did not have city police department data available for DUI arrests.
The data came directly from the FBI Uniform Crime Reporting Program, which contained DUI arrest data from each city's police department. Our experts then cross-referenced this FBI DUI arrest data with population data from the U.S. Census Bureau. From there, they created the DUI arrests per capita statistic, which informed our ranking.
All auto insurance data came from our in-house statistics.