If you have multiple vehicles, you can put them on the same policy. You might even be eligible for a multi-vehicle discount on your policy, whether you've purchased full coverage auto insurance or liability auto insurance coverage alone.
Is insuring two cars for one driver possible? Can you insure two cars at the same time? Can you insure two cars in your name to get better rates? What is the average car insurance for two cars? In this guide, we've provided details regarding these and other commonly asked questions.
It's important that you get the right level of coverage for all your vehicles. If you're wondering can you have multiple car insurance policies, or how to buy auto insurance for multiple vehicles, we can help. Enter your ZIP code to get free auto insurance quotes for two cars with one driver from top auto insurance companies.
Read More: The Hartford Auto Insurance
Can I have insurance on two cars?
Yes, you can insure more than one car for a single driver, and you can even get car insurance discounts by doing this rather than having two separate policies. So if you're wondering if you qualify for lower rates by insuring multiple cars for one driver, the answer is maybe. Keep reading for more.
Is it cheaper to have two cars on one insurance policy?
Not only is insuring two cars for one driver easy to do, but it's also rewarding. Most auto insurance companies offer discounts for insuring at least two vehicles on the same policy. Comparison shopping is important because discounts for more than one car will differ by company.
If you want both cars on one policy, the multi-car discount average for a second vehicle on your insurance is between 10% and 25%. The more vehicles you add to your policies, the lower your rates will be as compared to purchasing separate policies for each.

To qualify for a multi-car policy, all vehicles to be insured on the policy should be registered and parked at the same address. Insurance is a complicated, complex topic for many reasons. Because the minimum auto insurance required by state varies and limits and laws can also be so diverse, it's always best to shop around for the best possible prices.
Multi-vehicle discounts are available from most of the best auto insurance companies, and this is how drivers can insure two cars at once. Take a look at this table to find out which major insurance companies offer this discount and how much it can affect your rates.

Multi-Vehicle Auto Insurance Discounts Available by Company
| Insurance Companies | Multiple Vehicle Discount |
| --- | --- |
| 21st Century | Yes – n/a |
| AAA | Yes – n/a |
| Allstate | No |
| American Family | Yes – n/a |
| Ameriprise | Yes – n/a |
| Amica | Yes – 15% |
| Country Financial | Yes – 15% |
| Esurance | Yes – n/a |
| Farmers | Yes – n/a |
| Geico | Yes – 25% |
| Liberty Mutual | Yes – 10% |
| MetLife | Yes – n/a |
| Nationwide | Yes – 20% |
| Progressive | Yes – 10% |
| Safe Auto | Yes – 15% |
| Safeco | Yes – 15% |
| State Farm | Yes – 20% |
| The General | Yes – 15% |
| The Hanover | Yes – 5% |
| The Hartford | Yes – 5% |
| Travelers | Yes – 8% |
| USAA | Yes – n/a |
Read more: SafeAuto Auto Insurance Review
As you can see, you can save up to 25% with this multi-vehicle discount when you can have at least two vehicles on one insurance policy.
The U.S. Census Bureau reports that 21% of American households own at least three vehicles. That's good news, as most insurance providers will allow multi-car policies with up to four cars on a single policy for the non-fleet car owner. Bundled policies can keep this from getting too expensive; however, there are other ways to bring the costs down depending on the type of cars being insured.
How can you save money on auto insurance with multiple vehicles?
1
Pleasure Vehicles May Need Less Auto Insurance:
One option for someone who needs to insure multiple vehicles is to consider how much time you spend in the car or the average distance you drive in the vehicle each month.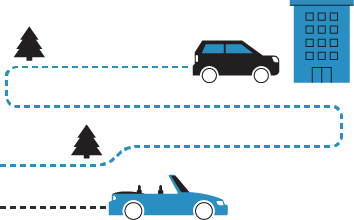 Perhaps you have one car that you drive to and from work every day and another that you only use on the weekends. You only drive the weekend car for short distances, and it seems like a waste of money to pay for insurance at the same rate as the work car.
Pay-per-mile auto insurance is one way to address a difference in coverage amount based on vehicle usage. As the name implies, your insurance rate is based on how much you drive a particular vehicle. If you start driving more frequently, it may not make sense to keep this type of policy.
Additionally, you can reduce the amount of coverage for a weekend vehicle by only insuring it to the minimum amount required by your state (though depending on the type and value of the car, this may or may not be a good idea).
2
You can get different coverages for each vehicle listed on your multi-car insurance policy:
Do you need the same amount of coverage on all of your vehicles? No. You may have just purchased a car but aren't ready to get rid of your old one yet. Given your new vehicle's value, it is probably smarter to have more coverage for your new car.
This coverage can include liability insurance, collision insurance, and comprehensive insurance, all of which may be important because, in the event of an accident, your new vehicle will probably cost more to repair than your old one.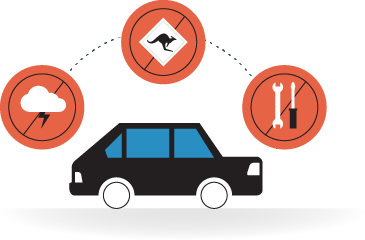 For your older car, you might decide to save money and only purchase liability coverage. This should cover bodily injury and property damage for others involved in the accident when you're at fault..
If you get in an accident, your liability-only insurance won't cover the cost to repair your car if it is damaged. It also won't cover things like theft, natural disasters, animal collisions, and falling objects.
3
You should look for a special auto insurance policy if you have a classic or vintage vehicle that you're worried about.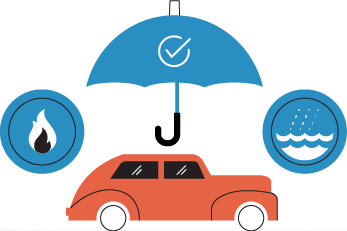 Can you reduce your rates if one of your vehicles is a collectible? Many companies will allow you to add a classic car and your regular vehicle to one multi-car policy. If your car is considered a classic car, or hot rod, it can also be insured on a separate policy, especially if you only drive it on rare occasions. This policy will still protect it from theft, flood, and fire while it is being stored, but there are a couple of things to keep in mind:
If your policy is written specifically for a car in storage and you drive the vehicle, you will be faced with the expense of all repairs as well as potential fines, legal fees, and more if you're in an accident.
If you injure or kill someone in a vehicle without adequate insurance coverage, you could face severe legal charges, which may even include jail time.
Remember you will have to report a lapse in coverage in some states as well as return the license plate to that vehicle, even if you simply cancel the insurance coverage for a set period.
It may also be harder to get a new policy for the vehicle if it has been without coverage for an extended period of time.
4
You can get parked car insurance for extra vehicles.
If you have seasonal cars, you might choose to get storage insurance for a vehicle. For example, you may drive your convertible in the summer and your SUV in the winter. This would be a perfect situation to get both vehicles insured under one policy.
Can two drivers insure the same car?
Rather than having two vehicles insured for the same driver, can two drivers insure the same car under different policies? This could happen if a couple wants to keep their own coverage on a jointly owned car; however, this can be risky and a waste of money. It would be cheaper and offer the same coverage to choose the policy with the best terms and lowest rates rather than keeping both policies in place.
Can two people insure the same car? Two drivers insuring the same car may be considered a form of "stacking coverage," which can also open you to the risk of insurance fraud and a violation called "unjust enrichment." This happens when someone has a covered loss and tries to file claims with two separate policies on the same vehicle. This could be punishable by steep fines and could even lead to jail time.
Another example of two people trying to cover the same vehicle is if an older teen driver purchases their first insurance policy, but their parents are worried the coverage will not be sufficient. In that case, consider the following:
If the policy is written for a car that is driven by everyone in the family, it should be a multi-driver policy that lists everyone who might drive that vehicle at any time.
If the policy is for a vehicle that is owned by the teen, it may be beneficial (but not less expensive) for the teen to be the sole person on the policy. This should be the only policy on this particular vehicle because of the risk of legal violations (which we previously discussed).
If the teen is under 18 and still living at home. In that case, it's unlikely an insurance company will sell them their own policy, so they'll probably need to be added to their parents' policy (if they're not already listed).
If the parent has concerns about whether the auto insurance for teenage drivers that their older teen is purchasing will provide sufficient coverage, they should review the policy with their own agent before it is finalized.
If a teen purchases their own policy for a vehicle they own, parents can consider excluding their teen from their own policy; however, if the teen ever borrows the family car, they should still be listed as a driver on the policy.
What else should you know about a multi-car policy?
In some states, double coverage for a single vehicle will not even be written by the same insurance company. In that case, you would have to shop around for another policy with another insurance company (though in many states it's illegal to stack coverage).
If you have any concerns about the type or amount of coverage, it is better to discuss those concerns with an agent to get the right amount of protection at a reasonable price without exposing yourself to potential fines and more.
If you are asked if there is coverage in place on the car already and answer no, you could be charged with insurance fraud.
Depending on the fraud level (soft fraud vs. hard fraud), the charge would likely be a misdemeanor in most states and can result in a fine and possible probation for a set period.
Jail may be an option, but only in extreme cases, and it would most likely be for a period of fewer than five years. Even if you live in one of the states with the fewest auto-related scam reports that doesn't prosecute as harshly as other states, the last thing you want is to commit fraud.
Remember, you can commit soft fraud without intending to do so without even realizing it, so carefully review your policy application statements before signing anything.
Always be truthful when looking for a quote and when you are speaking to an insurance agent so you can avoid any problems.
Do your research and remember, getting affordable auto insurance for two cars with one driver is possible, though auto insurance rates will be different based on several factors.
Can I use a no-claims discount on both of my cars?
Your no-claims discount will be applied to your vehicle when you haven't had a claim. It's likely that the insurer will only apply it once. The table below shows which insurance companies offer no-claim discounts.

No Claim Auto Insurance Discounts Available by Company
| Insurance Companies | Claim Free Discount |
| --- | --- |
| 21st Century | Yes – n/a |
| AAA | Yes – n/a |
| Allstate | Yes – 35% |
| American Family | Yes – n/a |
| Ameriprise | Yes – n/a |
| Amica | Yes – n/a |
| Country Financial | Yes – n/a |
| Esurance | Yes – 25% |
| Farmers | Yes – n/a |
| Geico | Yes – 26% |
| Liberty Mutual | Yes – n/a |
| MetLife | Yes – 20% |
| Nationwide | Yes – 10% |
| Progressive | Yes – n/a |
| Safe Auto | Yes – 10% |
| Safeco | Yes – 20% |
| State Farm | Yes – 15% |
| The General | Yes – n/a |
| The Hanover | Yes – 15% |
| The Hartford | Yes – n/a |
| Travelers | Yes – 23% |
| USAA | Yes – 12% |
The percentage by which your rate may be reduced with this discount can increase for each year that you don't file a claim for an accident (up to a set limit).
If you have multiple vehicles, you'll want to make sure you have the best and cheapest coverage for them.
Do you have more questions?
Still have questions about insuring two vehicles for one driver, multi-car insurance discounts, etc.? Before searching for multiple car insurance quotes, read these frequently asked questions for more.
#1 – Do auto insurance rates vary depending on who is identified as the primary driver for a vehicle?
The short answer is yes. Driving record, age, and often gender (though this depends on where you live) all affect your insurance rates, so whoever is identified as the primary driver for a particular vehicle will affect the rates for that vehicle.
#2 – Why are you required to ensure all the vehicles you own when you only drive them one at a time?
In general, any vehicle that is registered must be insured. Insurance is required in most states for any car that may be out on the road, so any registered vehicle you own must be covered with insurance policies. This can be expensive, depending on the auto insurance company you choose, but access to a variety of discounts and different policy service options can give you additional savings. Just make sure that this is a conversation that you have with an agent when you are shopping for insurance coverages.
They will know more about the discounts you can be getting to help you save money on your monthly payments.
#3 – Can you add a car to your insurance policy online?
Something like this is completely in the hands of insurance companies. You can call your insurance company or check the company's website to find out if you can use an online portal to add another vehicle to your policy. You may even be able to add other drivers to your insurance policy online, should you ever need to do so.
#4 – How much coverage do you need?
You'll need coverage that at least meets the minimum requirements set by your state. Any additional coverage is up to you (unless your vehicle is financed, in which case your loan terms may outline specific coverage requirements). The amount of coverage you should purchase depends on what you drive, where you live, etc. Only you can decide how much coverage you need, based on your specific circumstances and the risks you face when you get behind the vehicle. Researching what's available through multi insurance quotes, can help you make an informed choice on the best coverage for you.
Ready to find affordable multiple auto insurance quotes in your area? Now that you know one driver can get insurance for two cars, enter your ZIP code to get free multiple car insurance quotes at once, from auto insurance providers today.