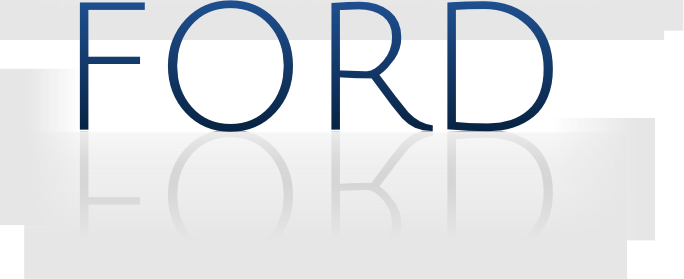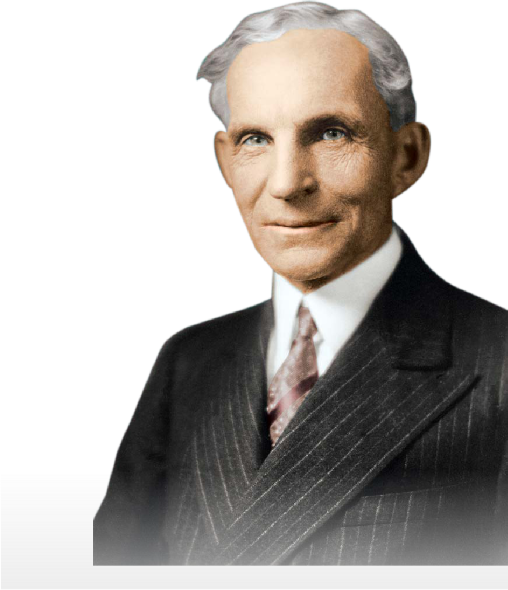 The Face of 20th Century Innovation
Henry Ford is a household name, synonymous with the Ford Motor Company. Perhaps you're one of the 2 million Ford owners in the U.S. that drives a Ford SUV, truck,
or hybrid to work each day. Behind the well-known manufacturing of classic American vehicles is a man responsible for the innovation: Henry Ford.
Where did it all begin? How did Henry Ford shape America as we know it today?
These lofty questions can be best answered by reviewing Henry Ford's accomplishments over his lifespan.
If you're unfamiliar with Mr. Ford, he's celebrated for his career as an
American businessman, born in 1863.
He's famous for introducing the Model T car to the U.S., as well as creating Ford Motor Company.

Yet these achievements are barely scratching the surface of what Henry
Ford contributed to U.S. history.

The reason that Henry Ford was so innovative, so courageous, and so willing to pioneer in his field was because he was focused on American independence.
Henry Ford established the Ford Motor Company with free enterprise in mind. He not only wanted to succeed as a businessman, but he wanted to promote economic stability in the U.S.
Henry achieved this by expanding his company globally, providing jobs for hundreds of thousands of hard-working Americans, and insisting on paying his loyal employees fair wages.
Most importantly, let's not confuse fact with fiction. Henry Ford was not responsible for inventing the automobile or the assembly line. Nonetheless, he was responsible for shaping
and engineering both inventions in a way that impacted history. That, friends, is innovation.
We'll cover all this and more in a timeline of Henry Ford's
life and accomplishments:

Henry chose to deviate from
the path provided by his
farmer father and instead
pursued his love of machines.



Henry Ford was born in Michigan in 1863. Even as a young boy, he had strong
leadership characteristics; he spent his time directing his friends to build small-scale
steam engines instead of playing with toys.
Henry also learned other hands-on tricks of the trade that would serve him well in his
future career as an engineer and manufacturer: He was a self-taught watch
repairman,
which provided a foundational understanding of machine mechanics.
Henry left the family farm in 1879 to apprentice with the Michigan Car
Company at the tender age of 16. He soon became an operator and
repairman of steam engines, as well as a bookkeeper.
In this time,
Henry established his ability and preference to work independently
with the potential to stand out in his industry.
After returning to the family farm, Henry married Clara Bryant in 1888. When
Henry landed a job as a night engineer with the Edison Electric Illuminating
Company,
the couple moved back to Detroit in 1891. This new job utilized Henry's
skills as an engineer, while teaching him more of the hands-on trade of electrician.
Though Henry was promoted to chief engineer in 1896, he had his sights set
higher. He was always drawn to inventing and experimenting, building what
were called "horseless carriages"
in his tinkering time off-the-clock. Working
with other engineer friends, Henry Ford built the first self-propelled car
called the Quadricycle in 1896. The Ford Quadricycle ran on four
wheels
and was steered with a tiller, similar to a boat; the vehicle was able to move
forward in two speeds but didn't have the ability to reverse.
Because of his innovation
in the motorized vehicle
sector, Henry had the
honor of meeting with
Thomas Edison to present his automotive plans. Ford
was asked by Edison
to build a second car model in 1898.

These seemingly small steps forward in the
life of Henry Ford were enough to get the
ball rolling. Henry merged his inventive
designs with his sharp business sense to
establish
the Ford Motor Company in 1903.

All About the
Model T
Finally, the Model T Ford, an inexpensive
car for every man, was introduced in 1908.
At first, the Model T was manufactured in several color options; by the time that 1913 rolled around, Ford chose to produce the Model T in black only.
According to Henry, "Any customer can have a car painted any color that he wants so long as it is black."
The Model T Ford was available in different body styles, such as:
seat touring car
seat runabout car
seat town car
The Model T ran smoothly with a simple yet powerful four-cylinder engine. The engine had 20 hp, offering a top speed of 40 to 45 mph. In those days,
the Model T started with a hand crank instead of a key ignition. After 1920, select Model T cars included a battery powered starter.
The Ford Model T was the first vehicle to be produced globally, in countries like Canada, England, Germany, Spain, Japan, and more.
Though the Model T
may be the most
well-known early
Ford vehicle, few
people realize that it
followed on the heels
of the Model N in 1907,
sold for $600. At the time, the Model N was the
best-selling car in the U.S.
But Henry didn't stop there. He wanted a cheaper, higher-quality automobile built for the masses: Problem solved in the low-cost Model T, aka "Tin Lizzie."
In total, over 15 million Model T Fords were produced globally; production officially concluded in 1927.
Why was the Model T called the Tin Lizzie? The moniker came about when a Model T, dubbed Old Liz, was raced up Pikes Peak in Colorado in 1922. Since Old Liz was sorely
in need of a paint job, it was compared to a tin can. When Old Liz won the race, the nickname Tin Lizzie stuck around!
Henry's vision for the Model T Ford can
be summed up in this
inspirational quote:
I will build a car for the great
multitude. It will be large enough for
the family, but small enough for the
individual to run and care for. It will be
constructed of the
best materials, by
the best men to be hired, after the
simplest designs that modern
engineering can devise. But it will be so
low in price that no man making a
good salary
will be unable to own one
– and enjoy with his family the blessing
of hours of pleasure in God's great
open spaces.
50 Worst Cars
of All Time
Would you be surprised to learn that the Model T was called one of the "50 Worst Cars of All Time" by Time Magazine? Never one to pull punches, Time stated that
the Tin Lizzie was originally designed using the mass production model of a slaughterhouse disassembly line, crafted by an engineer named William C. Klann.
While Time acknowledged that Henry's Model T "supercharged the nation's economy and transformed the landscape in ways unimagined," the gas powered vehicle also made America
dependent on gasoline more than a century later.
Michigan
In spite of such foreboding pitfalls, the Model T remained popular and historically significant throughout its production because of its simple driving power and ease in operation,
even on rough roads. The Model T served as the catalyst of Henry's success, enabling the Ford Motor Company to open a new manufacturing plant in Michigan. It was there that the
first automobile moving assembly line was introduced in 1913.
What was the significance of Ford's ground-breaking
assembly line production?
In a nutshell, the use of an automotive assembly line enabled the vehicle price to be lowered
from a costly $850 in 1908 to less than $300 in 1925.
Henry was true to his word. He created a popular, inexpensive, user-friendly vehicle in the Model T, which made up nearly 40% of all vehicle sales in the U.S. at the time.
Though Model T production ultimately ceased to make way for newer Ford models and other competing brands, Americans continue to favor the iconic Ford car as a symbol of U.S. history.
Henry firmly believed that the Model T was "the universal car." He envisioned it to be reliable yet cheap with little to no maintenance.
total

model t

production
Because of this manufacturing success, the Ford Motor Company was able to boost the local economy and hire thousands of employees. Henry remained steadfast
in his principles and commitment to excellence by paying employees an unheard of wage of $5 per day for an eight hour workday. In 1914, this more than doubled
the standard wage of $2.34 a day for nine hours.
To put it in perspective, Henry Ford's generous wage was equivalent to $110 a day in 2011.
Henry's career took a twist in 1918 when he named his son Edsel Ford as president of the Ford Motor Company. Nonetheless, Henry maintained the final authority on all major issues behind the scenes.
Henry's booming career was not without its share of peaks and valleys. Henry maintained his fierce independence as a business leader; he struggled with investor interference in the Ford Motor Company and chose to buy out shareholders in 1919. As a result, Henry Ford became the sole owner of the largest motor company in the world
After Model T assembly shut down in 1927 due to declining sales, Henry decided to return to his roots.
He introduced a distinctly unique vehicle called the Model A that was manufactured in an even larger Michigan factory. Henry's dream of mass production continued at what was then the largest factory in the world, where vehicles as well as glass, tires, steel, and other car parts were produced. To create a top notch vehicle in the Model A, Henry worked side-by-side with his son; Henry designed the technical components of the Model A, while Edsel was responsible for the exterior of the vehicle.
The Model A was road-ready by 1927, where it was welcomed by the public.
In 1932, the Ford Motor Company implemented a yearly model change system to continually introduce new vehicles to the market.
1932 was a remarkable year in Ford's history as Henry announced his latest invention, the V-8 engine.
Despite his commitment to automobile innovation and design, Henry wasn't able to shield the Ford Motor Company from the Great Depression. During that time, Ford laid off workers and had to significantly lower wages. Henry famously fought with the United Auto Workers Union when they tried to organize against the Ford Motor Company. In 1941, Henry had no choice but to sign a union contract.
The Ford Motor Company devoted itself to complete military production in 1942, and public production didn't resume until 1945.
Within that time frame, Henry Ford's influence dwindled altogether. Edsel Ford died in 1943, and Henry passed over control of the company to his grandson Henry II.
world
war
The Ford Motor Company remained a noticeable presence in both world wars, in spite of resistance from Henry. Henry was initially strongly opposed to war but chose to contribute to manufacturing after the Japanese attacked Pearl Harbor. Ford produced all-purpose jeeps exclusively for the U.S. military in 1941.
Within that time frame, Henry Ford's influence dwindled altogether. Edsel Ford died in 1943, and Henry passed over control of the company to his grandson Henry II.
Henry Ford died at the age of 83 in 1947.
Henry Ford as an inventor and businessman impacted the history of America as we know it. Economically, Henry contributed to the nation by breaking his back to create an affordable, well-manufactured, American-made vehicle in the Model T. More Americans were able to drive in the early 20th Century because of Ford's affordably priced car.
Henry Ford used his business influence to blur the lines between lower and upper class. The average American was able to save money on buying a car to dramatically improve the efficiency and lower the cost of transportation. Since almost anyone could purchase and drive a vehicle, employees were able to move farther away from workplaces, supporting both urban and rural development.
22%SOLD
In 1956, the Ford Motor Company sold common stock. 10.2 million shares were sold on the first day, roughly 22% of the company.
75%ACQUIRED
With each decade, the Ford Motor Company continued to progress in power and innovation, following in the footsteps of their leader Henry Ford. Ford acquired 75% of Aston Martin in 1987.
$5.3
Billion
And was able to tip the scales in 1988 to earn $5.3 billion globally, the highest revenue of any vehicle manufacturer to date.
To this day, the Ford Motor Company remains successful, with steady sales throughout a recently sluggish economy:
How did they do it?
When other major auto manufacturers faced bankruptcy in the new millennium, including General Motors and Chrysler, Ford remained resolute under the guidance
of Henry Ford's great-grandson, Bill Ford Jr.
Clearly, patience runs in the Ford family. Bill Ford Jr. had the fortitude to tough it out amidst an alarmingly sluggish economy and was ultimately
rewarded as he helped to improve the Ford Motor Company's reputation.
Bill Ford Jr.'s secret?
Ford
hung in
there
The Ford Motor Company did have to borrow against
the company's assets in order to fund development and
research projects that would save them from
bankruptcy and government bailouts. This caused the
company to accrue significant debt as they chose to
develop their business internally instead of
outsourcing funds. As the economy slowly began
to recover after 2009, Ford was able to pay off their debt faster than anticipated.

The Ford Motor Company was recognized by customers and small business owners for their
ability to pull through the recession in 2009 without relying on a government bailout.

If Henry was still around today, he would be proud to see that the Ford Motor Company remains committed to innovation. In the past several decades, Ford has:
Still innovating
With introducing the latest
technologies in their
lineup of vehicles.
Go Green

Ford is also focused on reducing their environmental impact by cutting CO2 emissions by 37% per vehicle in 2013 with another 30% reduction forecasted by 2025.

As a means to bounce back from the recession, the Ford Motor Company has shifted their gears to turn development toward "clean, green, and smart" mobility solutions. Ford is investing in new research projects in the hopes of making vehicle technology affordable to the masses, following the original dream of Henry Ford.
The ultimate goal of inexpensive Ford technology is to support environmentally-friendly
innovations to create clean air, reduce carbon emissions, and result in less miles traveled:
Mass deployment of advanced and
alternative technology vehicles
Fleets
Private
Vehicles
Mass
Transportation
Advanced infrastructure
Grid Capacity &
Support

Grid
Management
IT
Infrastructure
IT Solutions
Clean, green, smart city
Reduced Carbon
Emissions
Decreased Vehicle
Miles Traveled
Clean Air
In the past decades, the Ford Motor Company has seen its share of
ups and downs in success and innovation:
Ford introduces the best-selling Explorer SUV.

Ford acquires 50% of Mazda Motor Manufacturing.

The first Ford dealerships open in China.

Ford manufactures the first natural gas taxicabs in New York City.

6.5 million Bridgestone/Firestone tires are recalled in Ford Explorers.

Ford introduces the Mercury Mariner, a gas-electric hybrid SUV; Ford sales decline as GM takes the lead.

Ford is forced to cut 30,000 jobs by 2012.
It's true – without the great foundation laid by Henry Ford in business leadership, the Ford Motor Company may not have survived over
100 years in business. Henry was famous for saying:
The Ford Motor Company continues to pave the way in design, manufacturing, and innovation. With pitfalls along the
way, Ford has forged ahead as an influential leading brand thanks to the hard work and inspiration of Henry Ford.
Quotes
&
little
known facts
Do you want to know more about the man that pioneered the automobile? Henry Ford was responsible for establishing the Ford Motor Company, still going strong today.
Henry Ford was also a man of his word, saying:
"A business that makes nothing but money is a poor business."
It was this attitude that encouraged Henry to build his company internally with fair wages and profit sharing after six months of employment.
Yes, Henry Ford was responsible for countless
historical contributions. Did you know?
1.

Henry was fired from his first job.

2.

The first commercial automobile released by the Detroit Automobile Company in 1900 was a delivery wagon, invented by Henry Ford.

3.

Early in his career, Henry built and drove race cars. Thomas Edison and Henry Ford remained close friends.

4.

Henry's first horseless carriage, the Quadricycle, ran on bicycle wheels.

5.

Henry had two failed companies before creating the Ford Motor Company.

6.

Henry created a Ford social department to monitor employee habits, like gambling and drinking.

7.

Henry secured a patent for his automobile with a plastic body in 1942.

8.

Edsel Ford was Henry's only son.

9.

Henry was also a philanthropist; he established seven schools throughout the country.
As a landmark inventor, Henry was no stranger to failure,
"Failure is simply the opportunity to begin again, this time more intelligently."
He used his many mistakes to improve upon existing Ford designs, constantly reworking and remanufacturing to introduce higher-quality vehicles to the market.
According


to Henry
Even a mistake may turn out to
be the one thing necessary to a
worthwhile achievement
If we can learn anything from the complex life of Henry Ford, it's this:
Maintaining a commitment to excellence in all you do, whether in business or in your personal life, is
one key factor of success. Henry started out his career with an established
set of principles. He may
have deviated from his course along the way as he made mistakes and regained his footing, but he
remained a man of integrity as a husband, father, and business leader.
Henry leaves us
with these wise
departing words:
"Life is a series of experiences, each one of which
makes us bigger, even though sometimes it is hard
to realize this. For the world was built to
develop character,
and we must learn that the
setbacks and grieves which we endure help us in
our marching onward."
"To do more for the world than the
world does for you
That is success"
SOURCES :
"Young Henry." The Henry Ford® America's greatest history destination. Web.
"A Timeline of Ford Motor Company: NPR." NPR: National Public Radio: News & Analysis, World, US, Music & Arts: NPR. Web.
Ford 1922, My life and work (1922), p. 73.
"Henry Ford Biography – Facts, Birthday, Life Story – Biography.com." Famous Biographies & TV Shows – Biography.com.
"Seeking Alpha – Stock Market News & Financial Analysis." Seeking Alpha – Stock Market News & Financial Analysis. Web.
"New Models of Mobility – Sustainability 2011/12 – Ford Motor Company." Ford Motor Company – Official Global Ford Corporate Information. Web.
click here to embed this graphic on your website
BuyAutoInsurance.com