What's a Mopar car?
ONE OF THE FAMOUS TRADEMARKS IN AUTOMOTIVE HISTORY
Mopar is short for Motor Parts. The acronym dates as far back as the 1930s when it was trademarked and used to advertise a line of antifreeze products manufactured by the Chrysler Motor Parts Corporation in 1937. Thus, a clever nickname was born. Mopar was soon used interchangeably with the longer Chrysler Motor Parts Corporation name in branding and advertising. Since then, the term has been broadly used between car enthusiasts as an unambiguous reference to vehicles produced by former parent company Chrysler Corporation/Chrysler Group (now known as Stellantis) and has thus become an inclusive word for any Chrysler-built vehicle.
The Mopar parts company sponsors drivers and vehicles in different automotive venues, from Formula Drift to NASCAR connecting it to muscle car history and more in popular culture. The name is also used for original equipment manufacturer (OEM) replacement parts and interior and exterior accessories like cargo totes, fuel doors, and hitch receivers.
Mopar is a division of FCA US, also known as Chrysler, which is a subsidiary of Fiat Chrysler Automobiles (FCA) and the customer care organization within Fiat Chrysler Automobiles. They also design and build a small number of customized vehicles. There are 13 Mopar custom shops that install customer-chosen accessories on their vehicles before delivery. There are also limited-edition Mopar versions of FCA vehicles.
Where Did the Chrysler Motor Company Come From?
Way back in 1928, Chrysler purchased Dodge to obtain a larger plant to support Plymouth production. At that time, Chrysler was the fourth-largest automobile maker in America. After the takeover, Chrysler prepared to meet customer and auto body shop demand as a dedicated parts supplier. In 1929, the official Chrysler Motor Parts Corporation was established for this purpose.
From 1933 to 1937, the Chrysler Motor Parts Corporation (CMPC) tried to condense their brand name with a circular logo surrounding the letters D, C, P, and D: representing Dodge, Chrysler, Plymouth, and DeSoto. Within the original logo, the "P" was the largest letter to depict the importance of the Plymouth brand.
In 1937, CMPC sales promotion manager Nelson I. Farley turned the tables by establishing the CMPC Activities Council to create new marketing and merchandising ideas. It was this Activities Counsel that was responsible for coming up with a newfangled acronym to market antifreeze: Mopar.
Mopar made more sense compared to the long brand names. The Mopar name was trademarked soon thereafter, with an accompanying logo created by Burke Bartlett for all CMPC products.
THE SLANG TERM MOPAR WAS USED IN
ADVERTISING FOR CAR PARTS, SUPPLIES, AND EVEN THE CARS THEMSELVES, IN SOME CASES.
The first Bartlett logo design featured the Mopar brand in bright purple as a downward pointing arrow. However, the design was vetoed by Nelson Farley as he disapproved of both the purple color and the arrow concept.
Logo design sketches continued. Meanwhile, the Activities Council, led by Farley, came up with a camel character called Mr. Mopar. The character was intended to accompany the Chrysler float at the upcoming National Shriners Convention parade in Detroit. The float was constructed entirely out of engine parts and would be pulled by Mr. Mopar the Camel, led by a mechanical man called "Accy" (coined from "accessory").
Vern Dupuis was the brains behind the Accy character that first accompanied the Mr. Mopar Camel in the parade. Accy was eventually transformed into Mr. Mopar 11 years later when he was modified to speak and move. An updated version of the Mr. Mopar Robot even appeared on national TV.
Though the Mr. Mopar character was established, the Mopar logo was still left lacking. Nelson Farley finally approved an oval seal logo that was used from 1937 to 1947; at that time, the original logo was revamped with purple design features reintegrated.
It may be hard to believe that a simple logo, a camel, and a robot character would play into the evolution of one of the most famous trademarks in automotive history. The early CMPC Activities Council think tank put their heads together to birth the original Mopar branding campaign that brought the renowned emblem to where it is today.
MOPAR LOGO EVOLUTION: THE OMEGA M WAS BORN
Mopar hit a low in the 1940s. After World War II, Chrysler opted to drop its own distribution channels and use wholesale suppliers instead. But as sales suffered, Chrysler soon realized that using its own depot system could provide a steady sales channel, even in dire economic times.
Before 1960, Chrysler did not have a presence in what is known as the "aftermarket," referring to the overproduction of auto parts sold to independent distributors. Chrysler was drawn to the auto aftermarket to improve profit and provide sales stability. In a slump, the aftermarket proved lucrative since car owners were more likely to spend money on parts to maintain older vehicles instead of buying new cars.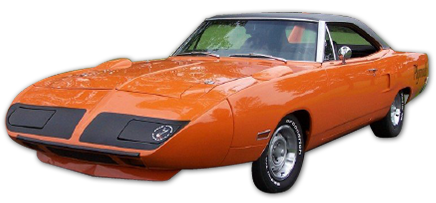 CHRYSLER EVEN ESTABLISHED A MOPAR PERFORMANCE PARTS DIVISION TO HANDLE PART DEVELOPMENT.
In 1964, Chrysler decided to forgo using wholesalers and instead relied on 18 depots for the area, regional, and national supply. Within that same time frame, the popularity of 1960s muscle cars helped put Mopar on the map. Mopar came to represent high-performance auto parts produced by Dodge and Plymouth, as well as super-stock auto parts sold to drag racers. This was a starting point for many parts we know and love, such as the rear spoiler (1967) and rear axle. Drivers could create their dream vehicles.
With all of these changes under the Chrysler roof, it was time to give the Mopar label a second look. Chrysler opted to stop printing individual brands on the Mopar logo as of 1964, eliminating Dodge, Chrysler, Plymouth, and DeSoto from the symbol. The oval design was also nixed in favor of "MOPAR" listed in block letters with a larger "M" icon above.
This transformation in logo design paved the way for the "Omega M" emblem created by George Robinson. Robinson, employed as a marketing manager of Chrysler, was asked to throw his hat in the ring and come up with a new logo for the rebranding of Chrysler packaging used in the auto aftermarket, beyond traditional dealer distribution. The new campaign required an updated logo for auto parts of all makes and models, not just Chrysler.
How Did Competition in Logo Creation Help?
"In the 1960s, automotive companies were attempting to expand their captive parts business into new markets, specifically the growing independent aftermarket. General Motors had recently done so with their 'Delco' parts brand. A clean contemporary look prevailed, reflecting the newness of their marketing strategy."
Chrysler had the same goal as General Motors: to create a new program with independent and traditional distribution, requiring a new logo design of the same product for both markets.
With a new logo in the pipeline, Chrysler parts were soon distributed through two separate systems in 1965. The Dealer Parts Sales Group was used to distribute Chrysler parts via Chrysler dealers and wholesalers. The Independent Aftermarket Parts Sales Group was used to supply Mopar parts via WDs, also known as franchised warehouse distributors.
GEORGE ROBINSON WAS INSPIRED TO CREATE THE "OMEGA M" LOGO IN 1964 THAT HAS CONTINUED AS THE LONGEST-LASTING CMPC COMPANY LOGO TO DATE.
MOPAR LOGO EVOLUTION: THE OMEGA M WAS BORN
Meanwhile, Chrysler explored new distribution methods that governed inventory control and tracking. Modern technologies were integrated into Chrysler distribution to better meet customer supply and demand. Wholesalers were eliminated completely. Chrysler exclusively distributed aftermarket parts within a vehicle dealer network. This type of customization led to more engine choices and many other innovations.
In 1985, "Chrysler Corporation Genuine Parts" was added to the Mopar logo to differentiate genuine Chrysler parts from copycat parts. In 1987, the Mopar Direct Connection brand was renamed Mopar Performance Parts. Chrysler continued to thrive as a company by procuring the American Motors Corporation (AMC) and expanding parts operations. Chrysler branded Mopar through sponsored drag racing events.
More logo changes were underway in the 90s. The "Chrysler Corporation Parts" tagline on the lower part of the logo was simplified in 1991. "Chrysler Corporation" was cut out of the logo altogether by 1998, and instead, "PARTS" was printed in white over blue under the Mopar logo and pentastar. In the mid-90s, Chrysler celebrated their success as they reached their all-time highest net earnings at $3.7 billion, among revenues of $52.2 billion.
MOPAR LOGO EVOLUTION: THE OMEGA M WAS BORN
But what about the men behind the machines? When it comes to the development of Mopar, marked by its iconic logo, there are several leading men that have contributed to its success.
According to Auto Trader Classics, some notable figures in Mopar history include:4
Lynn Townsend
Townsend became part of the Chrysler family in 1957 when he was hired as a controller. He soon climbed the ranks to President of the Corporation in 1961, where he stayed until 1975. Townsend can be credited for strengthening the brand, although he wasn't an automotive engineer. Under his watch, Chrysler's market share almost doubled in 1968.
Who Was Lee Iacocca?
Iacocca was a chairman at Chrysler during dire times as the company teetered on the brink of bankruptcy in the 1970s recession. Iacocca took the reins and chose to downsize the company while shedding unprofitable assets and taking out $1.5 million in federal loan guarantees. Soon enough, Chrysler's production sectors were booming as new and innovative products hit the market. At this time, Chrysler introduced the world's first minivan. By 1984, Chrysler had paid off government loans and profit to the tune of $2.4 billion.
Who is Richard Petty?
Richard Petty is a household name and influential drag racer that solidified Chrysler's presence on the race track. Under Petty Enterprises, Richard Petty brought stock car racing to the masses to make it a respected sport in the US. Petty was a NASCAR star with seven championships and 200 victories. When Chrysler was designing the NASCAR Craftsman Truck Series in 1995, Petty lobbied to include a Dodge Ram in the lineup. Petty remained devoted to Mopar, even after Chrysler pulled out of the racing circuit. A tried-and-true Mopar fan, Petty stated, "If you cut me, I still bleed Pentastar Blue.".
Who is Don Garlits?
Otherwise known as Big Daddy, Don Garlits can be credited with first introducing the Chrysler Hemi engine to the drag racing circuit. The Chrysler Hemi engine design is still exclusively used in Top Fuel and Funny Car racing to date. Garlits was hailed as an accomplished drag racer and loyal Mopar driver for more than 50 years. He has multiple records, NHRA world championships, and national titles to prove it.
Who is Galen Govier?
Chrysler history wouldn't be complete without Galen Govier, otherwise known as the Chrysler guru. A loyal devotee to Mopar, Govier focused on learning the ins and outs of Chrysler's detailed coding systems; soon enough, he knew as much as all leading Chrysler industry experts. Govier wrote the Mopar Muscle Club International newsletter column in the 1980s. He also served as an FBI and Secret Service expert witness to testify in several fraud cases related to Mopar products.
HERE ARE 20 MAJOR MILESTONES THAT CONTRIBUTED TO
"MOPAR IN THE MAKING":

Chrysler acquires a company five times its size – Dodge Brothers, Inc.
Chrysler expands to offer Chrysler, Dodge, Imperial, Plymouth, and DeSoto brands exclusively.
Chrysler is the first auto manufacturer to introduce power brakes.
Chrysler reaches a record output of 1 million vehicles per year.
Chrysler is responsible for one-quarter of all automobiles produced in the US.
Chrysler introduces its first stylish Town & Country station wagon with a wood and steel body.
Chrysler is the first automobile manufacturer in the US to use combined ignition-starter locks.
Chrysler is the first American automobile manufacturer to offer electric windows.
Chrysler is the first American automobile manufacturer to sell passenger cars with fully transistorized radios.
Chrysler is the first American automobile manufacturer to sell vehicles with in-car record players for 45 RPM discs.
Chrysler relinquishes the DeSoto brand after 33 years.
Chrysler imports subcompact cars and trucks from Japanese partner Mitsubishi to sell under Plymouth and Dodge labels. It is also the height of the muscle car era.
Lee Iacocca is the first head of a car manufacturing company to appear as an advertising spokesperson.
Chrysler invents an entirely new minivan market by introducing the Plymouth Voyager and Dodge Caravan.
Chrysler acquires the fourth-largest US automobile manufacturer for $800 million, American Motors Corporation, which includes the Jeep brand.
Chrysler is the first US auto manufacturer to offer standard air bags.
Chrysler and General Motors create the first joint venture between two US automakers, New Venture Gear.
Chrysler receives the Discover Award for its hybrid-electric car, the Patriot.
Chrysler and Daimler-Benz combine businesses in a "merger of equals."
Chrysler launches the first Mopar branded racecar under Dodge, the 2009 Mopar Challenger Drag Pak.
MOPAR TODAY: A LONG AND WINDING ROAD OF INNOVATION
MOPAR HAS CERTAINLY COME A LONG WAY THROUGH THE DECADES.
Today, the Mopar brand is still going strong. Mopar still provides quality replacement parts for Chrysler, Dodge, Plymouth, Jeep, and Eagle products. True to form, the Mopar logo continues to undergo regular changes and transformations to improve public appeal.
In 2002, the most current version of the Mopar logo was introduced as a throwback to the 1964 to 1971 design; the logo includes a larger Omega M symbol in blue with smaller "Mopar" text below.
Many Mopar fans attribute the brand's success to the introduction of the Hemi-type engine. The "Race Hemi" was reintroduced in 1964 as an improvement upon the first engine design used in Chrysler, Plymouth, and Dodge cars in the 1950s.
These days, the Hemi engine can be found in high-powered automobiles and provides exceptional force on the racetrack. As you may have gathered, Mopar has been synonymous with racing and muscle cars throughout the decades. Beyond the label, Mopar represents important innovations in engine and automobile design.
Mopar has expanded under Chrysler and Dodge brands to manufacture maintenance and collision parts, as well as racing engines and parts. Though Mopar has cast a wider net in automotive part production, it's impossible to separate the brand from its dynamic accomplishments in the racing arena.
ONE OTHER FACT THAT CAN'T BE DISMISSED IS THE LOYAL DEVOTION OF MOPAR FANS ACROSS THE NATION.
As the saying goes, once a Mopar lover, always a Mopar lover. If you consider yourself to be a diehard Mopar fan, you may enjoy some fun trivia to celebrate your passion:
The Dodge Charger first featured the vertical split grille in 1969 on "The Dukes of Hazard" TV show.
Plymouth manufactured only 1718 340 four-speed Barracudas in 1973, making them a collector's item.
Dodge Chargers eliminated flip-out lights in 1973 after being categorized as a family car.
The Dodge Challenger was known as the twin to the Plymouth Barracuda based on body shape and headlights.
Chrysler Hemi engines were rated at a lower 425 HP to keep car insurance affordable, although they had an actual rating at over 500 HP!
Fast forward to the present day, and Mopar toes the line between classic and contemporary. Most Mopar fans associate the label with the iconic Hemi engine, as mentioned above. Yet Chrysler continues to push market boundaries by advertising to race fans, families, and small businesses alike.
Chrysler expanded their marketing efforts to target small businesses in support of Small Business Saturday in 2012. Chrysler hoped to highlight the versatility and functionality of their Chrysler Commercial Vehicle lineup in an infographic series depicting different vehicle uses and purposes.
BELOW, YOU CAN SEE AN EXCERPT FROM THE JEEP GRAND CHEROKEE INFOGRAPHIC FOR RESTAURATEURS:5
For restaurant use, Chrysler advertised an impressive 68.3 ft.³ of cargo space, coupled with an estimated 23 miles per gallon of highway driving. In translation, the Jeep Grand Cherokee will allow restaurateurs to travel more than 500 miles per tank of gas when purchasing regional produce or transporting food and supplies to special events.
Similar marketing efforts were made to advertise the Dodge Journey SUV for caterers, the Dodge Ram 1500 for farmers, and the Chrysler 300 for realtors. According to Chrysler, small business owners can benefit from user-friendly commercial vehicles designed for unique purposes in different industries.
TRUE TO THE MOPAR MISSION, CHRYSLER CONTINUES TO OFFER A LITTLE SOMETHING FOR EVERYONE.
As far back as 1937, Mopar started out as a simple logo to advertise a straightforward auto parts brand. With each passing decade, Chrysler brought more innovation to the table. As we have seen revolutionary changes in the Mopar logo design, the brand also has moved forward in leaps and bounds.
Mopar continues to engage loyal fans in various events, including SEMA Shows and Mile High Nationals. Mopar also provides an online social community called Mopar Nation, where fans can find local Mopar Clubs in their area to celebrate, "Where People, Passion, and Performance Meet."
Today, the Mopar logo has come to represent a trademark brand for "every man." Fanatic racers can meet and greet other Mopar enthusiasts. Families with small children can drive family-friendly Chrysler vehicles. Small business owners can stretch their dollar within a fleet of Chrysler commercial cars designed with fuel efficiency and flexibility as top priorities.
WHAT DOES THE FUTURE HOLD FOR MOPAR?
The latest Mopar innovation to hit the market is the impressive Mopar 13 Dart II. The vehicle is available in limited numbers starting at $15,995. The Dart is advertised as the "Most Award-Winning Vehicle in Its Class," with awards like the 2012 Coolest New Car Under $18,000 from Kelley Blue Book. It features three state-of-the-art powertrains, 60 safety and security features, and the added interior space of a midsize sedan.
Years later, the classic Omega M Mopar logo still holds strong. The Mopar community insists that passion is what binds Mopar aficionados together. Mopar has become a widespread household name since its inception in 1937. Now, you can find Mopar just about anywhere – online, at specialty auto events, and maybe in your very own driveway.
MOPARIZE YOUR RIDE
Mopar fans don't want to settle for less. On the official Mopar website, you can use a helpful tool to input your vehicle information to locate authentic Mopar accessories and parts at the closest available dealer.
A Mopar Express Lane service tool is also available to provide quick information on the nearest location for Mopar-approved battery replacement, oil changes, and brake inspection.
Sources:
"What is MOPAR?." AmCar Guide | muscle cars – custom, concepts, classics.
"Mopar and Mopar logos: an illustrated history." Allpar covers Dodge, Chrysler, Plymouth, Jeep, and related Fiat, Alfa, and Lancia cars, minivans, and trucks.
"Origin of MoPar trademark & Logos." Chrysler turbine car user – Auto Transport Quotes.
Rager, Greg. "AutoTraderClassics.com – Article The 10 Most Influential People in Mopar History." AutoTrader Classics – Buy & Sell Antique Cars, Classic Cars, Muscle Cars, Collector Cars, Street Rods, Exotics, Car Shows, Car Parts, Car Events.
"Small Business Saturday [Infographic] | The Working Blog | Chrysler Commercial Vehicles." The Working Blog | Chrysler Commercial Vehicles | The Working Blog.
Click here to embed this graphic on your website
BuyAutoInsurance.com