Inflation's Impact on Gas and Car Insurance
As the effects of inflation are felt all across the United States, gas and insurance costs are increasing. Gas prices have increased nearly 40% since 2020. Maximize your gas mileage and take advantage of auto insurance discounts to save money.
Free Car Insurance Comparison
Compare Quotes From Top Companies and Save
Secured with SHA-256 Encryption
UPDATED: Jun 10, 2022
It's all about you. We want to help you make the right coverage choices.
Advertiser Disclosure: We strive to help you make confident auto insurance decisions. Comparison shopping should be easy. We are not affiliated with any one auto insurance provider and cannot guarantee quotes from any single provider. Our auto insurance industry partnerships don't influence our content. Our opinions are our own. To compare quotes from many different auto insurance companies please enter your ZIP code on this page to use the free quote tool. The more quotes you compare, the more chances to save.
A Concise Overview
Gas prices have increased 39.7% since 2020

About 43% of Americans say their biggest concern for 2022 is rising gas prices

Driving 10% less can save you $275 per year
Inflation is affecting all aspects of life in the United States, including gas prices and car insurance. With steep increases in gas prices this year due to a number of factors, drivers may be looking for ways to save money at the pump.
In addition to that, major car insurance companies are filing for rate increases this year. With these cost increases, drivers need to find ways to save on insurance without sacrificing adequate coverage.
Read on to see inflation's impact on gas and car insurance and what you can do about it.
Higher Gas Prices Are Increasing Insurance Premiums
Car insurance premiums have been on the rise in the United States to the tune of a jump from 5% to 15%. This translates to about $16,55 a year or $138 a month. And if that's not bad enough, America's largest auto insurers are filing for rate increases in 2022.
As a result of car insurance inflation, State Farm is planning to increase by 4.2%, whereas Allstate is anticipated to raise rates by 12%. What are the causes of these high rate increases? Higher degrees of fuel theft, labor shortages, supply chain disruptions, increased car prices, rising medical costs, and the price of gasoline are all contributing factors.
Gas Prices Are on the Rise
In March of 2022, gas prices skyrocketed to a high of $4.29, a 39.7% increase since 2020. These prices were affected by several factors culminating into a perfect storm. COVID-19, general inflation, labor shortages, supply chain confusion, and the Russia and Ukraine conflict have each made their mark on the current issue. Drivers are feeling the pain as they fill up at the pump with gas inflation.
Different types of vehicles will impact you differently at the pump. A motorcycle, for instance, will cost $19.95 to fill its tank. Cars, by comparison, cost around $51.87. Lastly, trucks will hit your wallet the hardest with an average cost of $99.75 for a tank. To put that into perspective, those prices were almost half of the current cost two years ago.
Why are people worried about gas price inflation?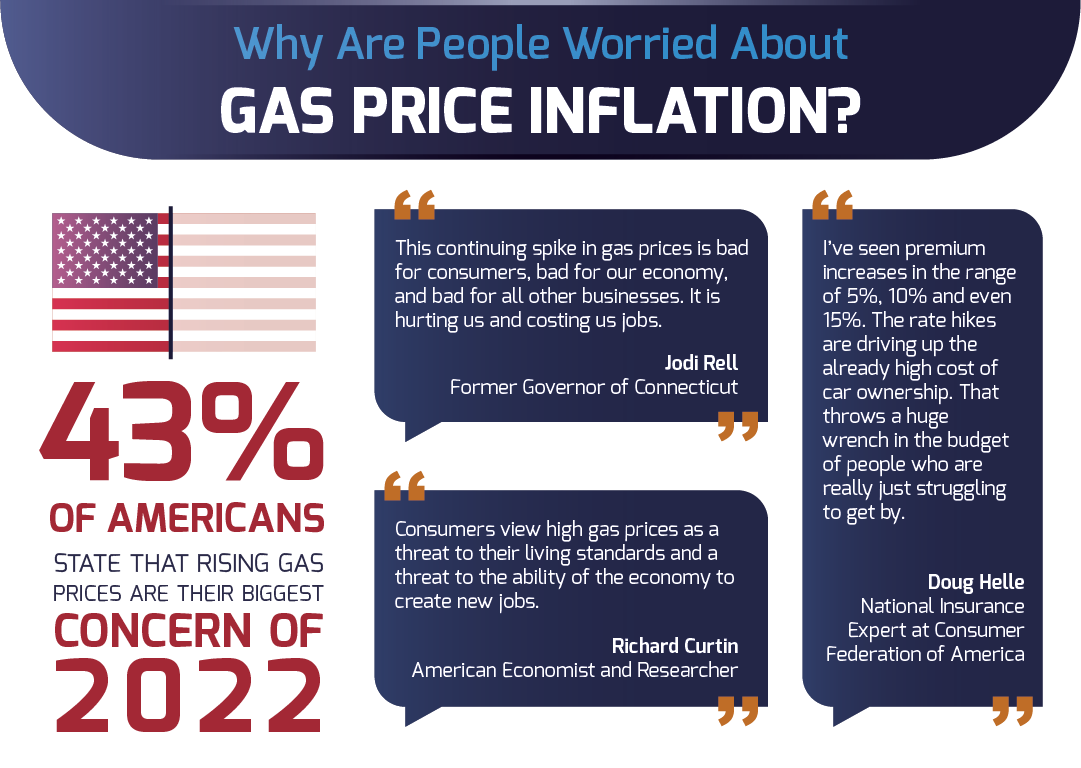 It's no shock that rising gas prices are a concern to Americans, but what may be surprising is that 43% would say that it is their number one concern in 2022. With all sorts of issues plaguing the planet at the moment, this is a curious concern. Many see the domino effect of rising gas prices and note that it's not only difficult on consumers but that it will be bad for the economy as a whole.
Considering that many consumers are already tight on money and the increase in gas prices is making car ownership an even more difficult cost to carry, it puts an undue strain on the average consumer's budget as well as hope for savings.
How Consumers Balance Gas Prices With Insurance
Consumers will look to decrease costs in any way that they can. Unfortunately, some solutions may only prove to be helpful in the short term and can even turn into costlier long-term effects.
Some people will look into switching to cheaper gas quality than may be recommended for their particular vehicle. Doing that could result in powertrain damage, transmission damage, and even engine failure in extreme cases. Thus, any short-term savings may be met with a hefty bill from the local mechanic.
Another way that consumers may seek to lower their total costs of car ownership is by considering skipping out on car insurance altogether, thus taking a gamble that they either won't need it or won't get caught without it. This may prove to be a scary mistake when you consider that currently, 48 states require car owners to have some form of car insurance. Not to mention the physical, mental, and monetary costs if they get into a serious car accident. This can lead to serious legal consequences
Lastly, another solution is for consumers to switch to the ever more popular hybrid or electric vehicle option. While this could save a great deal of time and money at the pump, which can be highly cost-effective, the current supply chain shortages are proving the purchasing of this type of vehicle can be extremely difficult to procure. While electric vehicles are becoming more cost-effective, they typically come with a more premium price tag.
Maximize Your Gas Mileage Without Damaging Your Car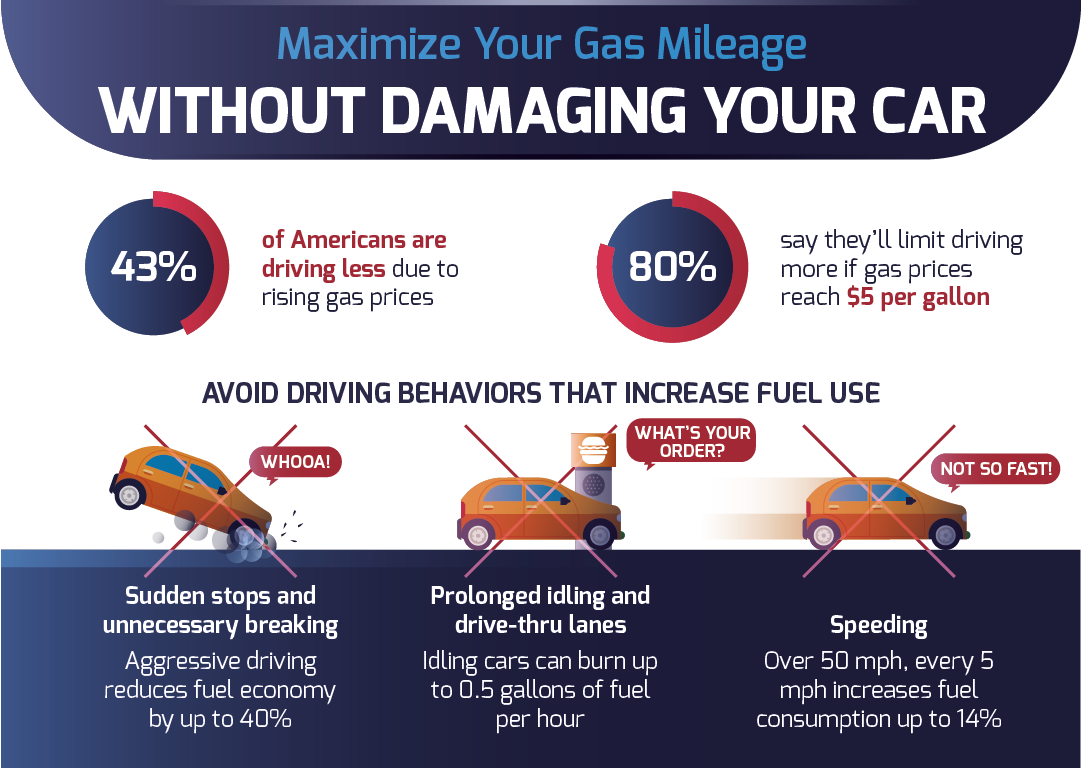 The solution for some consumers is to simply decrease their driving habits overall. About 43% of Americans are choosing to drive less now that gas prices are continuing to rise. Another 80% of drivers are holding out through these high prices and stating that if the price of gas reaches $5 per gallon then they will begin to limit the amount they drive.
Unfortunately for many, limiting driving may not be an easy solution to the high cost of gas, especially if they are required to drive to work or other areas of their life not up to their discretion. One option could be to avoid certain driving behaviors that tend to increase fuel consumption. A sudden stop or unnecessary braking termed aggressive driving can reduce a fuel's effectiveness by up to 40%.
Another huge use of fuel is prolonged idling and drive-thru lane usage. A car that is idling can burn up to 0.5 gallons of fuel per hour. Surprisingly, speeding is another huge use of fuel. Any speed that is over 50 mph is going to increase fuel consumption by 14% every 5 mph. Choosing to drive at the speed limit may not only save you money on an unwanted speeding ticket but also on your gas consumption.
Protecting Your Car Insurance Rates From Changing Gas Prices
Drivers need to be smart about when and how and how often they are driving to combat high gas prices. Choosing to drive less, even at 10% less than normal can save $275 per year. The reason is that it will reduce your car insurance rates and save you on gas costs.
Now is also a great time to revisit your current car insurance policy and look into any discounts that you may be able to take advantage of. A safe driving discount can afford you up to a 15% discount on your policy. Another great discount is to take a defensive driving course and receive another up to 15% discount. Consider also that maintaining a low mileage on your car use can award you with another up to 20% discount.
Before you settle for the price you are paying, don't miss out on first taking a look around and comparing your car insurance cost with other quotes. Many consumers assume that they are getting the best deal but with ever-changing prices your current offer may not be the best for you.
Take a moment to shop around and compare your rates every year to make sure that you are still getting the best rate. You may be able to save up to $400 just by switching to another insurance company.
So, can you keep ahead of inflation with gas prices and car insurance rates?
By thoughtfully watching for great deals in gas and auto insurance and practicing measured driving habits utilizing efficient vehicles, the smart consumer may very well weather the financial storm that is currently in front of us. Safe travels and go forward in confidence!
Editorial Guidelines: We are a free online resource for anyone interested in learning more about auto insurance. Our goal is to be an objective, third-party resource for everything auto insurance related. We update our site regularly, and all content is reviewed by auto insurance experts.