Las Vegas
Auto Insurance
Facts to Know
before you buy
Here's what you need to know…
-You have to have auto insurance to drive in Las Vegas
-For car insurance in Nevada, requirements have to be met for a minimum coverage
-Auto insurance in Las Vegas, NV is much higher than the state or national average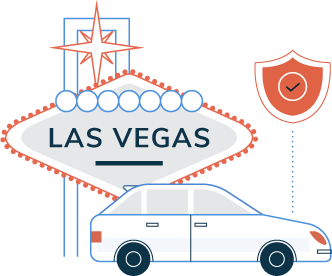 Insurance in the state of Nevada has a legal requirement for a minimum of liability car insurance coverage.. In the Las Vegas area, you will need to buy Las Vegas car insurance to be legally allowed to drive in and around the city as well as to other parts of the state.
Nevada has the Insurance Verification Program, which means that the state motor vehicle bureaus and insurance companies are linked; information about new policies, cancelled policies, and renewals are automatically sent from one to the other.
Many different factors affect car insurance rates and where you live is a big one.
Keep reading as we dive in to see just why is car insurance so expensive in Las Vegas and what other car insurance facts you need to know.
In order to get the cheapest Las Vegas auto insurance rates, you need to compare quotes from different companies. Enter your ZIP now to find the best car insurance in Las Vegas.
Why does it cost more to buy Las Vegas auto insurance than the rest of the state?
Why is car insurance so expensive in Las Vegas? Is car insurance expensive in Nevada or just in Las Vegas?
Las Vegas car insurance companies understand that with a lot of drivers and mileage, the chances of being in an accident are higher. The higher the chance of an accident, the more likely the insurance company will have to pay. If you have comprehensive coverage, the company could be forced to pay for other types of claim, such as property damage liability. 
Las Vegas is a bustling city with more than a million people driving the streets at any one point. In addition to residents, there are travelers from all over the world plus major events that often send the number of people there skyrocketing. The increased population and ever fluctuating community makes your vehicle more susceptible to damages, as it is exposed more frequently in such a busy city. 
Here are some additional reasons why the average cost of car insurance policies in Las Vegas may be more expensive than in other parts of Nevada:
Males make up more than 50% of the population in Las Vegas. Those male drivers cause more than 80% of the accidents on the streets there.
Every day, more than 11,000 people come to the city because of their job, increasing traffic on the roads by nearly three percent. There are also over 32 million tourists visiting the city each year.
The number of people who both live and work in Las Vegas is more than 100,000.
Las Vegas is ranked high on the list of the top metro areas with high auto theft rates. In Las Vegas and the immediate surrounding areas, a car is reported stolen a little over once an hour.
In 2019, there were 331 traffic fatalities in Nevada, with the bulk of those taking place in the city of Las Vegas. It was the highest number of motorist deaths in one year that the state has experienced in a decade.
Car insurance companies charge more based on where you live, mainly for the reasons listed above. If you are more likely to be in an accident or have your car stolen, you will be charged higher rates.
You might be surprised to learn that even in the same city, your auto insurance rates can be higher based on where exactly you live. For example, let's look at the cost of auto insurance by zip code in Las Vegas.
Average Annual Auto Insurance Rates for Las Vegas, Nevada Based on Zipcode
| Zip | Average Annual Auto Insurance Rate |
| --- | --- |
| 89124 | $5,228.48 |
| 89166 | $5,539.07 |
| 89143 | $5,907.97 |
| 89131 | $6,017.17 |
| 89149 | $6,034.31 |
| 89134 | $6,068.77 |
| 89165 | $6,119.23 |
| 89144 | $6,123.71 |
| 89138 | $6,129.99 |
| 89129 | $6,214.77 |
| 89199 | $6,285.39 |
| 89130 | $6,440.03 |
| 89161 | $6,461.55 |
| 89158 | $6,508.30 |
| 89179 | $6,583.81 |
| 89145 | $6,585.70 |
| 89128 | $6,592.48 |
| 89108 | $6,830.19 |
| 89117 | $6,861.26 |
| 89156 | $6,903.68 |
| 89146 | $7,073.86 |
| 89110 | $7,189.04 |
| 89107 | $7,255.06 |
| 89104 | $7,360.29 |
| 89106 | $7,374.13 |
| 89102 | $7,376.44 |
| 89101 | $7,486.53 |
Your zip code can cost you an extra $188 a month on your insurance premiums for the same coverage. That's a lot of money just for living across town.
There are many other factors that come into play when your auto insurance rates are determined. Companies look at things like your age, driving record, and credit history, just to name a few. One of the best ways to keep your insurance rate down is to keep a clean driving record. 
Some factors you can change like your driving and credit, but others you can't adjust like your age. Make the changes that you can to help lower your auto insurance rates.
What is the state minimum insurance for Las Vegas, Nevada?
Each state sets its own car insurance requirements, including Nevada. These are the Nevada minimum liability limits you must carry:
$25,000

for bodily injury liability in an accident, per person

$50,000

for the bodily injury liability limit per accident

$20,000

for the property damage coverage limit per accident
There is no Nevada car insurance loophole, so all auto policies must be at least the state minimum requirements. In the event of an accident, costs can climb quite quickly. If you do not have this coverage, and you get into an accident, you could be on the hook for these costs, and you may be left facing a lawsuit and other expenses.
According to the Insurance Information Institute, uninsured drivers in 2015 accounted for almost 11 percent of all drivers in Nevada. That's slightly lower than the national average of 13 percent. 
Given that there are fines and possible driver's license suspension if you don't have insurance, you might look at some creative ways to meet your legal requirements.
This is why it can often be a help to get temporary car insurance. It may sound like a strange request, but think about all the times that you could possibly have used or could still use one day car insurance. If you are going to be only driving for a day or two, short term car insurance may be the way to go. It's cheaper than paying for a full policy, and you know you will be covered in case of an accident.
The Cost to Buy Las Vegas Auto Insurance vs.
the National Average
Comparing insurance costs can help put it into perspective. It will also give you an idea of how much your insurance may possibly cost you. In 2019, the averages for insurance costs:
$1,426

Nationwide average

$1,825

The State of Nevada, the 19th most expensive in the nation

$2,322

Las Vegas, dramatically higher than the cost of the national average
We've talked about why auto insurance in Las Vegas is more expensive, but why is car insurance so expensive in Nevada state-wide? There are a few different reasons companies see drivers in Nevada as high-risk, including the number of drivers in general and high rates of uninsured drivers. You can also blame thefts, severe weather, and even alcohol laws for higher average rates.
So if you asked "how much does it cost to drive to Las Vegas?"; according to insurance providers, it might be cheaper than living there.
What are the most stolen vehicles
in Las Vegas
Las Vegas ranks in the top 60 cities with the highest vehicle theft rates.
While there are a number of sports and luxury model cars in the city, the most commonly stolen cars in Las Vegas are less flashy. These include:
Honda Civic
(most stolen vehicle)

Chevrolet Full
Size Pickup
If you have one of these vehicles, you might want to consider ways to keep it safe, like an alarm or parking in a garage.
Las Vegas is a wonderful city that attracts people from all walks of life. This attractiveness contributes to why Las Vegas auto insurance rates are on the higher end, but some might say it is a small price to pay to live in such a vibrant city.
Compare auto insurance quotes today to find the cheapest coverage for you. Enter your ZIP to get the best insurance rates Las Vegas has to offer.

References: