Buying One-Day (24-Hour) Auto Insurance –
Do you need it?
A Concise Overview:
– One-day auto insurance can be used for a variety of reasons
– 24-hour car insurance is around $15 a day
– Keeping short-term insurance long-term can be more expensive than a standard policy
---
One-day auto insurance can fulfill your minimum state requirements for insurance coverage if you're not a regular driver or have special circumstances. For example, if you're taking your test and need driving test insurance, one-day auto insurance can meet that need.
One-day or short-term car insurance can be a big help for drivers who occasionally borrow a car or only drive once in a while. One-day auto insurance rates are much cheaper than standard insurance policies if it's only used for a short time. However, keeping temporary car insurance coverage long-term is much more expensive.
Whether you're buying one-day auto insurance or standard car insurance policies, enter your ZIP code to begin comparing a range of insurance quotes. Get affordable one-day auto insurance rates by shopping around.
You Can Get Auto Insurance for One Day
Can you get car insurance for one day? Can you insure a car for 24 hours, or does it have to be longer?
Most drivers realize the dangers involved when driving without insurance coverage. In addition to the risks, if you go 30 or more days without any type of car insurance policy, you could even be considered a riskier driver and forced to pay higher premiums for auto insurance coverage in the future.
The Cost of Short-Term Auto Insurance
How much does car insurance for a day cost?
For comparison, check out this table that shows you the average annual rate for auto insurance coverage. This will help you see if a short-term policy is right for you.
Average Annual Auto Insurance Rates Based on Coverage Type
| Insurance Companies | Average Annual Rates for Low Coverage | Average Annual Rates for Medium Coverage | Average Annual Rates for High Coverage |
| --- | --- | --- | --- |
| Allstate | $4,628.03 | $4,896.81 | $5,139.02 |
| American Family | $3,368.49 | $3,544.37 | $3,416.40 |
| Farmers | $3,922.47 | $4,166.22 | $4,494.13 |
| Geico | $3,001.91 | $3,213.97 | $3,429.14 |
| Liberty Mutual | $5,805.75 | $6,058.57 | $6,356.04 |
| Nationwide | $3,394.83 | $3,449.80 | $3,505.37 |
| Progressive | $3,737.13 | $4,018.46 | $4,350.96 |
| State Farm | $3,055.40 | $3,269.80 | $3,454.80 |
| Travelers | $4,223.63 | $4,462.02 | $4,619.07 |
| USAA | $2,404.11 | $2,539.87 | $2,667.92 |
High or full coverage auto insurance averages $345 a month or $12 a day for a standard policy. Since temporary coverage is about $15 a day, keeping a short-term policy for a longer term is much more expensive.
What Kind of Auto Insurance You Actually Need for One Day
So, who needs one-day car insurance? You might consider getting a temporary policy if you're:
– Borrowing a friend's car
– Renting a car
– Driving a car that was in storage
– Taking a test drive
No matter the scenario, you need to make sure you are covered. How much car insurance do I need for just one day?
Whether you need the state minimum coverage where you live, non-owner insurance to borrow someone's car, or temporary car insurance coverage before you decide on a long-term policy, you must carry insurance. Some companies will even offer same-day car insurance or insurance with no down payment.
One-day insurance for a driving test still has to meet those state minimum coverage requirements. The same goes for borrowing your friend's car or taking a day trip. It's also important to note that one-day auto insurance is similar to a standard policy as far as coverage goes. There are many different types of coverage, including comprehensive coverage or collision coverage, depending on your needs.
It can often be a help to buy one-day auto insurance, also known as 24-hour car insurance. It may sound like a strange request but think about all the times that you could possibly have used or could still use car insurance for 24 hours.
Non-Owner Auto Insurance
If you don't already have insurance and want to borrow someone else's car for a day, you still must have auto insurance coverage.
Even if this person claims his or her own policy will cover you, this may not be accurate. Many insurance policyholders make the mistake of thinking they have this kind of coverage when they don't. Check with your insurance representative about eligibility requirements and additional coverage on your policy when in doubt.
So whether you're renting a van for a day to move items from storage or borrowing your best friend's car to run errands, you must be insured.
Maybe you're going on vacation and only need to drive one day while on the trip or to get to the airport.
This is common in walking cities such as New York City, where many people do not own cars but need the use of a vehicle occasionally to run errands or to take a day trip outside of the city.
Temporary Auto Insurance for Young Drivers
If you're getting ready to take your driver's test, you still need to use a car and be insured while doing so.
Hopefully, you'll pass the test and get your driver's license and your own long-term auto insurance coverage. However, for the driving test, insurance for one day may be necessary.
Once you pass your driver's test, you will need insurance before you buy your car. A short-term policy is a great option until you have time to decide on a standard policy.
Usage-Based Auto Insurance
Another option for drivers who don't drive often is usage-based car insurance. This type of insurance only charges you for the miles you drive in addition to a monthly base fee. Car insurance companies will use an app or plug-in device that records how many miles you drive each month and charge you accordingly. This can be very useful for people who drive occasionally but don't want the hassle of starting and stopping auto insurance.
How to Find the Right One-Day Auto Insurance Policy
Don't take the gamble and assume nothing will happen during that window of time. No one plans for an accident. The bottom line is that uninsured motorists who intend to get behind the wheel need some type of coverage to make it legal.
So, where can I get temporary car insurance? That part can be tricky. Not all standard insurers offer one-day auto insurance quotes. For example, one-day car insurance from Geico is not available, and neither is Esurance temporary car insurance. Progressive one-day car insurance is also not offered.
There's no specific one-day auto insurance company, either. Many companies will offer 30-day auto insurance and then allow you to cancel if you only need coverage for a shorter time. Check with the companies you are interested in to see what they can offer.
Consequences of Driving Without Auto Insurance
Do I need car insurance if I'm only driving for one day? It's only a day. Is it really worth it? Auto insurance coverage is more important than you might think.
It can be especially important to buy one-day auto insurance if you're planning to cross a state line or even several. Different states have different laws. You may live in a state that you think is more lenient but cross into another state, and you may not be so lucky. Not to mention, according to NOLO, if you get into an accident without auto insurance, you alone will be financially responsible for the damages you cause. Keep in mind that one-day auto insurance in the USA, like one-day auto insurance in California, for example, will differ from that out-of-country, like one-day auto insurance in Ontario.
According to the Insurance Information Institute, uninsured drivers make up about 13% of the cars on the road. Driving without insurance causes more problems than just buying insurance when you need it.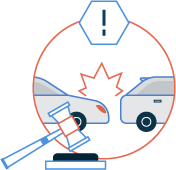 In fact, even if you're involved in a collision and are not at fault, driving without car insurance of some sort means driving illegally. So, more than likely, you would not get compensated for your own expenses, even if the other driver was responsible for the accident. Avoid tickets, points against your driver's license, and possibly hefty fines by getting at least 24-hour auto insurance coverage for occasional use.
What to Consider Before You Buy One-Day Auto Insurance
Regardless of the reason, if you do not have your own long-term coverage policy, you need some sort of short-term policy to drive legally.
This may even help you avoid future problems. Drivers who allow a 30-day or more lapse in auto insurance coverage may be considered higher-risk drivers, which will come back to haunt them later in the form of higher rates. Using short-term policies while getting your long-term policy back in place can help you avoid this.
If you intend to drive more than a day with someone else's vehicle, it may be time to consider getting non-owner auto insurance instead of a one-day car insurance policy.
Many drivers make the mistake of thinking that if they rent a car, they are covered by the policy the rental agency offers. You should realize that most rental agencies assume drivers are getting their own policy, and the one they offer is usually bad coverage at exorbitant rates. Get better prices with better coverage with your own one-day auto insurance policy in place.
No matter what type of car insurance you decide on, you will still need to follow the same process to find the right policy. You will need your personal information, your vehicle information, and the information for any additional drivers.
The thing to keep in mind, above all else, is that you can shop for a 24-hour policy as easily as typing in your ZIP code. When you want free quotes from companies competing for your business, this is the fastest and easiest way to make it happen. You can get cheap one-day auto insurance in no time and be protected against legal and financial issues while you're on the road.