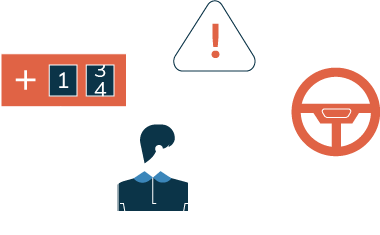 POINTS ON LICENSE
Getting pulled over by the police for a minor infraction may seem like an annoyance or only a temporary hindrance.
However, in most states, even a minor moving or nonmoving violation can have consequences. In most states, a points system is in place to encourage ongoing good driving habits, and to prevent those who regularly break the law in minor ways from continuing to drive unimpeded.
As driving rules are set by individual states, there is a great deal of variance across the United States, although the vast majority of states operate some form of points system.
The purpose of this guide is to walk you through the different aspects of the system and to help determine the long-term impacts of short-term minor decisions.
WHAT ARE POINTS AND HOW DO THEY WORK?
A points-based driver's license is a system that some states use to keep track of traffic violations and to work out which drivers have committed too many infractions to be allowed to drive (temporarily).
The system works by ascribing a 'point' value to various moving and traffic violations, which then go on your license. You are then given a running total of your points system. When you reach a certain threshold, your license may be suspended.
Although all states have a system whereby certain crimes carry an immediate disqualification from driving (such as drunk driving), a points system allows for states to punish drivers who commit regular small infractions.
They may also use them to incentivize young drivers to obey the laws, by more harshly weighting small infractions committed by them.
For example, most states set the threshold for a suspension of license much lower for drivers 18-21 (usually around 50% of the full adult total) as a way to encourage young drivers to consistently stay on the right side of the law.
Each state has a slightly different variant on the points system, and each state regularly amends the type of crime and the number of points carried.
For example, most states introduced points for texting while driving in the light of distracted driving laws.
Points eventually disappear from your license, although how long this takes to happen depends on your state's laws and requirements.
In most cases, losing your license completely is a result of repeated infractions of five to six citations in less than two years, although the points system also discourages bad driving through the financial cost of increased insurance rates.