Full Coverage Auto Insurance
What Does It Cover?
Paying for auto insurance is a fact of life, just like death and taxes. In all 50 states, drivers are required to carry some type of car insurance, although state minimum requirements vary greatly.
WHAT IS FULL COVERAGE AUTO INSURANCE?
It is usually when someone has liability, comprehensive and collision coverage. At the most basic level, drivers are required to carry Liability auto insurance coverage. In some states, Personal Injury Protection (PIP) or MedPay is available to cover your medical expenses due to an accident. Medical coverage provisions vary depending on which state you live in. (PIP is a different coverage than liability coverage. Some states use MedPay instead of PIP, and some have both)

If you want to drive legally, you only have to meet state minimum insurance requirements. State minimum insurance requirements are listed in a series of three numbers that include bodily injury liability limits and property damage liability limits. Keep reading below to find out how to get the cheapest full coverage car insurance available.
Minimum insurance examples by state
Alabama25/50/25

California15/30/5

Florida10/20/10

Illinois20/40/15

Kansas25/50/10

Maine50/100/25

Oregon25/50/20

South Carolina25/50/25

Texas30/60/25

Wisconsin50/100/55
Let's take a closer look at California with minimum auto insurance requirements at 15 / 30 / 5
The first two numbers indicate that every person injured in an accident could receive maximum damages of up to $15,000 at $30,000 total per accident.
The third number limits the total property damage coverage per accident to $5000.
On the other side of the coin, a state like Wisconsin has stricter minimum insurance standards with higher payouts. Every person injured in an accident could receive maximum damages up to $50,000 at $100,000 total per accident. Total property damage coverage is limited to $55,000.
Why would anyone choose to purchase
car insurance above minimum liability levels?
Buying a higher level of liability coverage could increase your protection in a lawsuit against you. Increasing coverage to as much as 250/500 could mean you'd be protected in 62% of judgments, based on the example in the chart below. Lower liability coverage amounts provide protection in relatively few cases.
Liability
umbrella
% of judgments you
are protected for
30/60
4%
50/100
11%
100/300
35%
100/300
35%
250/500
62%
500/500
77%
500/500
1,000,000
87%
500/500
1,000,000
87%
500/500
3,000,000
93%
500/500
5,000,000
96%
Car Insurance Coverage
Put It in Perspective
If you think you don't need car insurance and are one of the lucky few that won't get into an accident, think again. A driver is likely to file an accident claim once every 17.9 years on average. However, depending on your driving skill, driving behaviors, and a number of factors that are out of your control, you may file accident claims far more often than this baseline average.
At times like these, it literally pays to have full coverage insurance.
The 7 most common car insurance claims filed are
Fender benders

Theft

Whiplash

Vandalism

Windshield damage

back injuries

animal collision
If full coverage insurance isn't mandatory for you, price may be the deciding factor.
How much is a full coverage insurance policy going to cost you? Excellent question.
You can get cheap full coverage insurance but there are a myriad of factors that could impact your rate, including:
How many miles you drive a year

Your driving record

Where you live

Your age

What car you drive
Some states quote more expensive full coverage insurance premiums than others
The top five most expensive states for car insurance are Michigan, Louisiana, Kentucky, West Virginia, and Mississippi. The five cheapest states for car insurance are Massachusetts, North Carolina, Hawaii, Alaska, and Oregon.1

According to the chart on the right, the younger you are, the more you may pay for car insurance. As many of us have learned, average auto insurance rates can drop drastically after the age of 25.
Average Yearly Car Insurance Cost By Age
Is There Such Thing As
Full Coverage Auto Insurance?
This leads us to the important question at hand… Is there such a thing as full coverage car insurance, and, if so, what does it protect against? Although full coverage is a popular buzzword in the insurance game, it's tough to pinpoint exactly what type of protection a full coverage policy will yield.
Full coverage insurance can differ from one insurance agent to the next.
Across-the-board, full coverage will include:
State minimum requirements

As listed above, minimum auto insurance requirements will vary by state based on bodily injury and property damage liability.

Comprehensive insurance

In a full coverage policy, comprehensive insurance protects against physical damage that occurs to your vehicle outside of a collision.

Collision insurance

Collision is the broadest type of full coverage insurance available that protects against damage to your vehicle due to an impact with another vehicle or stationary object, or due to a vehicle rollover.
Comprehensive and collision insurance often go hand-in-hand; collision coverage usually can't be purchased without comprehensive insurance. However, some insurers provide an option to purchase comprehensive coverage without collision coverage.

Beyond the basics, full coverage car insurance policy terms will fluctuate greatly. One insurance agent may lump in several extras, while another may stick to the basics listed above.
Full coverage insurance may NOT include
GAP insurance

GAP insurance is supplemental insurance that must be added onto a policy. It will cover a gap in insurance when the value of your car drops below the amount you owe on a vehicle that has been totaled in an accident.

Uninsured motorist coverage

Some insurance agents have been known to sneakily exclude this coverage to keep rates low and attractive. Ask about uninsured or underinsured motorist coverage specifically to confirm that you are protected in an uninsured accident.

Glass coverage

Glass damage to a vehicle falls under the comprehensive portion of a full coverage policy. Nonetheless, if you choose to increase your deductible to lower your rates, you may unknowingly lose full glass coverage. Ask about glass damage coverage before making policy changes.

Towing insurance

The good news is that affordable towing coverage is often bundled in a full coverage policy. Ask about this extra before signing up for a new policy so that you aren't left high-and-dry after a breakdown.

Car rental coverage

Many insurance providers package car rental reimbursement in a full coverage policy. If car rental coverage is a primary concern, check that this extra is included before setting policy terms. Another option is non owner liability insurance if you regularly rent a car.

Medical payment coverage

This additional insurance can be used to fund medical expenses for you and any passengers after an accident, no matter who was at fault. Discuss this option carefully with your agent and be aware of any deductibles that may apply. A high deductible can make a quote lower – but your deductible is real money that must be paid if you suffer an injury due to an auto accident.

Customized equipment coverage

If you have upgraded your vehicle with a custom sound system, full coverage auto insurance may not reimburse such specialty equipment if your car is totaled or stolen.
How Much Auto Insurance Do You Really Need?
If you're in the market for a full coverage car insurance policy, there are varying levels of protection available to you. Based on the foundations of full coverage, as well as the long list of "extras" that may or may not be included, you can tailor your car insurance policy to best meet your needs.
Here is a progression of how to approach full coverage car insurance
Basic Full Coverage At the very minimum, you can sign up for cheap full coverage car insurance with liability, collision, and comprehensive coverage. This insurance will meet state requirements and protect your vehicle from damage, regardless of who is at fault. Basic full coverage car insurance is more expensive than standard liability insurance.
Intermediate Full Coverage Taking it one step further, you can upgrade a basic full coverage car insurance policy with uninsured motorist coverage, uninsured motorist property damage coverage, and medical payment coverage. Medical payment coverage will reimburse for medical treatment up to a certain amount, no matter who was at fault in an accident; uninsured motorist and property damage coverage will protect your property and vehicle if an uninsured/underinsured driver causes an accident.
Ultimate Full Coverage If you're looking for complete protection in a full coverage package, you can add on all of the extras listed above. This may include towing, car rental reimbursement, and GAP insurance. Upgrading your policy in this manner will provide utter peace of mind if any type of damage affects you or your car in an accident or related catastrophic event.
If you're looking for cut-and-dried guidelines on choosing the right full coverage policy for you, consider these helpful tips:
If you aren't financially able to afford the cost of injury and damages in an accident, increase your coverage amount above basic liability insurance.
Additional personal injury protection (PIP) coverage may be redundant if you and your family have a solid health insurance policy.
Discuss your PIP or MedPay options with your agent. It's important to structure this part of your policy properly to ensure coverage.
If annual comprehensive and collision rates exceed the value of your vehicle, this extra coverage may be unnecessary.
If you are financially ready to pay for the replacement of an older vehicle, paying a monthly full coverage premium may no longer make sense. As your car gets older and depreciates in value, you can start to drop some of the "extras" in your policy or raise your deductible, as finances allow, to lower your monthly premium even further.
Uninsured motorist coverage is always recommended so that you don't have to pay for a no-fault accident.
Extra towing coverage isn't needed when you have AAA or a similar service subscription.
Rental car reimbursement is often a personal preference and matter of convenience; cut it if you can't afford it.
Yes, there are certain times when you may not benefit from full coverage car insurance
If it's difficult for you to afford additional insurance coverage, you may not need to pay for collision and comprehensive insurance if:
You are no longer upside down on your car loan or have paid it off completely. If you still have a loan that is not paid off, lenders may require that you keep collision and comprehensive insurance. GAP insurance is no longer necessary when you don't have negative equity on a loan.
You own an older vehicle. The old rule of thumb used to be that you could drop collision and comprehensive coverage once a car was five years old. Industry experts now recommend waiting until a car is eight years old or older; at that time, calculate how your annual premium compares to the value of your car. When dropping this monthly coverage, make sure you have enough money in the bank to replace your car if it is totaled.
Ultimately, reducing your insurance coverage or dropping full coverage altogether is a personal decision.
If you are financially ready to pay for the replacement of an older vehicle, paying a monthly full coverage premium may no longer make sense. As your car gets older and depreciates in value, you can start to drop some of the "extras" in your policy or raise your deductible, as finances allow, to lower your monthly premium even further.
How to Save Money on Full Coverage Car Insurance
If you're looking for full coverage car insurance with all of the bells and whistles, it may not come cheap.
As the chart indicates, the cost of car insurance is on the rise without any sign of stopping.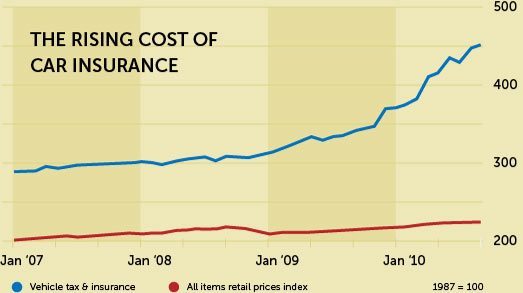 But there is a light at the end of the tunnel.
Here are 5 clever tips you can use to save money on full coverage car insurance:
Compare insurance companies One of the best ways to save money on full coverage insurance is by simply comparing rates. Most providers today offer free car insurance quotes online; compare a minimum of three companies before making a final decision.
Combine your insurance policies Your insurance provider may offer you a discount rate across-the-board if you lump policies together, including auto, life, and homeowner's insurance.
Improve your driving record Good drivers are rewarded with better insurance rates. One of the most effective ways to keep full coverage insurance affordable is by eliminating speeding tickets and traffic violations, including DUIs.
Raise your deductible As mentioned above, if you can afford to raise your deductible by several hundred dollars, you could drop full coverage insurance rates by 15%-40%.
Crunch numbers before you buy a new car The type of vehicle you purchase can raise or lower insurance rates. Yet contrary to popular belief, car color does not impact the cost of insurance; whether you purchase a red, black, or white vehicle, insurance rates will remain the same.
Staying up-to-date on the value of your vehicle can help you make the most educated decision about full coverage insurance. If you have a new car or are still paying on it, full coverage is likely to be required. As the value of your vehicle drops, additional coverage may not be necessary. Check in with your insurance agent annually to determine the most affordable and most protective policy for you.
Reviewed by:
Licensed Insurance AgentEric Huffman