If you are looking for a new vehicle, make sure you get one that is loaded with safety and anti-theft features. That way, you may be eligible for discounts on your auto insurance. People are always looking for ways to save money, and you will find that this is just one of many discounts that may be available to you. If you are in the market for a new vehicle, make sure that the safety features come standard. You shouldn't have to pay extra just so you can feel safe while you are on the road.
What Safety Features Does Ford Offer?
For example, the Ford F-150 has been a popular truck for many years, and you can get many different models that are loaded with awesome safety features. Just the fact that it is a large and stable vehicle helps those who drive them to feel safer when they are at the wheel. It also doesn't hurt that this is a dependable vehicle, and owners don't have to worry about breakdowns and other issues. This year's model offers the following features: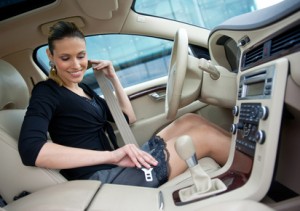 4-wheel ABS
Child seat anchors
Front head airbags
Stability and traction control
Front center 3-point seatbelts
Engine immobilizer
Electronic brakeforce distribution
These are just a few of the features that insurers look for in vehicles. When cars and trucks have features such as the F-150, insurers know that they are safe vehicles, and are not as risky to insure as older vehicles that are not equipped with the latest safety features.  Even if you think you can't afford a brand new vehicle, you can still get a newer Ford truck or car. Most models made within the last five years have plenty of excellent safety features that insurers like to see.
Other top models include:
Ford C-Max
Ford Edge
Ford Escape
Ford Expedition
Ford Explorer
Ford Fiesta
Ford Flex
Ford Focus
Ford Fusion
Ford Mustang
Ford Shelby
Ford Taurus
Ford Transit
What Kind of Coverage Do You Need?
The insurance coverage you get will often depend on a number of factors. The vehicle you drive may be a huge factor. For instance, if you are driving an old beater, you are not going to spend a lot of money on collision and comprehensive insurance. You will probably just stick with liability. But, if you get one of the newer Ford vehicles, you will probably want to have the added coverage. Don't worry about it costing a lot of money because the discounts you get with the safety features will help to offset the higher rates.
Getting the Best Auto Insurance Rates
Having a newer model vehicle is just one way to get better rates on your auto insurance. You may be eligible for a number of discounts. This is something you can ask about when you are getting your free insurance quotes online. Simply fill out a short questionnaire about your insurance needs, including your zip code. We will search through our database to find quotes from a number of insurers in your area. It only takes a few minutes, and you never have to provide any personal information. You may even find that you are not getting the best rates and switching to another insurer could save you money.